Eastern Bloc road trip sim Jalopy leaves Early Access next week
UPDATE: Learn the basics in Jalopy's launch trailer!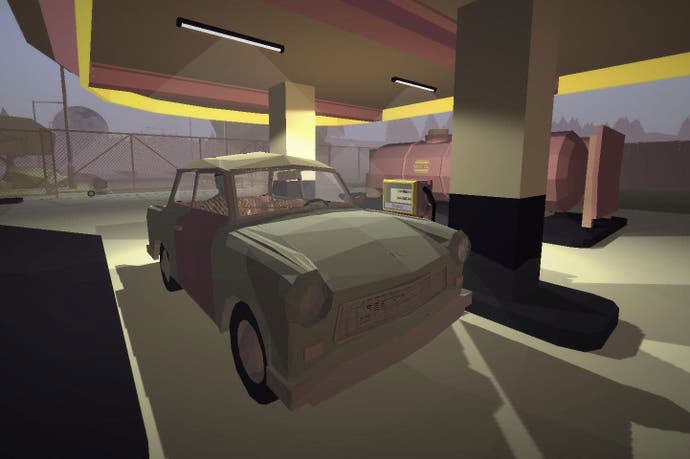 Update, 28/3/18: Jalopy's version 1.0 release is now live on Steam, and developer Minskworks has released a handy launch day trailer, explaining everything you'll need to know in order to get your clapped-out old Laika 601 Deluxe across Eastern Europe. It's entertaining and informative!
Additionally, Minskworks is celebrating Jalopy's full release on Steam after two years in early access development with a 40% launch discount. From now until April 4th, interested parties can purchase Jalopy for £6.59, instead of its usual £10.99 price tag.
---
Original story, 22/3/18: Eastern Europe road trip sim Jalopy will properly launch on PC next week, Thursday March 28th, after nearly two years in early access development.
Jalopy is a strange, wonderful driving adventure in which travellers take to the road in their beloved (if barely functional) Laika 601 Deluxe - inspired by the legendary East German Trabant - in order to transport their uncle across the former Eastern Bloc.
The long, long journey through Germany, Hungary, Yugoslavia, Bulgaria, and Turkey manages to be both endlessly drab and constantly eventful, with your treasured Laika 601 liable to collapse into a rusty heap at any moment as you push on through rain or shine (but mostly rain).
That means you'll need to keep on top of tire changes, fuel, the condition of your carburettor, and just about anything else that could (and likely will) go wrong with your ride if you plan to get your uncle to his destination before the 90s are over.
It's equally parts exhausting and triumphantly satisfying as you successfully manage to navigate another stretch of gloomy road without losing your wheels, doors, or sanity.
Jalopy is the creation of Greg Prjmachuk, who worked on Codemasters' Formula 1 franchise from 2009 to 2014. He shared his thoughts on the future of driving games with Eurogamer last year, in a feature charting the rebellious rise of road trip games.