EA's "dodgebrawl" game Knockout City getting 10-day free trial at launch
Starts next week on all platforms.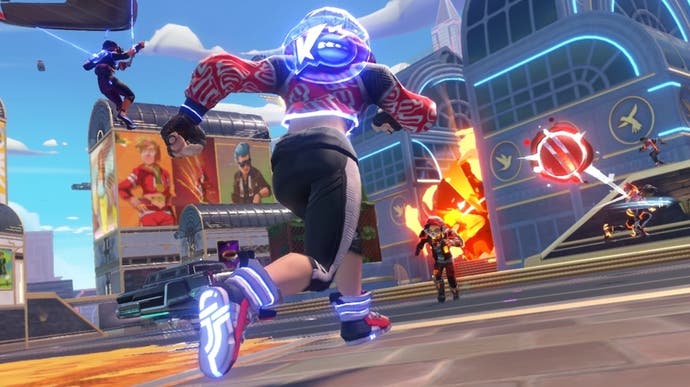 Knockout City, the EA-published competitive "dodgebrawl" game from Velan Studios, will have a 10-day free trial on all platforms when it launches next Friday, 21st May.
The gist of Knockout City is that, in time-honoured dodgeball style, two teams of players (either 3v3 or 4v4) battle it out for supremacy by lobbing balls at each other. It's an easy to understand premise with a vibrantly approachable visual sheen, putting it on a collision course with countless other offerings in the busy field of live-service sports and shooter games.
EA is doubtless hoping its 10-day free trial will put enough bums on seats and balls in hands to build a crucial player base from the off when Knockout City comes to PlayStation, Xbox, Switch and PC (via Origin, Steam, and the Epic Games Store) on 21st May - a challenge it's already attempting to tackle by including the game on EA Play and Xbox Game Pass at launch.
Knockout City's 10-day free trial is being pitched as a "festival-style event", going by the name Block Party, that will offer complete access to the full experience, including all maps and modes - Team KO, Diamond Dash, Party Team KO, and Face-Off playlists are confirmed - as well as no cap on playtime or accruable rewards.
Servers will go live at 1pm BST/5am PDT on 21st May, and a number of events are planned over the following days, including streamer giveaways and a chance to battle it out with Velan Studios. Knockout City's first proper season of content kicks off on 25th May, introducing a new map and Ball-up Brawl playlist, seasonal and weekly Contracts, plus the start of League Play.
Full details of the events planned for Knockout City's 10-day free trial can be found in EA's Block Party announcement post.
Despite sporting some familiar free-to-play trappings - players can buy a wide variety of character cosmetics with Holobux earned in-game or purchased with real money - Knockout City is a paid title, and will cost £19.99/$19.99 USD once the trial ends.
EA (whose 3v3 shooter Rocket Arena took a similar paid approach last year with less-than-stellar results) is attempting to nudge players into making the transition to the full game by offering a special Block Party Bundle.
Anyone that purchases the game before the end of the trial event on 31st May will receive the Cyber Spike Epic Outfit, Locked Horns Epic Hairstyle, LED the Way Epic Glasses, Mach 1 Epic Glider, Calling In Reinforcements Epic Intro Pose, By the Horns Epic KO Effect, plus 500 Holobux and three Player Icons: Bomb Ball, Pixel-Dillo, and Noodles Gone Bad.