EA unveils Fight Night Round 4
We talk to Lennox Lewis about it.
Clad in a gold robe and flanked by three former world champions, the irrepressible Peter Moore entered the ring in Vancouver on Wednesday morning to announce the latest instalment in EA's Fight Night series.
Fight Night: Round 4 may not have been on display at this week's major EA Sports showcase at the publisher's Canada HQ, but its unveiling made a big impact as boxing legends Lennox Lewis and Sugar Ray Leonard sparred with middleweight Ronald "Winky" Wright in a lengthy motion-capture session in front of press.
Moore enthused: "The champ is back. It's being developed right here in EAC, and it will be launched in 2009. And not only that, it will have all of the world's great fighters, including Iron Mike Tyson, in the game itself."
Having called out "three of the world's great fighters" one-by-one into the ring, Moore quipped: "I'm going to get out of here before someone actually throws a punch and let these guys get at it."
Wright, wearing a full body suit, performed a series of routines in the ring - set-up in the studio's dedicated motion capture facility - with Lewis and Leonard under the direction of EA's technical team. A separate screen on a wall depicted a 3D avatar based on Wright, which was accurately recreating his moves in real-time.
A "rewritten gameplay engine" will provide Fight Night Round 4 with "the full spectrum of true-to-life punch impacts, giving boxers a devastating arsenal of punches, blocks and ring movement," according to EA.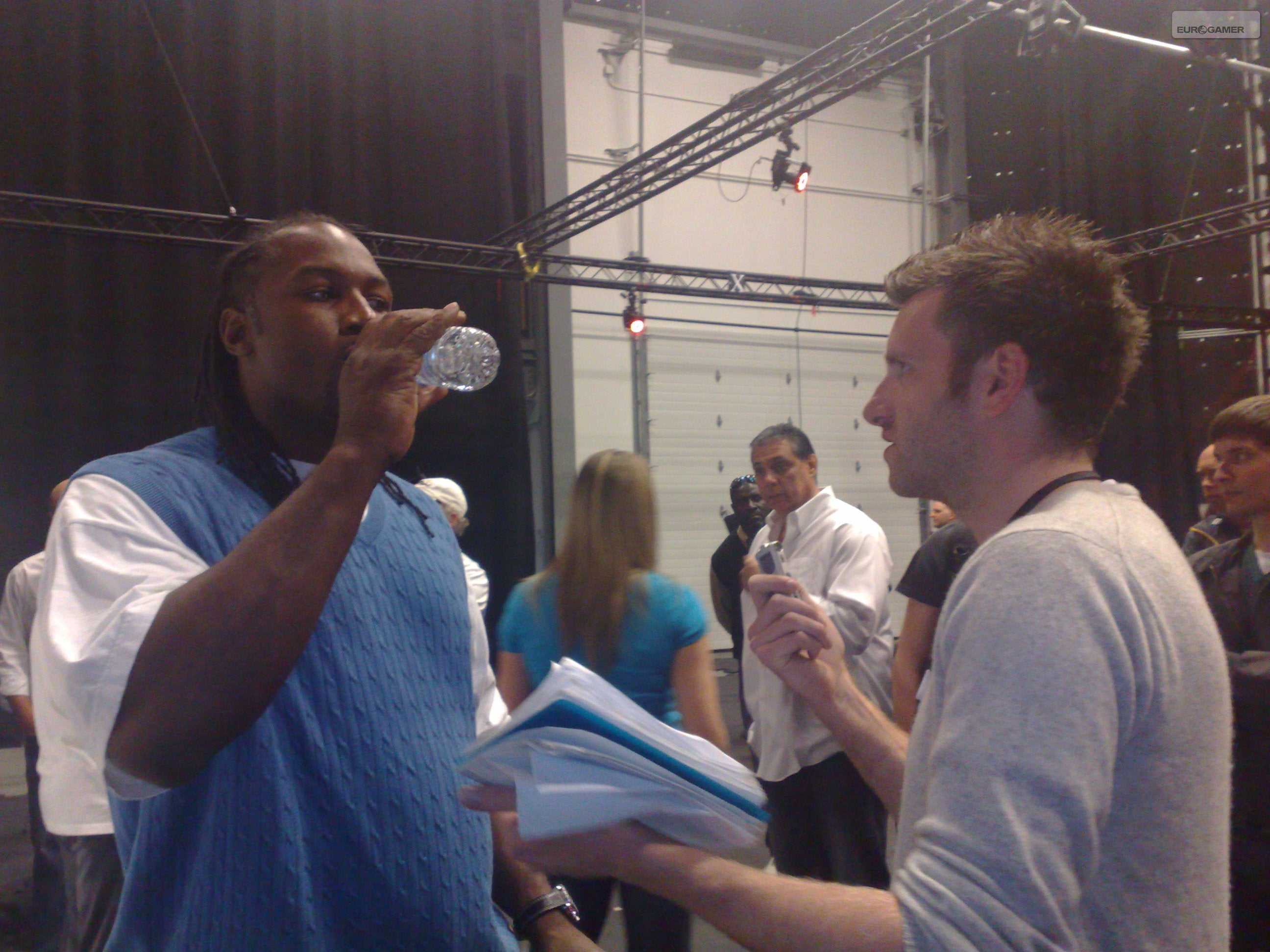 "We're trying to take a step forward with everything," assistant producer Brian Hayes told Eurogamer. "We're building the game from the ground up. The new engine and physics system allows us to deliver that sense of realism and all the variety that happens in a real fight."
Hayes revealed that EA would be working directly with Mike Tyson to ensure his brutal style was captured authentically, adding: "People have been asking to see him in a boxing game for quite some time. We're bringing back the young Kid Dynamite, the guy that unified the heavyweight division as the youngest heavyweight champion ever - that's the one that's going to be in the game, striking fear into the heart of all the CPU opponents and hopefully the user opponents at home!"
Speaking to Eurogamer after the mo-cap session, Lennox Lewis, who famously knocked out Tyson in a clash in 2002, revealed he was looking forward to pulverising the virtual version, musing: "I should challenge him using myself in the game and him using himself in the game and see who wins.
"I'm glad there's a boxing game actually coming out that gives the fans an opportunity to be Lennox Lewis or Mike Tyson or Sugar Ray Leonard or Winky Right."
After conducting press interviews - and performing a bizarre three-way rendition of "EA Sports - it's in the game" for cameras - all three fighters remained at the studio, spending the afternoon shooting pool in the cafeteria area and posing for photographs, with Lewis's cueing skills proving too much for veteran brawler Leonard.
Fight Night Round 4 is due on Xbox 360 and PS3 next year. [Editor's note: You can check out EGTV editor Johnny Minkley's slightly rubbish mobile phone photographs elsewhere on the site.]