EA: there is going to be a Battlefield 4
Shock. Horror.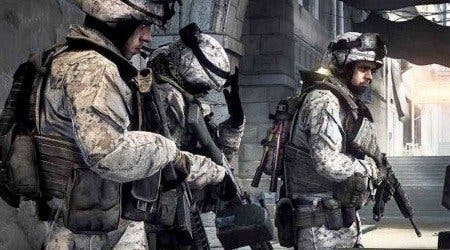 The first DLC for Battlefield 3 isn't out yet - but that hasn't stopped EA from confirming the next game in the series.
"There is going to be a Battlefield 4", EA has said.
Electronic Arts president Frank Gibeau confirmed the company's intention to release the shooter sequel during a keynote at the University of California. His comment was then Tweeted by attendees.
The news comes as no surprise - Battlefield 3 is the fastest-selling EA game ever and has shifted a whopping five million copies.
Afterwards, an EA spokesperson told IGN: "Frank was speaking broadly about the Battlefield brand - a brand that EA is deeply passionate about and a fan community that EA is committed to."
On the eve of Battlefield 3's launch, DICE told Eurogamer it was the Swedish studio's hope that it would one day get the opportunity to make Battlefield 4.
"This feels like day one now," executive producer Patrick Bach said. "It's exciting. The whole Frostbite 2 thing has opened up a big landscape ahead of us so we can do whatever we want."
But will Battlefield 4 launch for this generation of consoles, or the next?
What we do know is the PC version of Battlefield 3 offers us a glimpse what gamers can expect from the next-generation of consoles.
"If anyone would build a new console today, that would be the result," Bach said.
"At least. Probably more, because it's classic PC technology. We know everything about multi-threading now. We know everything about multi-graphics card solutions now. If someone built a console where the specs are that or more, we have the technology to do something. We could port the game to that console tomorrow."
DICE built Battlefield 3 using its new Frostbite 2 engine, designed to future proof the studio and work with the next Xbox and PlayStation.
Bach said the next-generation is a case of more horsepower - in particular multiple processors and graphics cards in a single unit.
"There's nothing we know about now that the new consoles would do differently, rather do more," Bach explained. "More processors. Bigger memory pools. Everything we have and more.
"The big step is to go from single processor to multi-processor. Single graphics card to multi-graphics card. To multi-memory. Do you do multiple memory pools or one memory pool? Since we can handle both consoles now, we control that as well. We have all the streaming systems. We have whatever we might need for the future.
"I would be surprised if there were something we couldn't do with the next-generation of consoles."