EA Sports Active
Feel the burn.
Here are some words you'll hear a lot during a demo of EA Sports Active: fitness, wellness, "laser focus", holistic, balance, "busy Moms", exercise, workout. Or rather workoot, if the person doing the demo is the nice lady from EA Canada.
Here are some words you're unlikely to hear at all: cinematic, visceral, cutting edge, real-time procedural shading, deathmatch, motorbikes, rocket launcher. EA Sports Active isn't your typical videogame. In fact, refer to it as a game at all and you'll stand corrected.
"It's funny, you using the word 'game'," says nice lady Jen Riley. "We're framing it as a virtual home fitness product." Or, to put it another way: "A personal trainer in a box."
The box costs GBP 44.99. For that you get the game - pardon, the virtual home fitness product - a neoprene strap and a long strip of stretchy rubber. The neoprene strap goes round your right thigh where it's tightly secured with Velcro. There's a small pocket on the front into which you tuck the nunchuk. Each end of the rubber strip is tied to a fabric handle, so you can make it shorter or longer depending on the level of resistance you want.
With your equipment set up it's time to create your Fitness Profile. This involves inputting your gender, age, height and weight, which helps EA Sports Active calculate how many calories you burn when exercising. You can also make yet another avatar and dress it up in sporty clothes.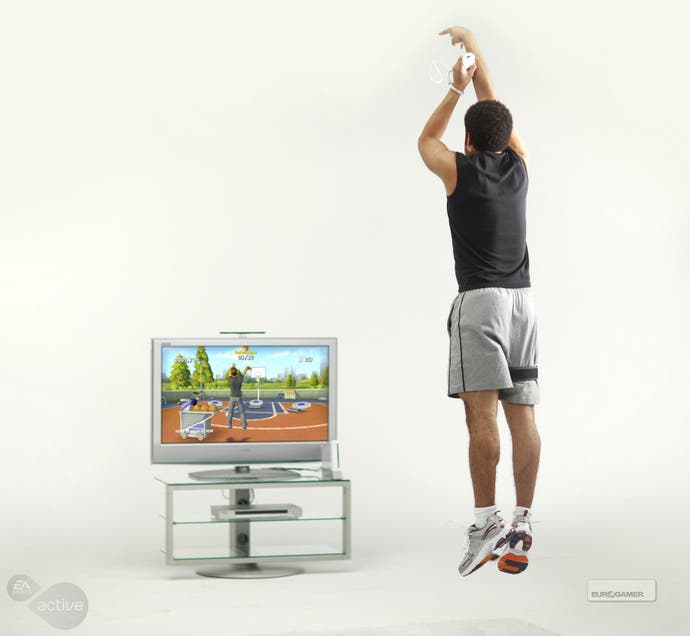 There's a wide range of preset workouts to choose from, all designed by fitness experts and all designed to offer specific benefits. You can go for a full body muscle toning circuit, do some cardio exercise, focus on your legs or lungs and so on. "Whatever you're looking for from your workout experience will be there for you, designed by the right people," says Riley.
However, you can also choose to ignore the experts and custom-build your own workouts - decide how long you want to exercise for (up to an hour), select the number of calories you want to burn, choose how difficult the workout will be and put together "literally thousands" of circuit combinations. "It sounds silly saying that, but with 30-plus activities to choose from and the ability to lace things together in any form you want, there really are thousands of options," Riley reckons.
To get us started she boots up one of the running activities. It's just like the jogging in Wii Fit, except you've got a big neoprene strap wrapped round your thigh. And because the nunchuk is tucked into the strap, the up-and-down movement of your legs is measured along with your speed. And because you've got a big neoprene strap with a nunchuk tucked in it wrapped round your thigh, you feel a bit more stupid.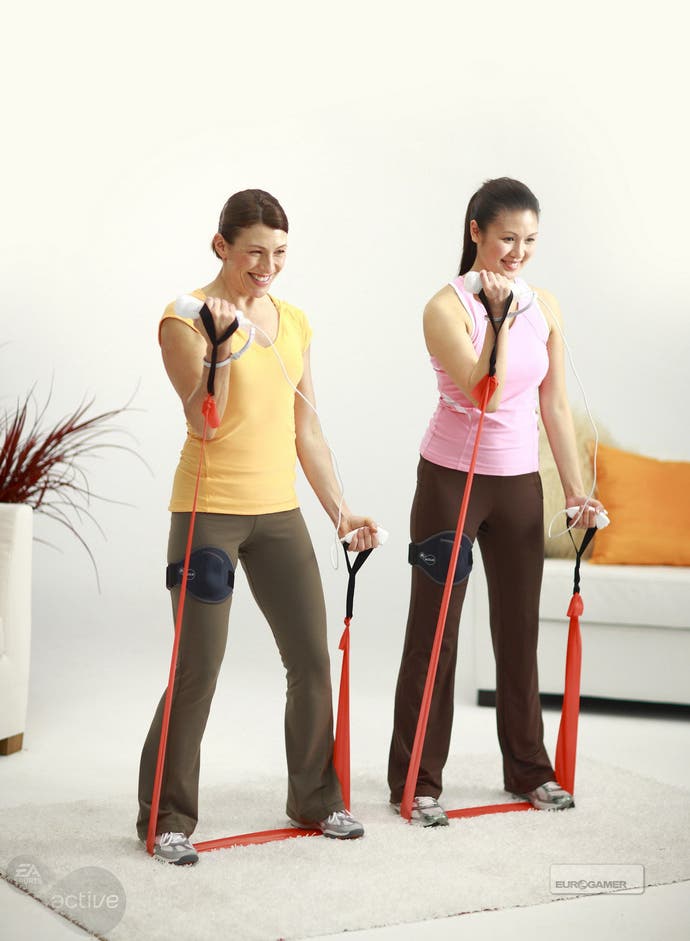 Riley and I are working oot together in co-op mode, so our avatars are shown on either side of the split-screen. They're racing round a nondescript track while a voice from nowhere spouts things like, "If I didn't know any better, I'd say you two have a competition going!"
The race is over within a minute. I win, which Riley says is because I was working harder and lifting my legs up higher. I look at her lycra-clad thighs and think about what's wobbling under my jeans and decide it is because she is good at her job of promoting EA Sports Active to lazy games journalists. "Nice!" says the disembodied voice. "I hope you enjoyed pushing each other forward and getting the job done."
Next up is boxing. It's similar to the boxing game in Wii Sports, but you're not punching the other person's Mii - which is less fun, obviously. Instead, targets pop out in front of your avatar at different heights (ahh, happy memories) and you must punch the air accordingly. The software can tell how hard you're working and while there's no official points system, you'll be told you've burned more calories if you put the effort in.