EA faces trademark dispute over Battlefield 3 helicopters
Claims First Amendment protection.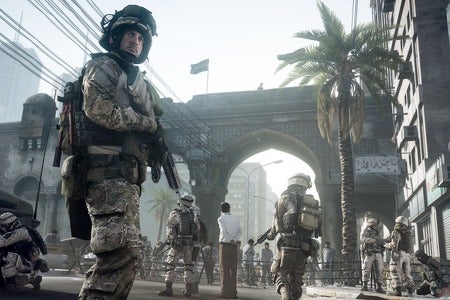 EA is anticipating a trademark dispute over a number of helicopters featured in last year's FPS Battlefield 3.
As detailed by Kotaku, the publisher was contacted last month by lawyers representing Textron, a US conglomerate that owns military hardware outfit Bell Helicopter, asking for three of its helicopters to be removed from the game.
The two parties then failed to reach a private agreement, leading to EA submitting an action to a California federal court on Friday.
EA's filing stated that, "the parties have been unable to resolve their dispute. EA therefore has a reasonable and strong apprehension that it will soon face a trademark and/or trade dress action from Textron."
The publisher then went on to claim First Amendment protection, arguing that the inclusion of Textron's AH-1Z Viper, UH-1Y and V-22 Osprey is covered by "the doctrine of nominative fair use".
"The Bell-manufactured helicopters depicted in Battlefield 3 are just a few of countless creative visual, audio, plot and programming elements that make up EA's expressive work, a first-person military combat simulation," read EA's document.
Textron is yet to respond.
EA recently won a similar lawsuit against Rutgers University regarding the the use of quarterback Ryan Hart's likeness in NCAA Football. The court ruled that EA's First Amendment rights trumped Hart's rights to control his own image.