Dungeons & Dragons DLC heading to Minecraft with 10-hour campaign
Classes! D20! Mimics! More!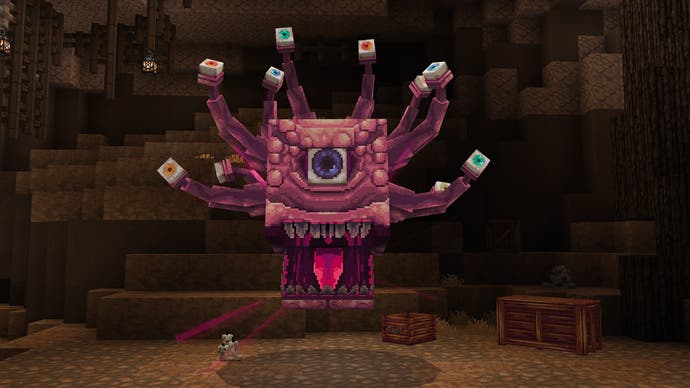 Minecraft is setting forth for adventure in the Forgotten Realms, as developer Mojang teams up with Wizards of the Coast for an official Dungeons & Dragons DLC launching this "spring".
The newly announced DLC - created in collaboration with developer Everbloom Games - takes players across five familiar Forgotten Realms locations, including Candlekeep and Icewind Dale, all reimagined in chunky block-o-vision, just as you'd expect in a Minecraft crossover.
The DLC, however, goes the extra mile and then some by introducing a fully voiced 10-hour story campaign enabling adventurers and their friends - playing as either barbarians, paladins, wizards, or rogues, complete with associated abilities - to take on familiar D&D enemies including beholders, mimics, mindflayers, and, yes, dragons.
It's an adventuer that, in time-honoured tradition, begins around a table in a basement before heading to the Forgotten Realms, and the nods toward tabletop authenticity continue throughout, with players being able to customise their chosen class' stats as they level up, shop and interact with NPC at hubs before heading out into more open areas, and rolling 20-sided dice to determine how they proceed.
Minecraft's Dungeons & Dragons DLC doesn't have a release date yet, but it'll be available for the game's Bedrock Edition via the Minecraft Marketplace when it arrives this "spring".