Duke Nukem Forever Balls of Steel Ed
Duke bust! Poker chips! Dice! Certificate!
UPDATE: 2K Games has made the Duke Nukem Forever Balls of Steel Edition! official.
It contains:
Collectible bust of the greatest alien ass-kicker of all-time
Numbered, limited-edition certificate of authenticity
100-page hardcover book: The History, Legacy & Legend: Duke Nukem Forever Art from the Vault
Duke Nukem Forever postcard series
Duke Nukem Forever radioactive emblem sticker
Duke Nukem Forever collectable comic book
Duke Nukem Forever foldable paper craft
Duke Nukem Forever poker chips
Duke Nukem Forever mini-card deck
Duke Nukem Forever radioactive emblem dice
ORIGINAL STORY: 2K Games has an elaborate Duke Nukem Forever: Balls of Steel Edition for die-hard Duke fans - according to pictures onto the internet (thanks, VG247)
2K wouldn't confirm or deny Balls of Steel's existence to Eurogamer, offering only "no comment" for the time being.
In the big Balls of Steel box comes a Duke bust engraved with the words "Carpe Nukem", two die, a pack of cards, poker chips, a sticker, some art cards, an art book, a comic book and a certificate. Oh, and the game.
There's no word on price yet.
"You may laugh uncomfortably at the borderline sexism, and you may log onto a forum occasionally to make fun of the graphics, but the ageing ideas and references that date the game also give it a sense of history and belonging," wrote Eurogamer after flying to Las Vegas to see Duke Nukem Forever.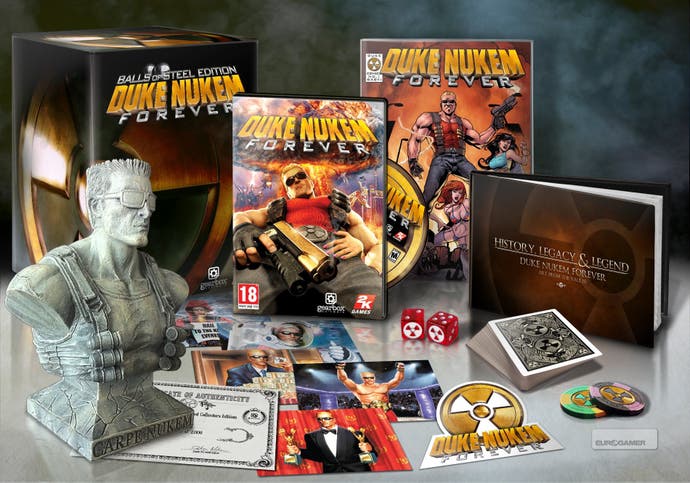 "And when your morbid curiosity about this 13-year-old game eventually dissipates, the chances are you will look back on the experience with amusement and a certain amount of affection. And if not? It is safe to say the Duke will not lose sleep - although whether he will be back is another story."