Double Fine explains Iron Brigade delay
"Xbox Live is a very complex machine."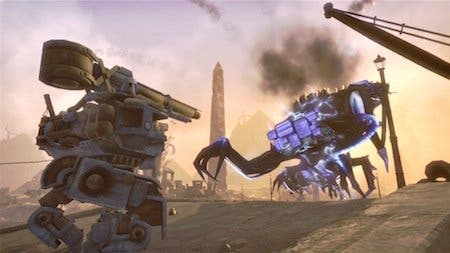 Xbox Live red tape is to blame for the long wait for Iron Brigade's belated European launch, developer Double Fine has revealed.
The game originally launched in the US as Trenched but was held back in Europe after a trademark dispute forced Double Fine to change its name. It was re-announced for a September release, but still hasn't appeared.
Speaking in an interview with XBLAFans, project lead Brad Muir explained that the process of changing the name is much more complex than just swapping logos, hence the delay.
"I wish we could announce dates," he said.
"We're getting really close to having it clear certification through Microsoft and it's just kind of unfortunate because changing the name of a game that you've already shipped in half the world is a lot harder than I thought it would be."
"There are so many different departments that it has to cruise through at Microsoft in order to enable the name change," he continued.
"It's pretty ridiculous. They sent us the preliminary plan on how that is going to work and I didn't even know there were that many divisions. Xbox Live is a very complex machine, I'd say. There's a bunch of different moving parts and it has to go through a bunch of checkpoints."
It should be worth the wait. The game racked up an 8/10 in Eurogamer's original Trenched review, and Double Fine is readying a new DLC pack to coincide with the European launch.