Face-Off: FIFA 14
State of play.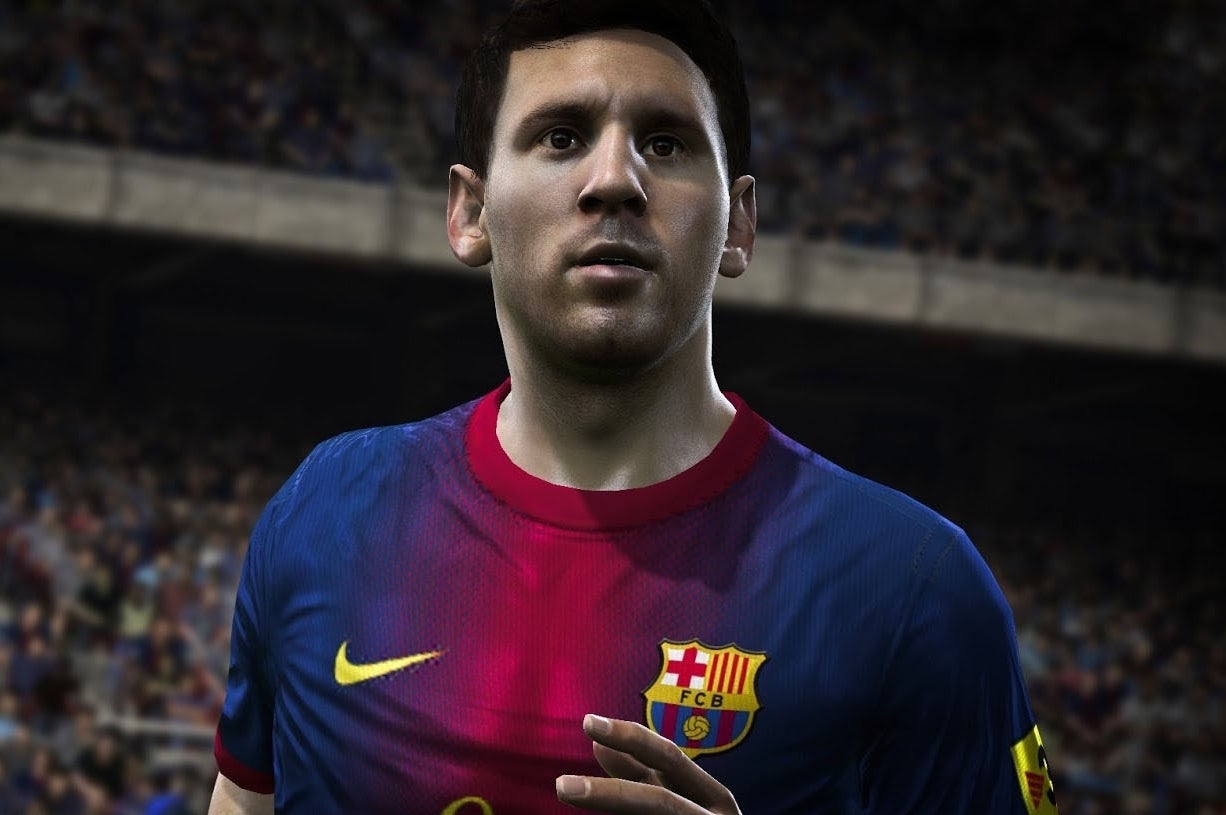 | | Xbox 360 | PlayStation 3 | PC |
| --- | --- | --- | --- |
| Disc Size | 6.8GB | 9.89GB | 6.65GB |
| Install | 6.8GB (optional) | - | 6.65GB (mandatory) |
| Surround Support | Dolby Digital | Dolby Digital, 5.1 LPCM, 7.1 LPCM, DTS | Set-up dependent |
While Pro Evolution Soccer 2014 won't be making a splash on next-gen consoles, the acclaimed FIFA series is making a pledge to all platforms this year. A strong performer on both PS3 and 360, we last put the series to the test with FIFA 10 to largely like-for-like results - only minor visual bugs separating the two at the start of the generation. Since then, we've seen a plethora of tweaks to its animation systems, the addition of the Impact Engine, an invaluable tactical defending control scheme, plus a torrent of new online modes bolted on to the package. But the question is, does FIFA 14 on either consoles or PC hint at what's to come in the Xbox One or PS4 versions this November, or does it rank as a more conservative effort?
After six years of well-worn use, the series' sluggish left-right scrolling menu is replaced at last with a snappier tile interface that calls to mind the 360 dashboard. At its heart though, the core engine-work is based on the in-house technologies used by EA Canada in previous entries. Motion capture drives much of the game's authentic animations - players now being slower to accelerate, but sharper to turn during full-on sprints. Collision physics also see refinement following the hilarious trips and pile-ups possible with its nascent implementation in FIFA 12. Now, we have players tussling for the ball during neck-and-neck sprints, where strength and the quality of a darting striker's first touch are key to the success of a speculative through-ball.
At a basic rendering level though, little has changed since FIFA 09. The resolution of both PS3 and 360 versions remains at 1280x720, and Sony's console takes the quincunx anti-aliasing path once more to produce a faint blurring to grass textures when using the television broadcast camera. A less effective texture filter is also at play on PS3, as shown on club insignia during penalties, but this is scarcely noticeable unless put side-by-side. With all three versions patched up to version 1.01, and making sure our weather and pitch settings are synchronised, we compare each release through our head-to-head videos below. And as ever, we also have a FIFA 14 triple-format comparison gallery to hand.
"Aside from a different approach to anti-aliasing, both Xbox 360 and PlayStation 3 versions of the new FIFA 14 are effectively a match."
Alternative comparisons:
While the 360 version is at an image quality advantage in still shots thanks to its 2x multi-sample anti aliasing (MSAA), the selected approach on Sony's platform reveals some unique benefits in motion. 2D elements like densely packed crowds and goal netting show no flickering pixel crawl artifacts for panning sweeps across the stadia on PS3 - with the cost again being that these elements lose some clarity. Since the game's camera is mostly sweeping across the breadth of the pitch with fast lateral movements, it's largely inconsequential that these high contrast details are quashed. However, the best of both worlds is not that far off.
Gladly, the full 1080p60 treatment is confirmed for next-gen editions of FIFA 14, as developed over the last two years by a new studio within EA Vancouver. According to series producer David Rutter, this resolution bump has proven "the most performance-expensive thing" to be factored into the Xbox One and PS4 editions. Going by the crystal clear results of this year's PC version set to 1080p, it'll be well worthwhile if the team can fully deliver here. As regular viewers of HD sports broadcasts can attest, a boost in picture clarity is demonstrable when picking out players from a top-down camera view. Even 720p limits visibility to an extent, where reading an attacker's dribble inside a mess of defenders still demands a sharp eye during play.
But to return to the present, we're basically left with three entirely identical games. As has been the tradition since FIFA 10, the PC version is a solid if ultimately barebones port of the PS3 and 360 editions. A general render quality slider can be set between very low and high, where maxing it out delivers matching quality player models, textures and shadows. Even the texture filtering on Barcelona crests on the ground appears equally blurry, but advantages include the option to crank MSAA up to 4x and the aforementioned resolution settings.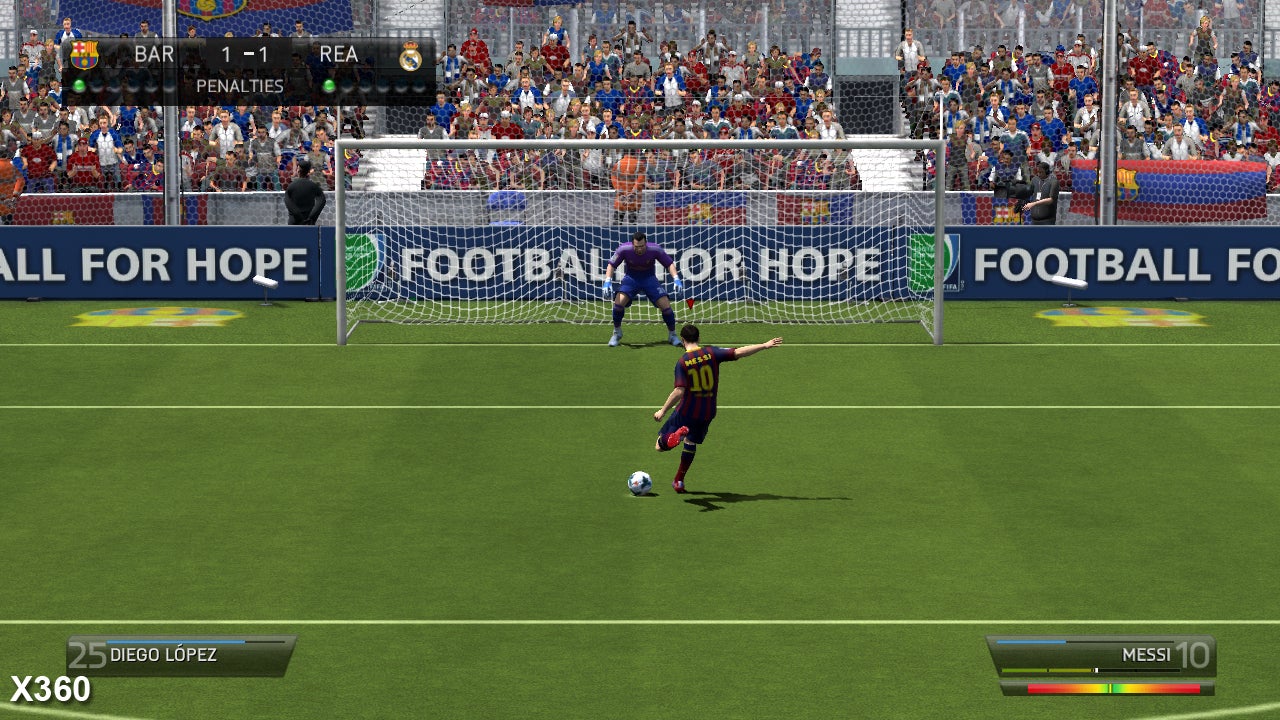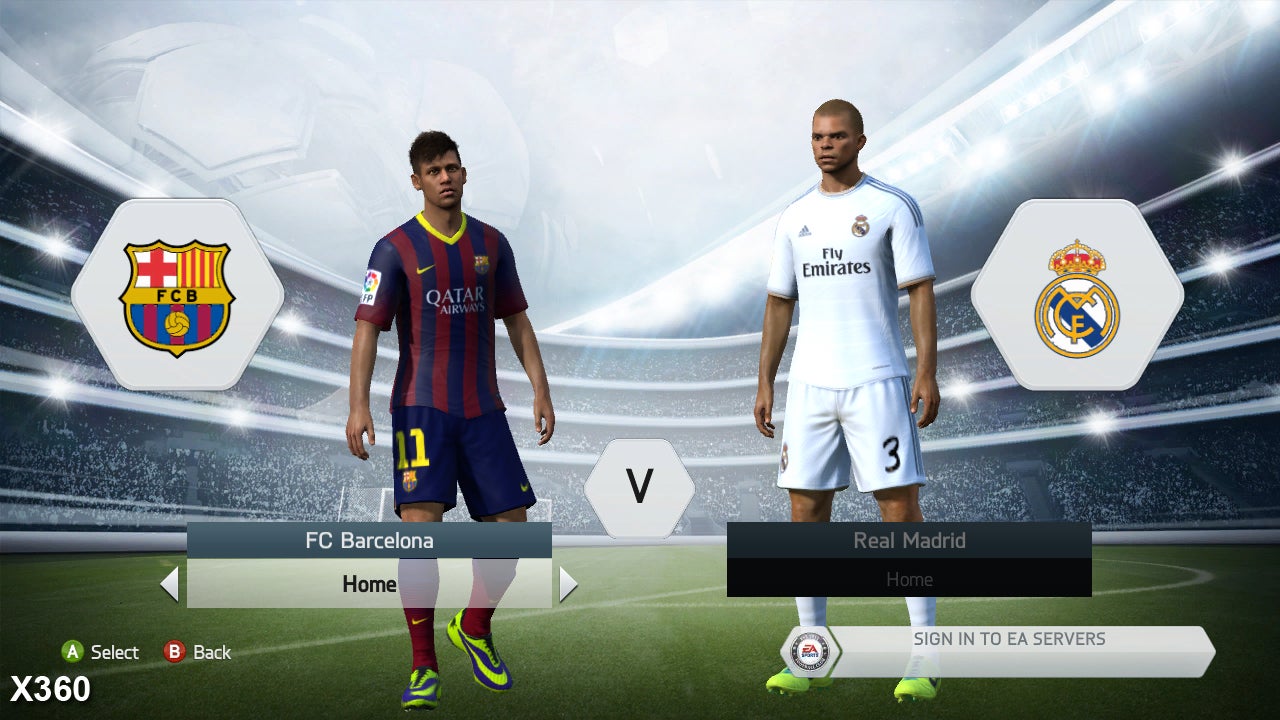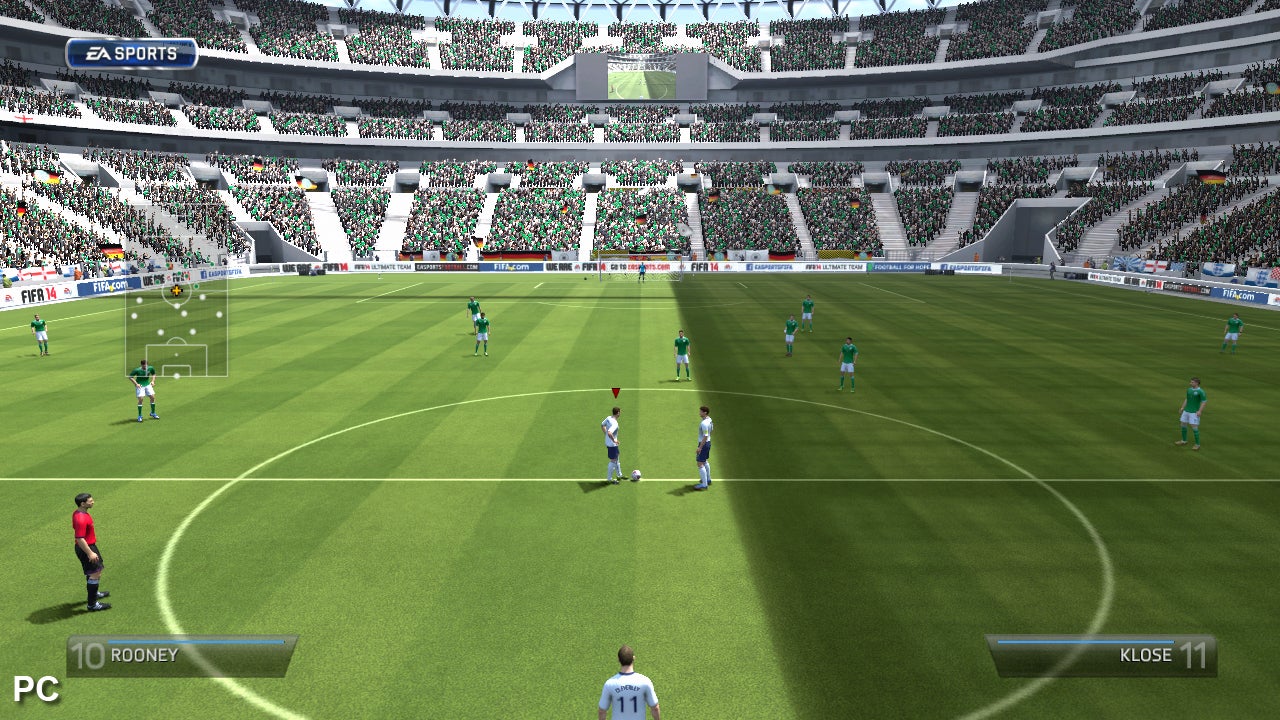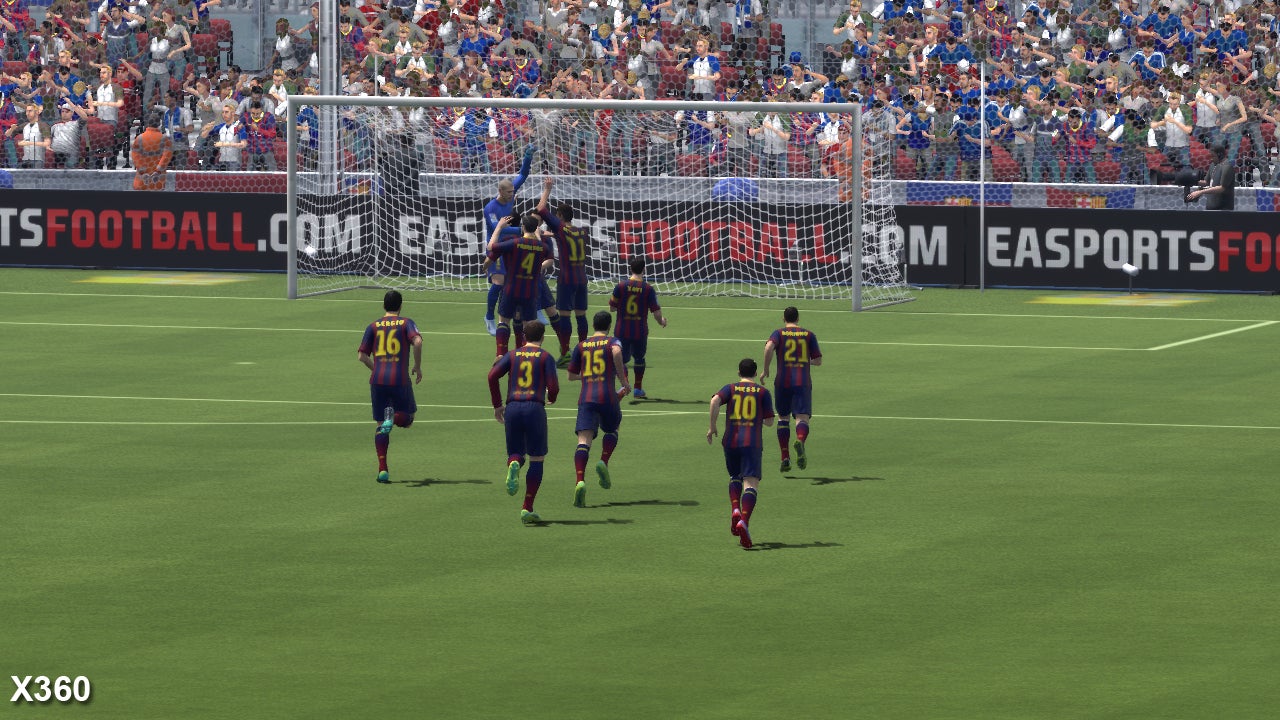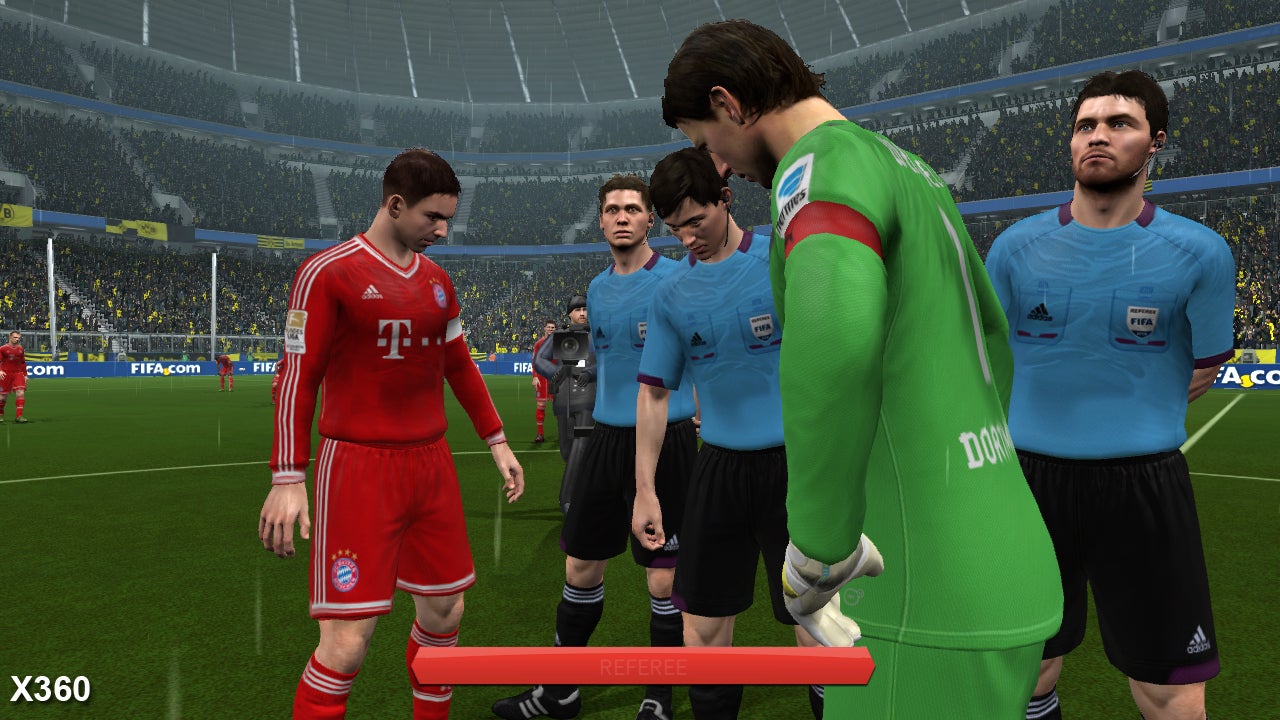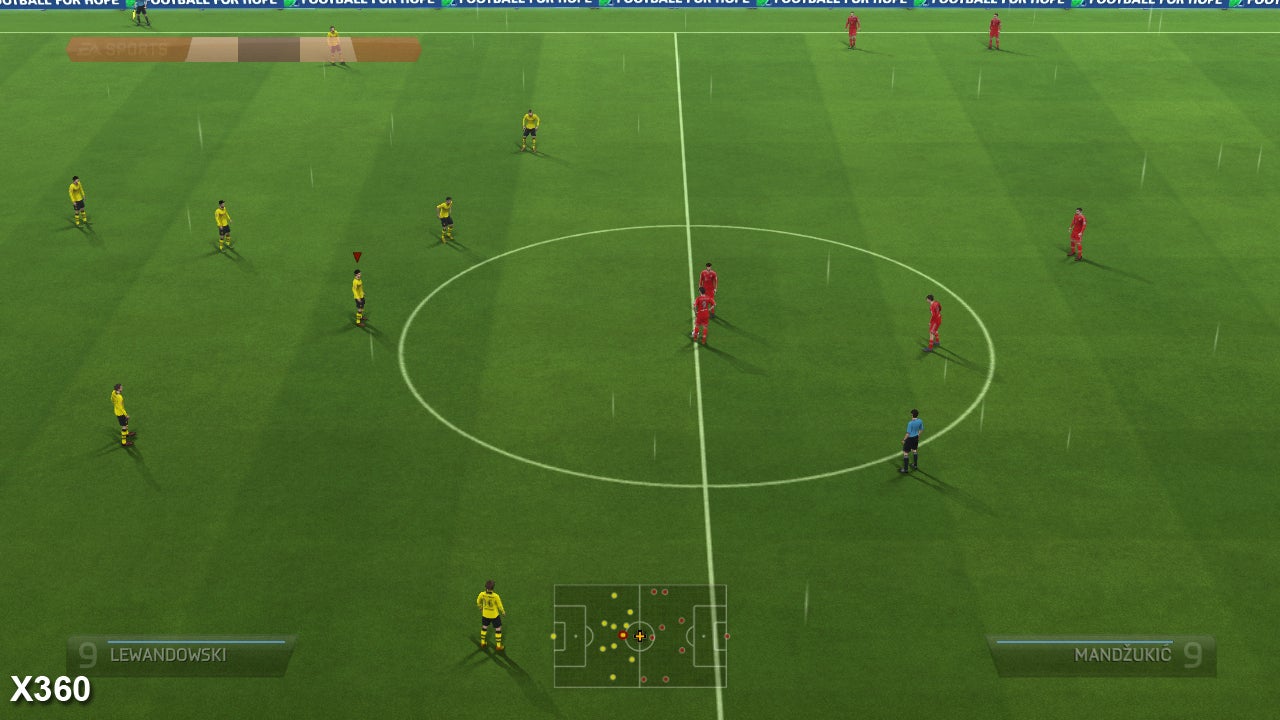 In terms of PC performance, a v-sync toggle is thrown in, allowing us to lock to either 30fps, 60fps or run wild with an uncapped refresh - the middle option operating without a hitch while at 2560x1600 on our test-bed Intel i7-3770k PC equipped with a GTX 770. Though it's a well-rounded conversion, we do notice two prominent glitches - the first being flickering squares behind the net during cut-scenes, and the second being the absent directional lighting during Skill Games. With the next-gen versions employing a new Ignite Engine to take advantage of eight-core Jaguar CPUs, it's also disappointing no port of this advanced version of FIFA is optimised for PC this year.
Even so, our experience with the FIFA series has primarily been through the PS3 and 360 so far, and over the years we have noticed a stark difference in load times between the two. From booting each version of FIFA 14 via the XMB and Xbox dashboard, it takes Sony's platform two minutes and four seconds to reach an England versus Germany kick off at Wembley. This is largely down to the lack of a mandatory HDD install, where discrete caching of data is instead performed during the game's initial load to hasten asset streaming later on. On the other hand, playing on 360 with the disc installed to its HDD gives us a reduced boot time of one minute and six seconds - running through the splash screens, squad updates and loading a game in almost half the time.
FIFA 14: performance analysis
Onwards to the performance metrics, where we're looking at an entirely v-synced performance on both platforms, with the frame-rate locked to either 30fps or 60fps depending on the scenario. Due to the game's dynamic camera and interchangeable players during the intro warm-ups, capturing truly like-for-like shots on PS3 and 360 for comparison proves to be something of a dice-roll. Some shots sync up nicely, while others take a completely different perspective of the stadium. Despite this, it matters not for illustrating the simple point that everything essentially runs at a consistent rate on both platforms alike.
"FIFA 14 swaps between a v-synced 30fps/60fps depending on the view and there's absolutely no deviation in performance whatsoever. However, only PC offers the fully locked top-end 1080p60 experience - for now."
Interestingly, a side view of the pitch with all 22 players on display is untenable at 60fps on PS3 and 360, meaning the studio has wisely forced a cap to half this refresh to avoid uneven, jerky frame-rates. This applies for cut-scenes, replays, all set-pieces including penalties, and even the popular Be a Pro mode - but thankfully we never see a single dip below this 30fps target.
For most FIFA series enthusiasts, of course, a lion's share of matches are played with the television broadcast camera view, craning over the pitch for coverage with only limited glimpses of the surrounding crowds and stadium. We get the promised 60fps in this case, the drama never skipping a beat during our unsynchronised gameplay tests at the Nou Camp and Allianz Arena. It's only a shame that this can't be sustained permanently, as moving to the PC version's 60fps in all modes proves to be a breath of fresh air after playing on consoles for years. It's a real eye-opener, and a hint of what we can expect of the Xbox One and PS4 releases.
There's an elephant in the room that needs addressing at this point though: the abandoned Wii U release of FIFA 14. Looking back to the 13 entry shows EA's Canada studio made good progress in optimising the game for the platform's unique GamePad controller. Off-screen play works flawlessly, while several discrete sub-menus allow you to see the entire game from a top-down perspective. Crucially, however, this one-off version of FIFA gave us a separate overview that let us switch player formations, man-marking and make substitutions behind a nearby opponent's back. It's something of a missed opportunity that Nintendo hasn't allowed two GamePads to run in tandem with Wii U to expand on this - and with EA's recent aversion to the console altogether, it might fall on tablet integration with the PS4 and Xbox One versions to tap into this potential.
In terms of visuals on last year's Wii U release, there is a distinct lack of AA on player previews during team selection, but in-game we see a post-process solution producing a similar bar of image quality to PS3. On the performance front, the addition of a second screen appears to scupper its consistency in upholding a locked frame-rate, where dips down to 18fps during cut-scenes are commonplace, while 50fps is also possible during regular gameplay. It's a jarring sensation that's most noticed during fast whipping camera motions across the pitch; the only real blemish on a game that appropriates the GamePad better than most.
FIFA 14: the Digital Foundry verdict
The state of affairs for FIFA 14 on PS3 and 360 marks a calm before the storm. With performance settled at 60fps for top-down gameplay, the biggest difference between the two boils down to the light blurring of the image on the Sony release - though its use of quincunx AA does avoid the pixel crawl artifacting across crowd elements on 360. In terms of asset quality, texturing and shadows, everything remains absolutely identical with even the PC port. The only other snag is that PS3 owners do have to put up with an initial boot time of up to two minutes - almost double that of the installed 360's - before getting to the very first kick-off. Regardless, this year's current-gen entry feels like a low-impact effort from a company with eyes on much bigger targets.
Each year EA declares a bold revolution in the series' feature-set, stringing out a trendy line of buzzwords to describe tweaks to ball and player physics. Sadly, the current-gen releases of FIFA 14 bring nothing close to a technical reinvention of some previous entries, for which arguably the high point has been FIFA 12's player-toppling Impact Engine. To a degree, lower sales of this year's release shows peoples' eyes are indeed drawing towards the more progressive Xbox One and PS4 versions due in November, both of which are benefactors of a shift to the new Ignite engine.
Our hands-on with an early Xbox One build of FIFA 14 at E3 was mostly positive. While visual hiccups show it is a work in progress, we can confirm that a more radical revamp is certainly coming to next-gen platforms. We still see blunt phrases like "True Player Motion" and "Living Worlds" being bandied about in the marketing spiel, but in our experience the stated simulation of mass and weight for each body part does make 90-degree turns and ball-trapping feel tangibly different - weightier - to their manner in the existing current-gen release. Lighting is altered too in the jump to next-gen hardware, while atmospherics like fully 3D crowds help to avoid the pixellated sprite-work seen in PS3 and 360 versions. Whether the new and old can be compared directly remains to be seen, but come what may, football fans are in for a November full of change.
Will you support the Digital Foundry team?
Digital Foundry specialises in technical analysis of gaming hardware and software, using state-of-the-art capture systems and bespoke software to show you how well games and hardware run, visualising precisely what they're capable of. In order to show you what 4K gaming actually looks like we needed to build our own platform to supply high quality 4K video for offline viewing. So we did.
Our videos are multi-gigabyte files and we've chosen a high quality provider to ensure fast downloads. However, that bandwidth isn't free and so we charge a small monthly subscription fee of £4.50. We think it's a small price to pay for unlimited access to top-tier quality encodes of our content. Thank you.
Support Digital Foundry