Grab this 55 inch LG C2 OLED for a grand at Amazon right now
A great price on our top 4K TV recommendation for HDR gaming.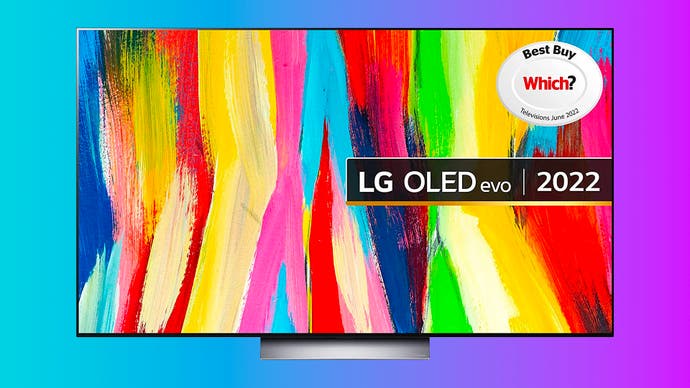 It's been a bit of a barren landcscape when it comes to deals on LG OLED tellies, especially the class-leading C2 series. Here for you today though, I've got a stonker on the 55-inch C2 OLED, which you can grab from Amazon (sold through Reliant Direct) for £1052 with a tick-box 10 percent off voucher.
The big thing with the C2s over the older C1s and other OLEDs generally is that the C2 uses LG's new Evo panel. On the C2 TVs that are 55 inches or bigger in size (like this one!), this means you'll be getting a much brighter panel. Higher brightness helps to improve the already stellar contrast, as well as offer more impactful HDR, too. OLEDs have never been able to get as bright as their QLED or Mini LED counterparts, so this is a huge step forward. Of course, you still get the vibrant colours and deep, inky blacks that OLEDs are known for with the new panel, and the results are simply extraordinary.
It's also worth noting that the C2 brings with it an absolute shedload of gaming features, including four HDMI 2.1 inputs which allows for 4K at 120Hz - ideal for gaming on PS5 and Xbox Series X. You also get a few different flavours of VRR, including HDMI Forum VRR (for consoles) and both Nvidia G-Sync and AMD FreeSync Premium (for PCs). There is also support for cloud gaming services such as Nvidia GeForce Now so you may not even need a console to appreciate the C2. It also comes with a handy Game Optimiser mode which aids in customising the TV's performance to match the game you're playing so you get the best experience possible.
The C2 also comes with one of the more intuitive version of LG's WebOS operating system, while it also comes powered by LG's Alpha 9 Gen 5 processor for some pretty snappy performance. On the front of speakers, the C2 also comes with support for Dolby Atmos for some more immersive audio. While the speakers in the C2 are pretty decent, for the most cinematic exprerience, I'd say to pick up a dedicated soundbar, such as the Sonos Beam I'm running at home.
For the 55 inch C2, £1052 isn't a bad price, and if you're looking for a fantastic TV to take your setup to the next level, this really is the best you can get.