The best gaming laptops of CES 2021: Asus, Lenovo, MSI and more
Trends and highlights from Digital Foundry.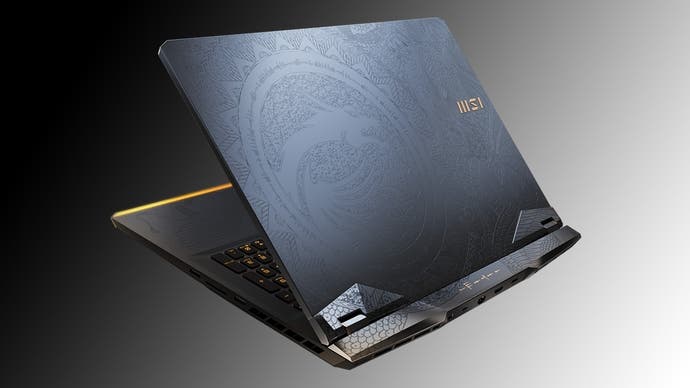 This week's CES trade show saw the announcement of dozens of new gaming laptops, many with brand-new AMD Ryzen 5000 processors, RTX 30-series graphics cards or both. This makes it a perfect time to pick up a gaming laptop, as you'll know that you're getting the latest specs that will make PC games look and play their best.
The first models are set to arrive on January 26th, so take a look at our roundup of the most exciting announcements from the show floor - we've got highlights from all the major manufacturers including Asus, Lenovo, MSI, Razer and more. We've also broken down the biggest gaming laptop trends for 2021, so you'll know the specs and features to look out for.
Just move down the page to get started, or use the quick links below to jump to the model you're most interested in.
---
Acer Nitro 5: the best value proposition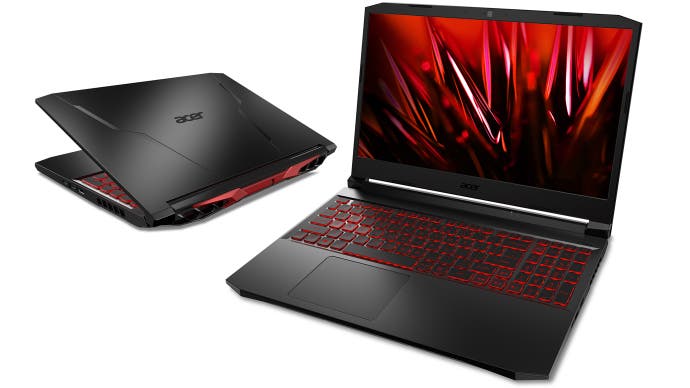 15-/17-inch 1080p up to 360Hz or 1440p 144Hz, up to RTX 3080, Ryzen 5900HX
The Nitro 5 was likely Acer's most popular gaming notebook in 2020, thanks to its low cost of entry on the most modestly equipped models and respectable performance throughout the stack. The 2021 version looks even stronger, with Ryzen 5000 series processors in most units and anything from a GTX 1650 to RTX 3080 available depending on how much you spend - with the base model costing $750 and the most expensive $2300. If Acer is able to beat its competitors on price while maintaining performance, it could well be onto another winner. We wouldn't mind a fresh design on its 2022 models, though...
Also from Acer: The Triton 300 SE looks delightfully over the top for a 14-inch laptop, with a sleek anodised aluminium body, other models updated for 2021 include the Helios 300, Aspire 5 and Aspire 7.
---
Asus Zephyrus G14: the king of 2020 returns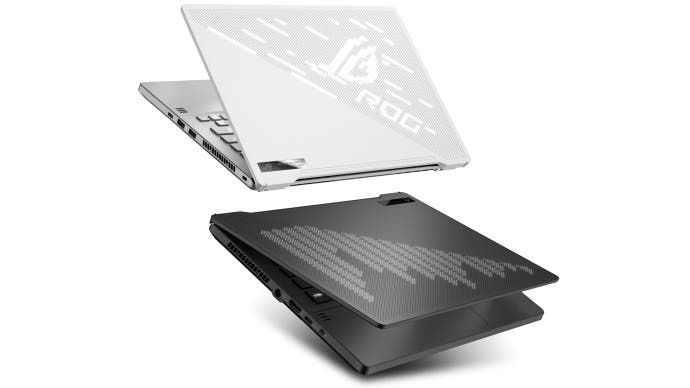 14-inch 1440p 120Hz, RTX 3060, Ryzen 5900HS
We picked the ultra-portable Flow X13 and its tiny XG Mobile RTX 3080 external GPU as the coolest tech announced at CES 2021, but we're going for something a little more traditional here. The Zephyrus G14 was the surprise laptop hit of 2020, thanks to its blend of a genuinely cool and classy design and an unexpectedly powerful Ryzen 4000 processor. Now more laptop vendors have caught onto the strength of AMD's Ryzen platform, with many shifting a majority of machines to the new Ryzen 5000 chips, but the updated Zephyrus G14 still holds some unique charm.
The programmable matrix design is back and upgraded with new features, the RTX 2060 Max-Q has been swapped for a significantly more powerful RTX 3060 Max-P and the screen has seen a massive improvement too. The 1080p 120Hz 16:9 display of the original has been swapped for a 1440p 120Hz 16:10 alternative; the taller display and higher resolution ought to make this a much better machine for working or surfing the web. If the company is able to hit the same ~$1200 price point, this could be an absolute champion.
Also from Asus: If you want even more power, Asus has also made a Zephyrus G15 with the same design, which can be fitted with up to an RTX 3080 graphics card. The rest of the company's deep lineup also looks strong, including the dual-screen ZenBook Pro Duo 15, the Strix Scar 15 and the Tuf Gaming Dash F15. Oh, and look up the Flow X13, it's insane.
---
Dell Alienware m17 R4: a throughly premium affair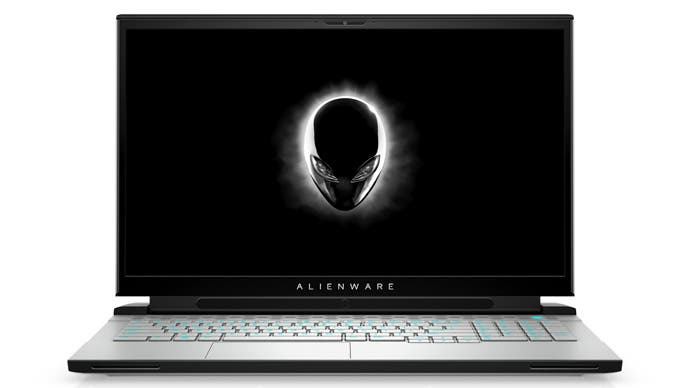 17-inch 1080p 360Hz, up to RTX 3080 and Core i9 10980HK
Dell, like many manufacturers, is opting to upgrade its Alienware laptops with the latest RTX 30-series graphics cards and improved display options, although a lack of 45W 11th-gen parts means that you'll still get a 10th-generation Core i7 or Core i9 Intel processor. HDMI 2.1 support has been added, allowing connections to compatible 4K 120Hz HDR monitors and TVs, and both memory and storage options have been expanded significantly. Sadly, it looks like there's no 1440p screen option right now, with Dell instead opting for a 1080p 144Hz, 1080p 360Hz or 4K 60Hz. The smaller Alienware m15 also comes with a 4K OLED screen option. The design of these laptops also hasn't changed, perhaps teeing up a more substantive change later on. The m17 (and smaller m15) R4 will start at $2150, making these wholly premium propositions.
---
Gigabyte Aorus 15P: all about the cooling capacity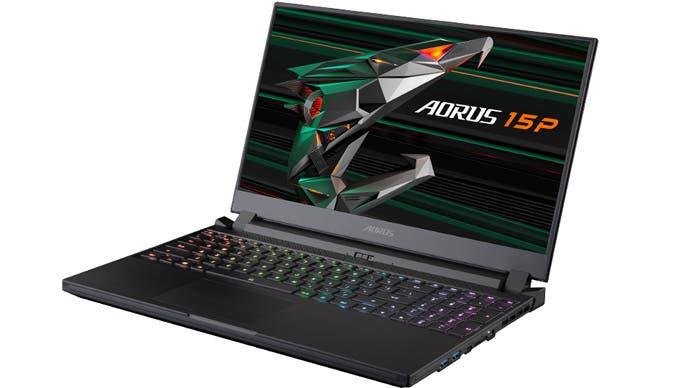 15-inch 1080p 240Hz, RTX 3060 or RTX 3070, Core i7 10870H
The Aorus 15P is looking to differentiate itself through better sustained performance, with Gigabyte's engineers increasing its air intake and using dual fans and five heat pipes to dissipate heat away from the CPU, GPU and other components. Gigabyte claims this has reduced CPU/GPU temperatures by around 10 degrees, a significant improvement, and that the laptop can maintain high clock speeds longer than its competition. The laptop also uses Microsoft Azure AI to balance load between CPU and GPU, something that Nvidia also mentioned doing with their Dynamic Boost 2.0 tech on the new RTX 30-series cards. We'll have to to see if all these claims hold up in third-party testing, but given that the Aorus 15P already looks great and now has the latest Nvidia graphics cards, it could be a good bet.
Also from Gigabyte: The Aorus 15G and 17G are similar designs with equivalent specs, but sustained performance should be a bit lower in exchange for a slimmer design. Depending on how often you move your laptop around, a thinner and lighter option might make more sense. For more budget-friendly options, check out the new Gigabyte Gaming A and Gaming G series designs, which include 11th-gen Comet Lake H CPUs, RTX 30-series GPUs and 144Hz or 240Hz displays.
---
Lenovo Legion 7: powerful, professional, pretty irreproachable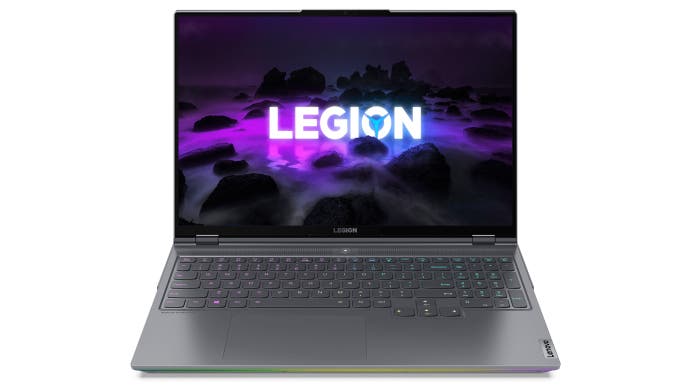 16-inch 1440p 165Hz, RTX 30-series (TBA), Ryzen 5000 (TBA)
The Lenovo Legion 7 seems to have perfectly captured the trends of CES 2021, with an upgraded display, RTX 30-series graphics cards and Ryzen 5000 processors. The screen is the highlight for me; it's a 16-inch 1440p 165Hz G-Sync unit with a 16:10 aspect ratio (taller than the usual 16:9). It's also HDR capable, with an entry-level DisplayHDR 400 certification and DolbyVision support, which is a neat inclusion. The chassis is impressive too, with zone-controlled Corsair iCUE-controlled RGB lighting on every side - which can be turned off for a perfectly businesslike appearance - and a larger trackpad than last year's iteration. Internally, it looks like Lenovo is another manufacturer aiming for improved cooling performance, with increased airflow, more copper heat pipes and several new temperature sensors. Even the internals have been styled too, with QR codes for rapid recognition of parts to replace or upgrade when the time comes. The whole package looks very promising, and we're hoping to test this one out ourselves.
More from Lenovo: The 15-inch or 17-inch Legion 5 models should be the best value options in the lineup, with last year's 15-inch sizes dropping to around £800 for a version with RTX 2060 and Core i5 processor. A similarly priced model with an RTX 3060 and Ryzen 7 5800H would deliver an impressive amount of firepower for the money. And unlike entry-level gaming laptops from other vendors, the Legion 5 looks clean and restrained, easily passing for a business laptop when called upon, while still delivering decent thermal performance, battery life and port selection. Definitely one to keep your eye on, especially in the Black Friday sales! Lenovo has also announced the Legion 5 Pro, with a 1440p 165Hz screen and better thermals and the ultra-light Legion 7 Slim which offers 1080p 165Hz or 4K 60Hz screen options.
---
MSI GE76 Raider Dragon Edition Tiamat: the name says it all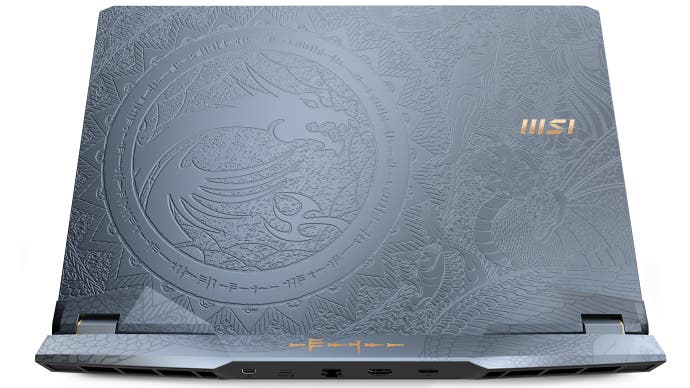 15-inch 1080p 240Hz, RTX 3060 or RTX 3070, Core i7 10870H
MSI are never content with making an ordinary laptop, an attitude I love. The GE76 Raider - intake of breath - Dragon Edition Tiamat is a proud continuation of that tradition, with an absolutely insane etched finish that includes "the 11 divine creatures on the Ishtar Gate" and extends from the lid to the chassis. Inside, the Tiamat has an RTX 3070 or 3080 GPU, a 10th-gen Intel Core i7 or Core i9 processor (as there's no 11th-gen successor just yet) and a 99.9Wh battery which goes right up to the limit of what is allowed to be taken onto an airplane. The laptop is also the first to ship with WiFi 6E, according to MSI, which can use the 6GHz band as well as the more ordinary 2.4GHz and 5GHz bands. Sadly, a 17-inch 1440p screen option isn't available, so you'll have to choose from a high refresh rate 1080p (240Hz or 300Hz) or a 4K 60Hz panel; HDMI 2.1 also isn't included but you can connect to 4K 120Hz displays via DisplayPort if needed.
Also from MSI: The GE76 is also available as a more ordinary looking laptop for $2199, while the GS66 Stealth is a thinner and lighter 15.6-inch take on a similar concept. The Stealth 15M is MSI's super-thin and more professional offering, while the Creator 15 comes with a 4K OLED screen and RTX 30-series graphics card. All look well-equipped, although future Ryzen 5000 designs could provide even more firepower.
---
Razer Blade 15 Advanced: more options, plus one unique display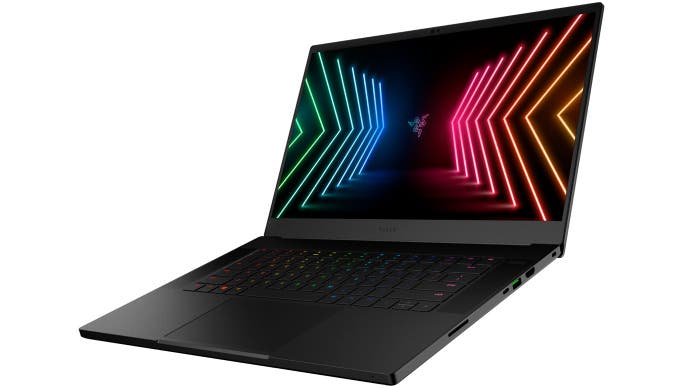 Up to 15-inch 1440p 240Hz, RTX 30-series, up to Core i7-10875H
Razer's Blades offer some of the nicest designs in the gaming laptop space, crafted like a MacBook from a single hunk of aluminium, so it's not surprising that we don't see a new design for the 2021 models. Instead, you get upgraded internals, specifically RTX 30-series graphics cards, and upgraded displays, with options for high refresh rate 1080p and 1440p resolutions plus 4K 60Hz - so far, so typical, right? But the highest-end screen option is pretty insane, a 1440p 240Hz G-Sync unit with the flexibility to run older competitive games at super high frame-rates (think CSGO, Valorant, League of Legends) or newer games at nearer 60fps with impressive visual fidelity. That's the model I'm most interested in, although the $2500 price point is eye-watering to say the least. I'd love to see Ryzen 5000 processors offered as an option too, with all of the models I've spotted opting for Intel's slightly-outdated 10th-generation Core i7 processors instead. Perhaps something a mid-year refresh could include?
Also from Razer: The Blade Pro 17 has also been refreshed with RTX 30-series graphics cards and improved screens, while the Blade 15 Base is cheaper than before at $1700 - yeah, it's still not cheap but that's never really been Razer's thing. In general, there are many more configurations than before, thanks to the new screen options, so do check reviews and product pages carefully to make sure it's the spec you're interested in!
---
Gaming laptop 2021 trends
The specs, features and designs that are so hot right now
The biggest revelation for me at this year's show has been the introduction of high refresh rate 1440p screens on so many models. For far too long, you've only had two options on gaming laptops: a basic 1080p screen at 120Hz or higher, targeted towards competitive gamers, and a 4K 60Hz option designed for content creators. Neither are perfect options - 1080p can look a little grainy at 15 inches or more and doesn't provide a lot of screen real estate for working, while 4K is often nigh-impossible to run at 60fps in modern AAA games and absolutely wrecks your battery life. Now, 1440p offers the same awesome middle ground it does on PC monitors. It looks sharp at 15 or 17 inches, it requires only a modest increase in graphical horsepower to run at high frame-rates and it provides more screen real estate for getting work done. 1440p is the absolute sweet spot for PC gaming on desktops, and with the latest CPUs and GPUs there's no reason why that can't also be true on new laptops.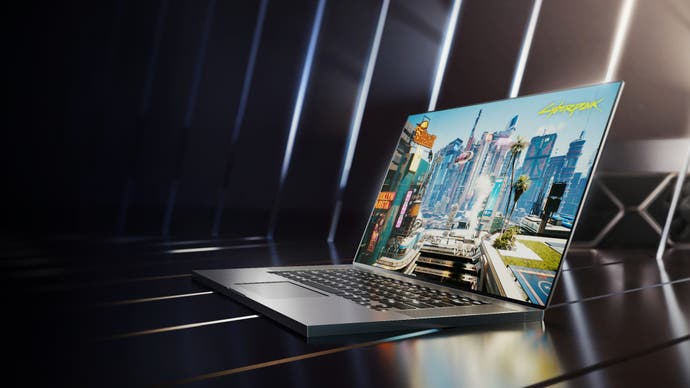 Speaking of upgraded specs, there are quite a few innovations you can expect on your next purchase. As we mentioned in the intro, all three major chip-makers have announced new models recently, so instead of getting just a CPU or GPU upgrade over last year's models you're likely to get both. This ties in really nicely with the shift to 1440p 120Hz displays, with Nvidia's RTX 30-series cards reportedly delivering up to a 50 per cent boost in frame-rates on equivalent processors; you can also expect a small boost from upgrading to Intel or AMD's latest silicon too. High speed RAM, rated at 4266MHz, is also becoming more commonplace on high-end machines, which is particularly great for both integrated graphics performance and Ryzen CPU performance. These new components also bring with them upgraded connectivity options, like PCIe 4.0, Thunderbolt 4, HDMI 2.1 and Wi-Fi 6E, providing a tangible benefit beyond higher frame-rates.
When choosing a laptop, do make sure that both components have been upgraded, as some manufacturers are doing more limited refreshes of just the CPU or just the GPU, especially on their entry-level products. This is especially true on Intel-based machines, where full-fat followups to chips like the Core i9 10980HK don't yet exist - so manufacturers need to pivot to AMD Ryzen 5000 or stick with 10th-gen CPUs. These half-upgrades will result in cheaper sticker prices, but it's still worth knowing how much you'd need to spend to get the latest tech throughout.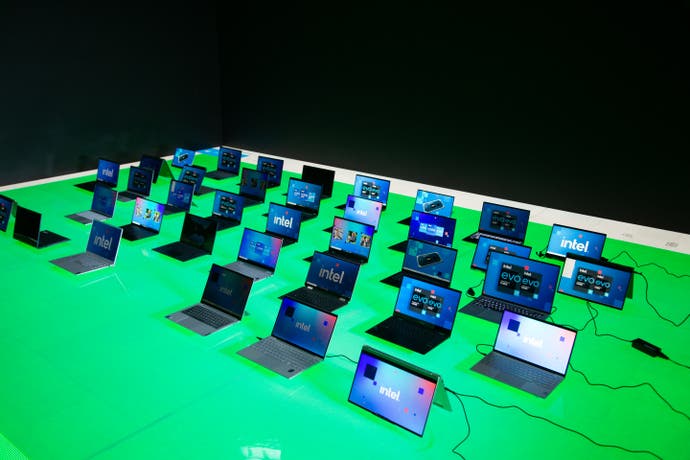 Laptop designers have also pushed out the boat this year, with many opting for more stylish or outlandish designs that can help you stand out or blend in, depending on your preferences. MSI and Asus have lead the pack here, but we've spotted some impressive designs from a wide range of manufacturers. There generally seems to be less of a focus on shrinking dimensions and lowering weight too, with several new models actually being heavier or thicker than their counterparts to ensure adequate cooling performance, longer battery life or the inclusion of features like higher-res screens. These are all great changes, but the proof of the pudding will be in the tasting - so do check your favourite outlets for reviews on laptops you're interested in rather than taking a laptop maker's word that their new system is as perfect as it appears.
With that, we come to the end of our CES 2021 laptop roundup. I hope you found these musings useful, and be sure to let us know if you have any questions, comments or suggestions. You can reach me on Twitter @wsjudd or in the comments below; either way we'll catch you for more PC gaming coverage here at Eurogamer in the very near future.