Intel reveals their first discrete graphics card, already en route to developers
Player Three has entered the game.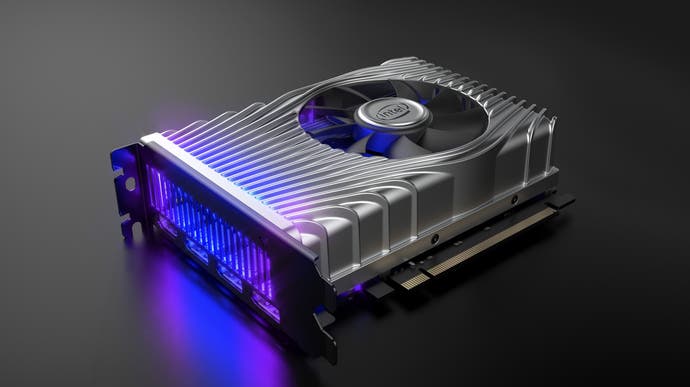 The graphics cards space has been immutable for decades, with Nvidia and AMD each taking turns at the top of the discrete market and Intel chipping away with their integrated offerings. Now, years after the first rumblings that things were about to change, Intel is sending out its first discrete GPU to developers. It's called the DG1, and it could have an impact far in excess of its modest frame. Two days after first revealing the card on stream, we have more details about how this card works - and what Intel is planning to do with it.
Let's start at the beginning. Intel's new graphics architecture is called Xe, and comprises of three microarchitectures that operate at different scales - Xe-LP for low power mobile devices, like phones, tablets and laptops, Xe-HP for workstations or gaming-class desktops and Xe-HPC for high performance computing - think server clusters and supercomputers. The DG1 is from this first class of devices, so don't expect desktop-class performance that rivals the best from AMD or Nvidia - that's coming later.
Rather than being a standalone release for gamers, right now the DG1 is intended mostly for developers to get to grips with the new Xe architecture. Intel's 11th-generation Tiger Lake mobile processors are driving the release, as these will include the new Xe-LP integrated graphics, which the company promises will offer double the performance of the Iris Plus graphics built into 10th-generation Ice Lake chips. (Intel also claim that the new CPUs will boast double digit upticks in CPU performance and a heavy boost to AI processing as well.) Of course, it can be hard to program applications to take full advantage of a chipset that hasn't been released yet, so Intel is sending out to the DG1 to independent software developers ahead of the launch of Tiger Lake. That should ensure everyone is up to speed with the Xe-LP microarchitecture, no matter whether it's built into a laptop or present as a discrete GPU.
So that's what DG1 is intended for - at least for now. The other big reveal today is what the card actually looks like. These photos don't reveal a massive amount, but we can see four display outputs - likely one HDMI, three DisplayPort - and no auxiliary power input, suggesting that the card is drawing no more than the 75W provided by the PCI express slot. There's also a modest nine-bladed fan, about 70mm in size, sitting within a finned metal shroud fitted with a back plate. Judging by the size of the PCIe slot, the card measures about 14cm long, a little shorter than the average "mini" graphics card of around 17cm.
The release also contains some information about the software side of the equation. Like Intel's integrated graphics, the DG1 will make use of the recently redesigned Graphics Command Center. Redesigned last year, the software recently added integer pixel scaling and a beta version currently offers hardware-accelerated screen capture.
Despite today's announcements, there's still plenty we don't know about the DG1 graphics card, the Xe architecture and those Tiger Lake processors. Leaks have suggested a 96 execution unit part compared to the 64 execution units on Ice Lake, but that remains unconfirmed - and we have no idea about other specs like clock speed, memory capacity and bandwidth, to say nothing of a price and release date! However, we can at least postulate that the higher execution unit count, plus access to dedicated VRAM and cooling, should allow this low power part to punch harder than its previous-gen mobile counterparts.
Ultimately we're left with more questions than answers, but with luck Intel will be a little more forthcoming in the months leading up to the rumoured summer release date. With a new console generation and fresh PC hardware from all three major players, 2020 could be one to remember.