AMD announces Ryzen 5000 desktop CPUs to challenge Intel's gaming dominance
Plus: first details on next-gen 'Big Navi' GPU performance.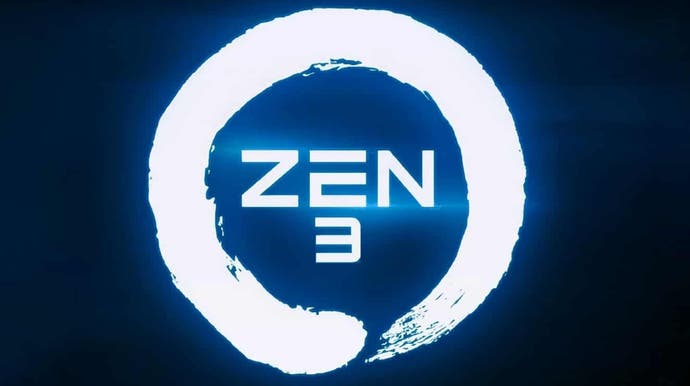 AMD's latest Ryzen processors are official - and this time, they're gunning for Intel's gaming throne with their new Zen 3 designs. They're doing that with significantly faster single-core speeds, a new eight-core complex and a few more clever tweaks to the winning Ryzen formula. Here's what you need to know about Ryzen 5000.
So first off: Zen 3. AMD's Zen+ and Zen 2 designs each incorporated better single-core performance, allowing subsequent Ryzen processors to narrow the gap in IPC against Intel, and Zen 3 takes that to the next level with the greatest gen-on-gen increase in single-core performance in the series' short history. There's also an architectural change here, as the company shifts from four-core core complexes (CCXs) to eight-core complexes. That means that an eight-core processor will use a single complex, meaning that there's no complex-to-complex latency and all cores can use a single (double-size) cache.
There will be four Zen 3 designs initially: the flagship Ryzen 5950X ($799), the penultimate Ryzen 9 5900X ($549), the high-end Ryzen 7 5800X ($449) and the mid-range Ryzen 5 5600X ($299). These designs have 16, 12, eight and six cores, respectively, with boost clocks of up to 4.9GHz on the 5950X. This is backed with around 70MB of combined L2 and L3 cache on the top two parts, with 35MB on the other models. TDPs are similar to last-gen, with three 105W parts at the upper end and one 65W option for the Ryzen 5. You can see our spec table for the full breakdown.
| | CPU design | Boost | Base | Cache | TDP | RRP |
| --- | --- | --- | --- | --- | --- | --- |
| Ryzen 5950X | Zen 3 16C/32T | 4.9GHz | 3.4GHz | 72MB | 105W | $799 |
| Ryzen 5900X | Zen 3 12C/24T | 4.8GHz | 3.7GHz | 70MB | 105W | $549 |
| Ryzen 5800X | Zen 3 8C/16T | 4.7GHz | 3.8GHz | 36MB | 105W | $449 |
| Ryzen 5600X | Zen 3 6C/12T | 4.6GHz | 3.7GHz | 35MB | 65W | $299 |
| Ryzen 3950X | Zen 2 16C/32T | 4.7GHz | 3.5GHz | 72MB | 105W | $749 |
| Ryzen 3900X | Zen 2 12C/24T | 4.6GHz | 3.8GHz | 70MB | 105W | $499 |
| Ryzen 3800X | Zen 2 8C/16T | 4.5GHz | 3.9GHz | 36MB | 105W | $399 |
| Ryzen 3700X | Zen 2 8C/16T | 4.4GHz | 3.6GHz | 36MB | 105W | $329 |
| Ryzen 3600X | Zen 2 6C/12T | 4.4GHz | 3.8GHz | 35MB | 95W | $249 |
| Ryzen 3600 | Zen 2 6C/12T | 4.2GHz | 3.6GHz | 35MB | 65W | $199 |
AMD claims that their new processors offer better single-threaded performance - and therefore better gaming performance - than Intel's best parts, and that would be an exciting turnaround if it's borne out in testing. In Cinebench R20's single-threaded benchmark, AMD showed the flagship 5900X beating out the Core i9 10900K by a significant margin - 544 vs 631, a 16 per cent advantage.
AMD also demonstrated CPU performance in Shadow of the Tomb Raider's integrated benchmark at the high preset at 1080p, with the new 5900X processor offering a 28 per cent advantage over the Ryzen 3900XT. Other results shown by AMD show even higher improvements, especially for single-core dependent games like CSGO, League of Legends and Far Cry 5. Overall, AMD reckons that there will be on average a 26 per cent uplift in instructions per clock.
The new Ryzen 5000 CPUs will be available worldwide from November 5th - remember remember, etc.
AMD also teased its Big Navi graphics card, scheduled for a full reveal later this month, and confirmed the Radeon 6000-series naming scheme. They showed the card, when combined with a Ryzen 5950X processor, hitting above 60fps in Borderlands 3 at 4K using highest 'Bad Ass' graphical preset. AMD also claimed an average frame-rate of 88fps in Call of Duty: Modern Warfare (2019) and 73fps in Gears of War 5, again using the highest settings and at 4K resolution. It'll be interesting to see how representative those figures are to a wider range of games, but it's certainly a promising start.
We'll know more once we've been able to test these processors and graphics cards ourselves, so stay tuned for our analysis. AMD's third-generation Ryzen CPUs are already fantastic for content creation and mixed workload use cases, so if we see the gaming performance gains that AMD is promising, Ryzen 5000 could be another massive step forward for Team Red.