Performance Analysis: The Division beta
A strong showing on consoles as Ubisoft Massive aim for platform parity.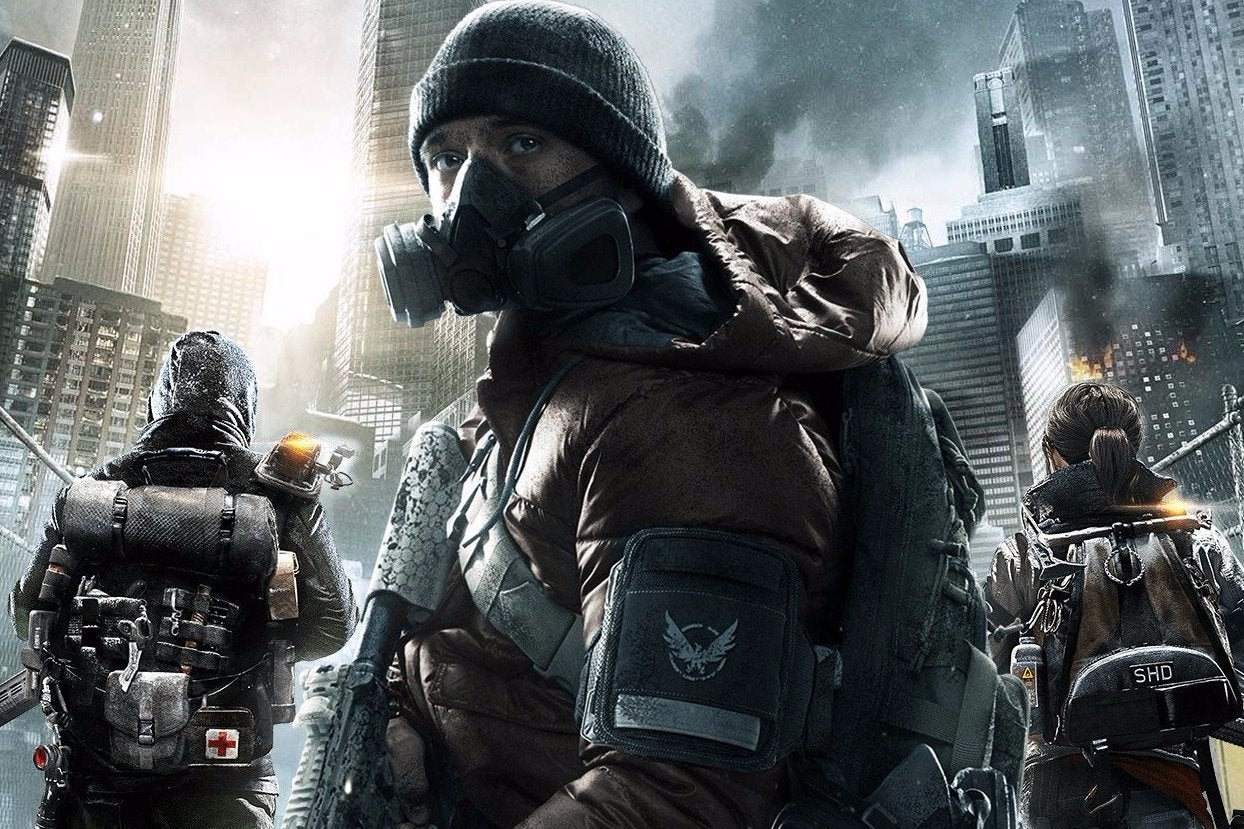 The Division's beta may not match its spectacular E3 2013 demo point-for-point - back then a mascot for PlayStation 4 and Xbox One's brimming potential - but what we have today still outshines most current-gen titles in its technical spec. A post-pandemic New York sets the stage for some of the best lighting seen on console, harnessing plumes of volumetric fog, high quality screen-space reflections, and wind-affected particles. Atmosphere is king, and the rich, snow-battered look of its streets is a real showcase for the new Snowdrop engine.
But where precisely is the advantage on the console front, if any? We've dug deep into both PS4 and Xbox One betas, and ultimately the answer to this lies in the game's performance, rather than visuals. Both are capped at 30fps, and each holds strong at this number around Manhattan's most hotly-contested zones. Main story missions run without a hitch on PS4, while "go to X and defeat Y" style side-missions run equally well - on Sony's machine we encounter no spikes in the target 33.3ms render time needed to hit this frame-rate.
Xbox One is almost as solid too, with just minor issues. You get a near-locked 30fps, but in blowing the front doors during the Madison Field Hospital main mission, it shows a 28fps lurch downward not seen on the rival console. An adaptive v-sync is revealed at this point, and with screen-tear kicking in for a block of frames on our graph. But this is a one-off, and in scouring The Division for any other hits to performance on this machine, all side-missions come out at a flawless 30fps, and it's only a later shootout in a diner that flags a second instance of a performance drop.
It's a robust experience overall then. Tearing is uncommon too, appearing only in brief flashes during cut-scenes on Xbox One - where presumably PS4 relies on the same adaptive v-sync method, should a frame ever drop to instigate a similar tear. The sense is Microsoft's platform has been heavily factored in at the start of development to keep performance solid, despite PS4 turning in a slightly more concrete 30fps return overall.
Across the run of play, it's unlikely that any console owner will be unhappy with The Division's performance level - it's remarkably tight on both systems for most of the duration, but the PS4's absolute consistency in all cases is creditable.
However, with a 30fps cap in place, any true frame-rate margin between these machines is shrouded in mystery, with only hints of the divide flaring up. Otherwise the two are identical in the other key technical facets; PS4 and Xbox One push a full native 1920x1080 resolution, backed by a perceptible match for the SMAA x1 technique used on PC. This is accompanied by a temporal pass to clear up flicker on camera pans, as evidenced by a light ghosting artefact trailing behind objects (which should be undetectable by eye, unless you grab a frame mid-motion and zoom in close).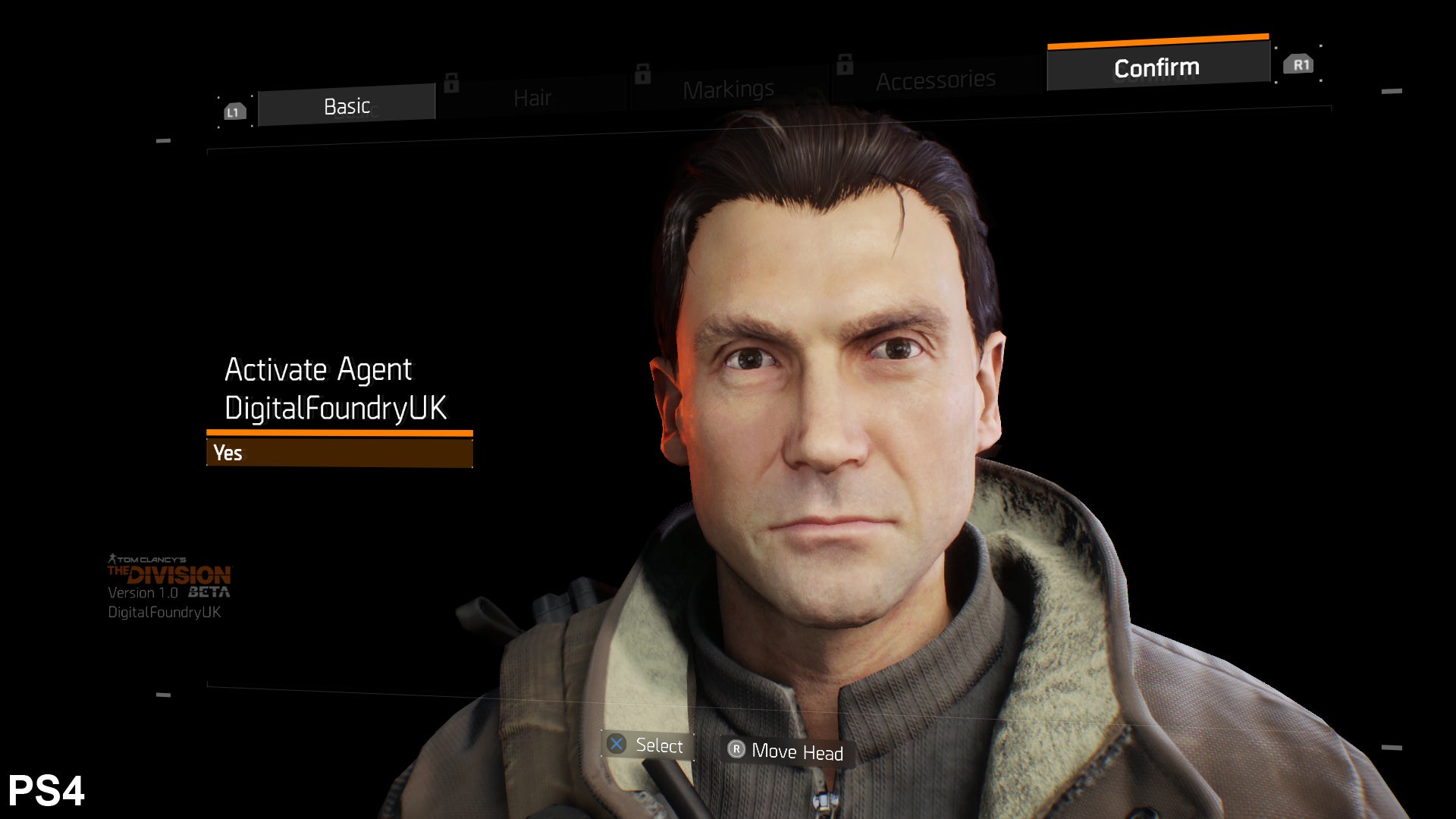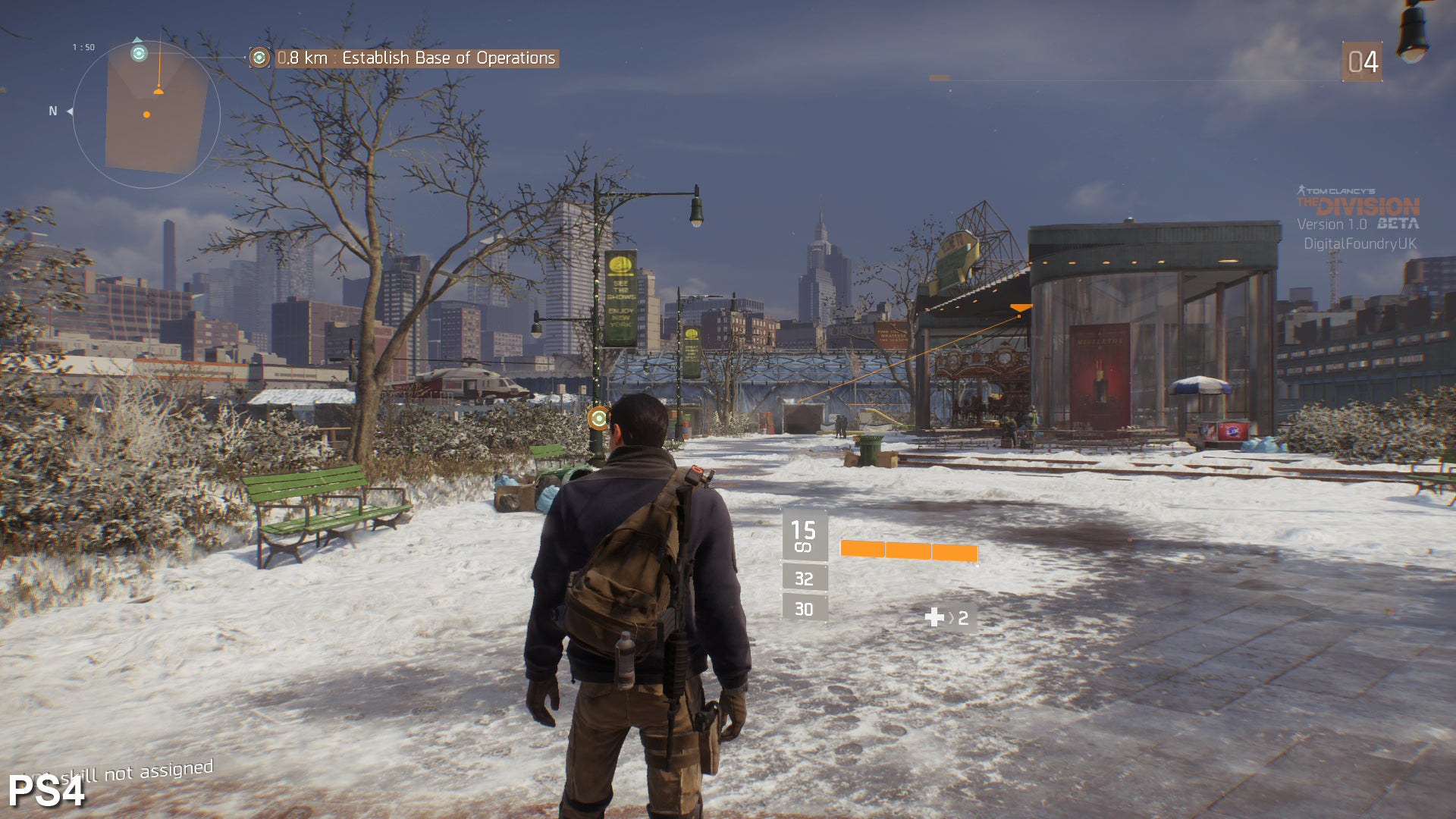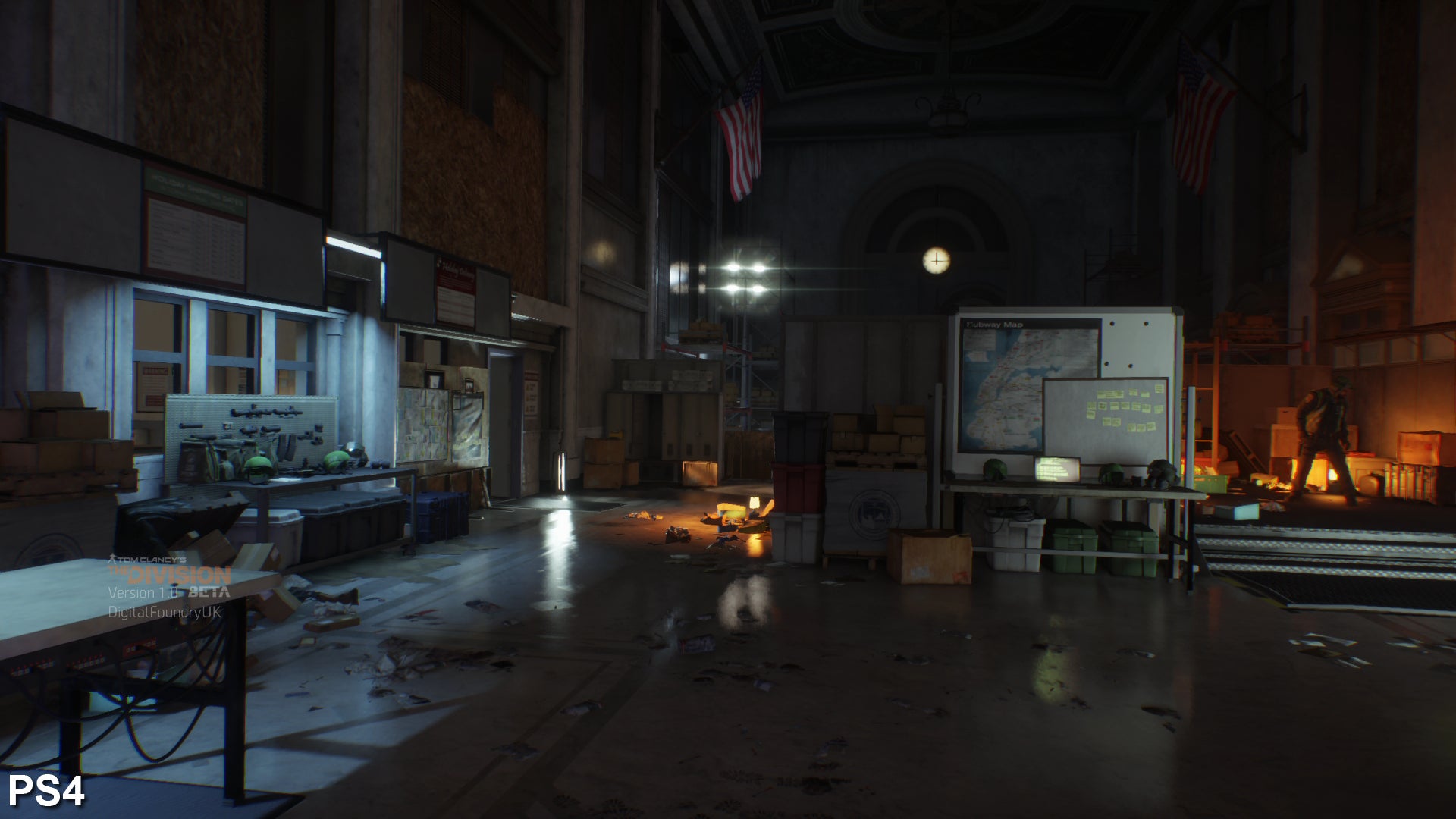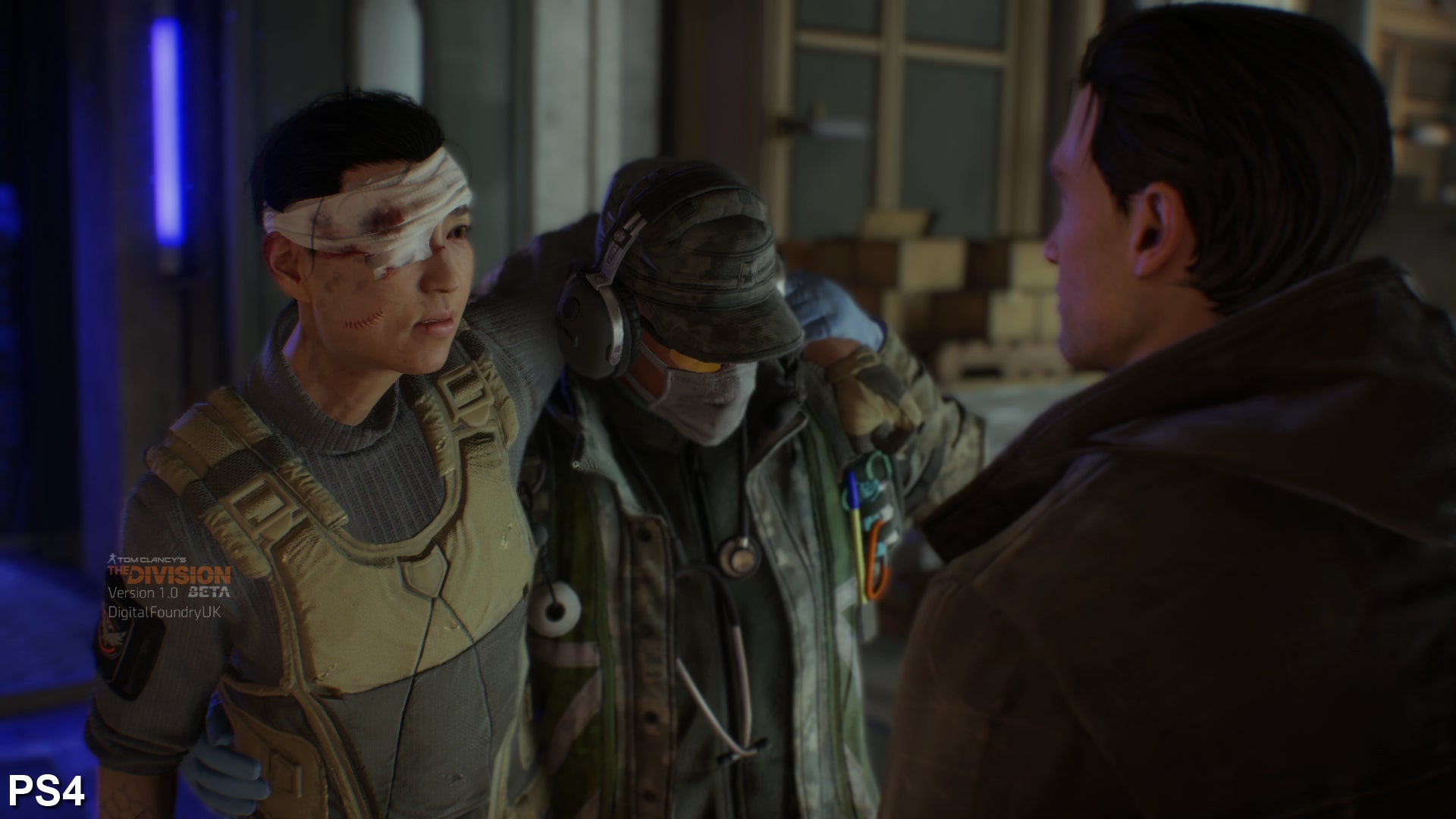 Elsewhere, the standout tech bulletpoints of The Division feature on both machines, with the same toggles for chromatic aberration and image sharpness as mentioned previously. Visually, there's little to distinguish the two, the one exception being some missing textures on Xbox One around the base of operations. This is errs on the nit-picking side, but door frames and stairs can omit the detail seen on PS4 here - while other major textures are present and correct. Hopefully small issues like this will be cleaned up on the run-up to the full release. As things stand, the more computationally expensive parallax occlusion mapping outdoors renders at matching quality on both systems, adding a 3D 'pop' to snow around the barricades of Pennsylvania Plaza.
It's a surprise to see The Division built for such tight parity between PS4 and Xbox One. However, we have previous in this area with the likes of Destiny, Diablo 3 and Mad Max also turning in matching resolutions, visual settings and a like-for-like approach to frame-rate targets. Based on this beta, the only tangible difference between the two comes down to the frame-rate on Xbox One, though only one mission in the beta is affected. It's reasonable to expect PlayStation 4 to hold its performance level more tightly in the final release, where we expect more elaborate mission designs and larger squads to press the hardware.
Even then, we're sure to see further refinements before The Division's early March 2016 release. More enticing perhaps are extras afforded by a top-end PC, and how the game benefits from new settings like Nvidia's PCSS+ and HBAO+ technologies, and extended draw distances. We hope to investigate the major differences by the game's launch, but on the console front at least, you can't go far wrong either side of the Sony-Microsoft divide.
If you're struggling to get ahead in the game, our Division guide is live on the site now.
Will you support the Digital Foundry team?
Digital Foundry specialises in technical analysis of gaming hardware and software, using state-of-the-art capture systems and bespoke software to show you how well games and hardware run, visualising precisely what they're capable of. In order to show you what 4K gaming actually looks like we needed to build our own platform to supply high quality 4K video for offline viewing. So we did.
Our videos are multi-gigabyte files and we've chosen a high quality provider to ensure fast downloads. However, that bandwidth isn't free and so we charge a small monthly subscription fee of £4.50. We think it's a small price to pay for unlimited access to top-tier quality encodes of our content. Thank you.
Support Digital Foundry