Face-Off: Resident Evil 5 Remastered
Capcom's new PS4 and Xbox One versions take on the original PC and Xbox 360 releases.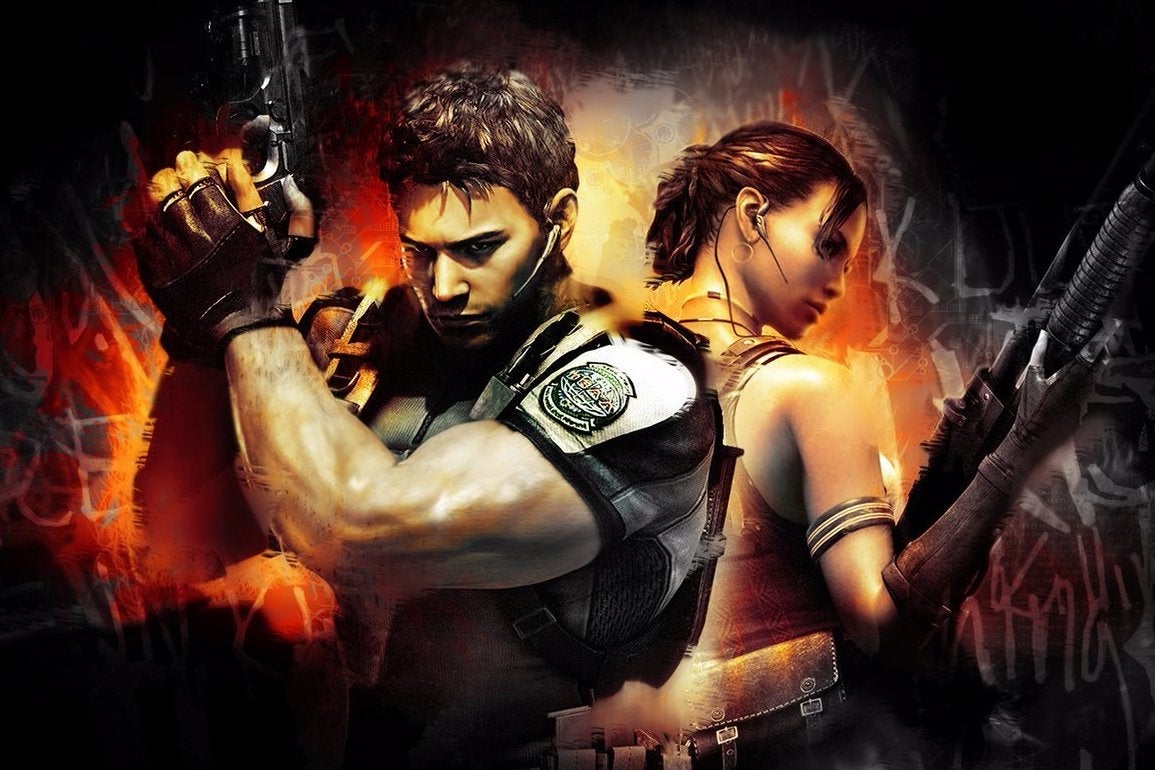 Capcom's Resident Evil Remastered series kicked off nicely with RE6 handing in solid 1080p60 gameplay, albeit with little in the way of visual enhancements. It was a promising start though, and with that firm foundation in place, basic logic suggests that the earlier, less technologically challenging games should run even better on the current-gen console. Curiously though, Resident Evil 5 Remastered doesn't quite deliver.
In terms of the basics, both PS4 and Xbox One hand in a native 1080p presentation, with post-process anti-aliasing replacing the use of more accomplished multi-sampling MSAA found on PC. On the whole, image quality is generally comparable with little of the texture blurring artefacts often seen with this kind of AA. Coverage across fine details and sub-pixel elements isn't handled as well as the original PC release, but the results produce a vastly superior image over the Xbox 360 game upscaled to full HD resolution.
The extra pixel count also manages to extract more detail from the higher quality texture work throughout the game, with brickwork and grass appearing suitably crisp. Of course, much of the artwork was designed around a 720p target resolution, and as such there are still plenty of lower quality assets on show - these don't hold up particularly well, especially when viewed up close. PS4 and Xbox One mostly match the PC game in this area, though in several cut-scenes we noticed Chris Redfield sporting lower quality texture maps on his jacket, along with reduced specular effects. It's not something we'd expect to see given how meagre the RAM requirements are for the PC game, and is mostly likely just a bug.
For the most part we're looking at a straight port of the original PC version, though Capcom has made a few tweaks in several areas. Just like Resident Evil 6, the field of view is opened up so that the action more closely resembles the classic Resident Evil titles and the Revelations games. The increased screen space gives the experience a less claustrophobic feel, while also making the game a little easier to play as you have a wider view of the action. This new setting is the default option, but purists will be pleased to know that the original field of view is selectable from the game settings menu - something that isn't possible on the original.
In terms of effect work, shadow quality gets a nice bump over PC, while object blur is also improved via a higher precision implementation, leading to fewer artefacts and a more refined look. Camera blur remains identical to the PC and last-gen versions though, with visible banding due to the lower sample count.
There are also a few lighting and gamma-related changes in a few scenes: bloom and light intensity are reduced on PS4 and Xbox One, allowing for more details to appear across bright highlights without too dramatically altering the look of the scene. These adjustments provide a more balanced presentation over the original game, though some effects - such as lens flare - are less prominent as a result.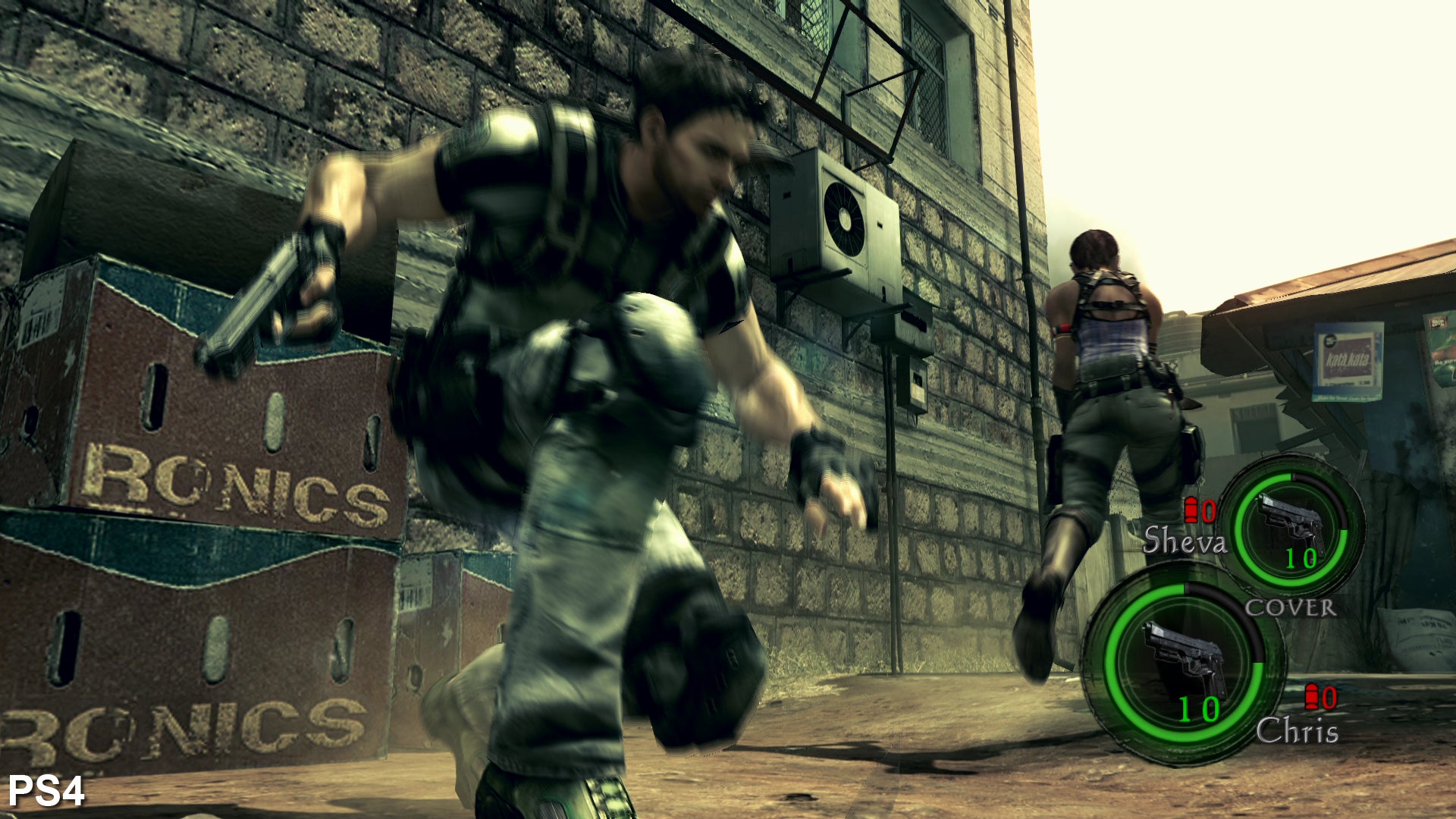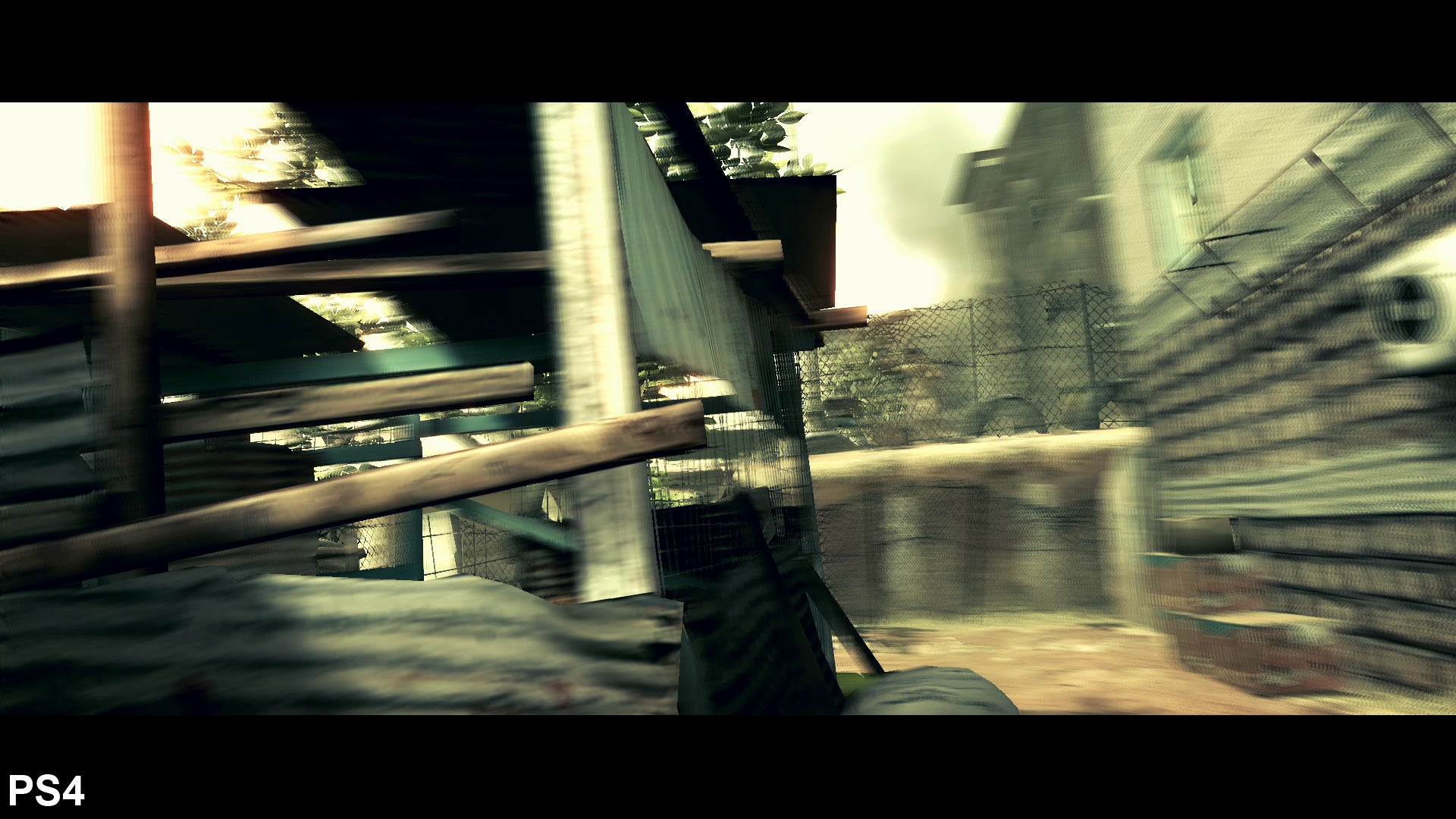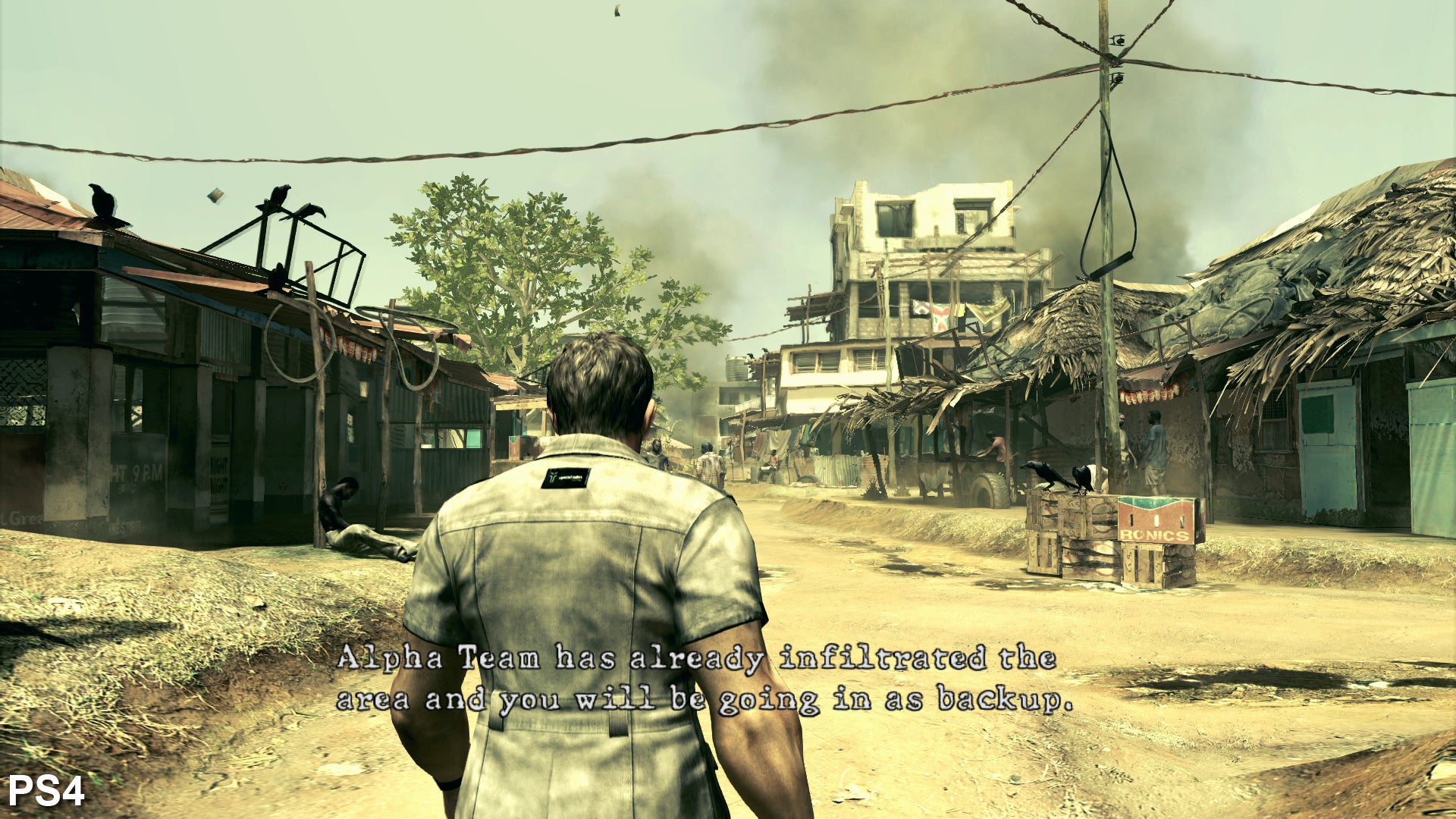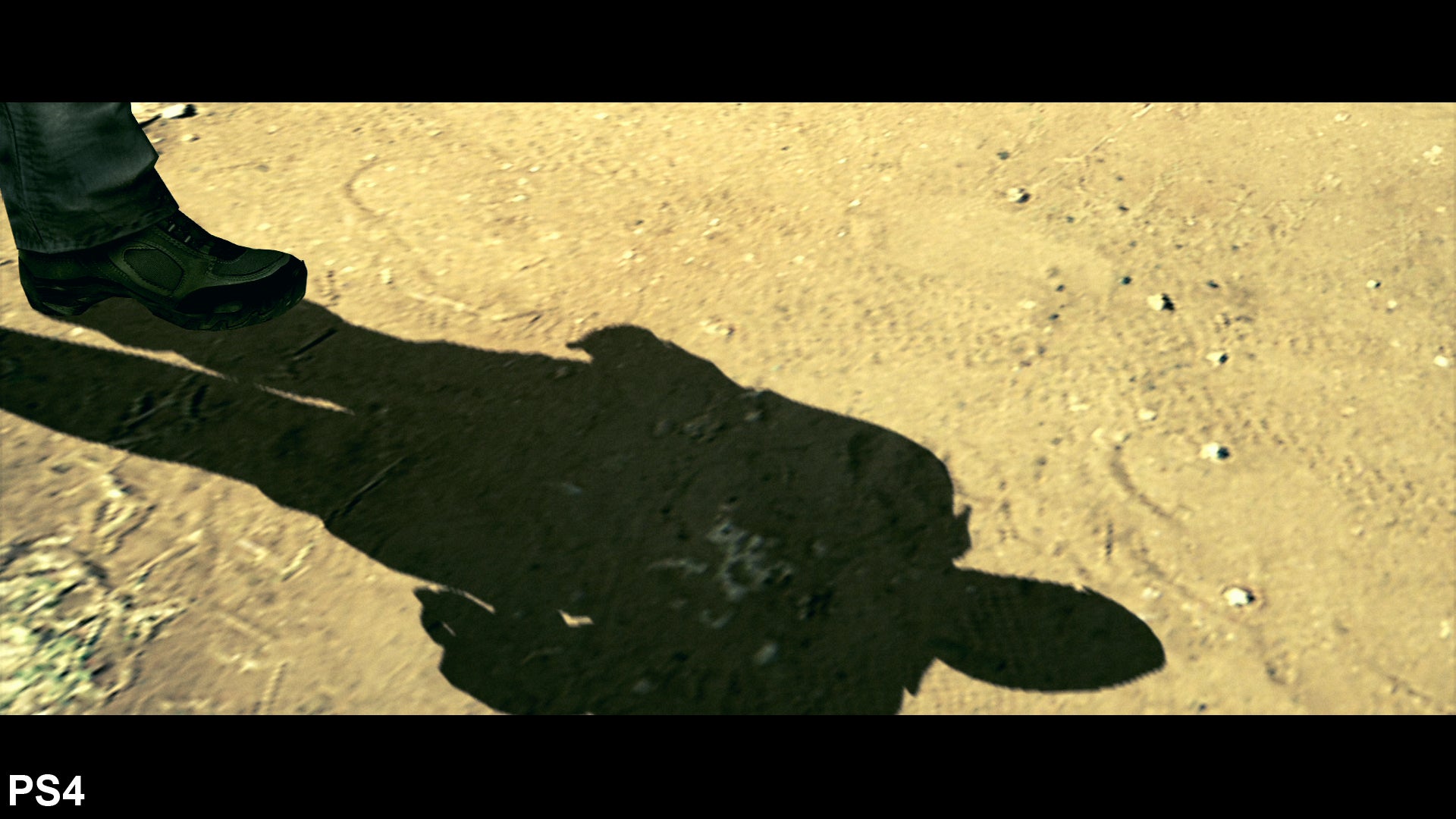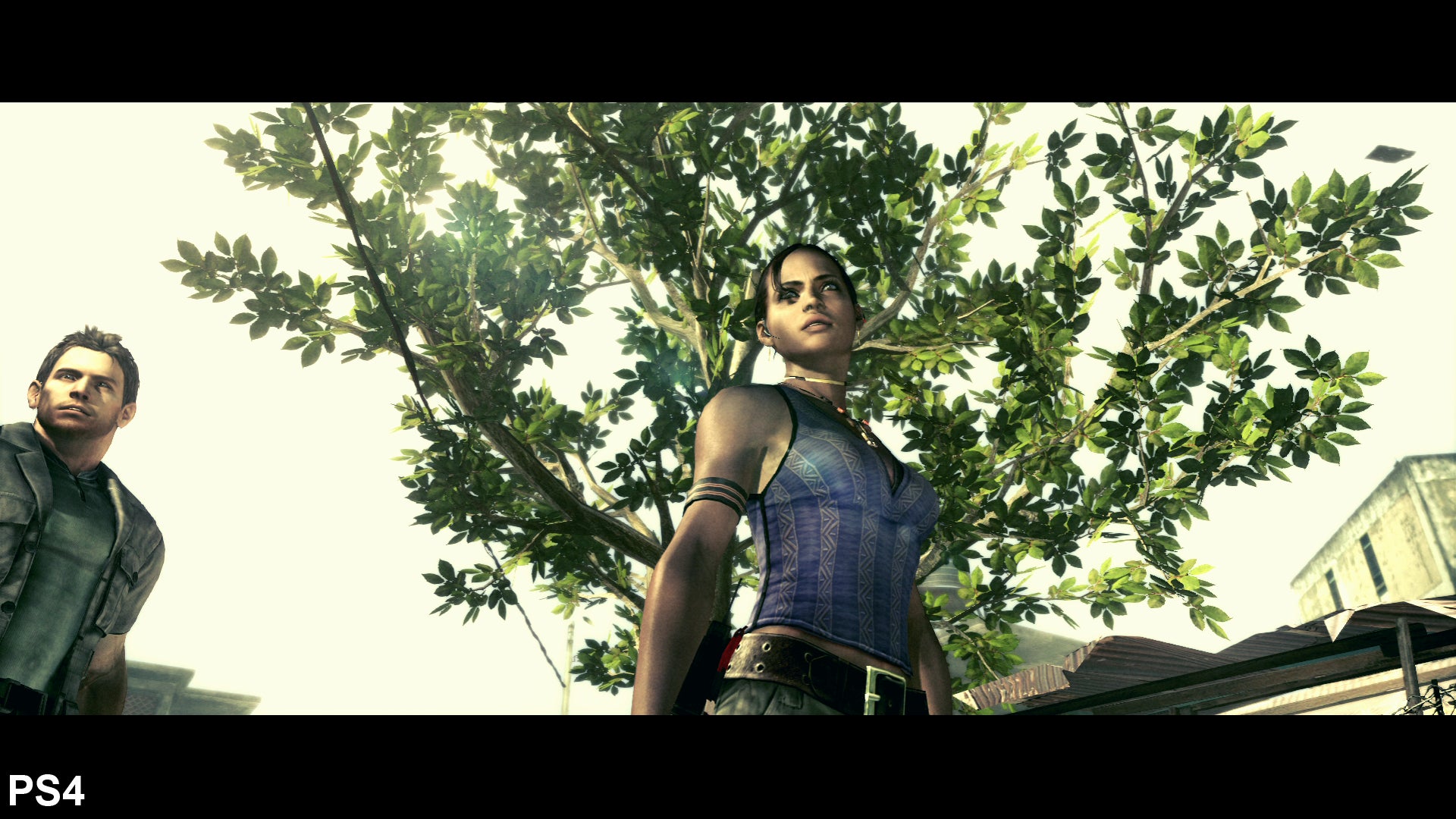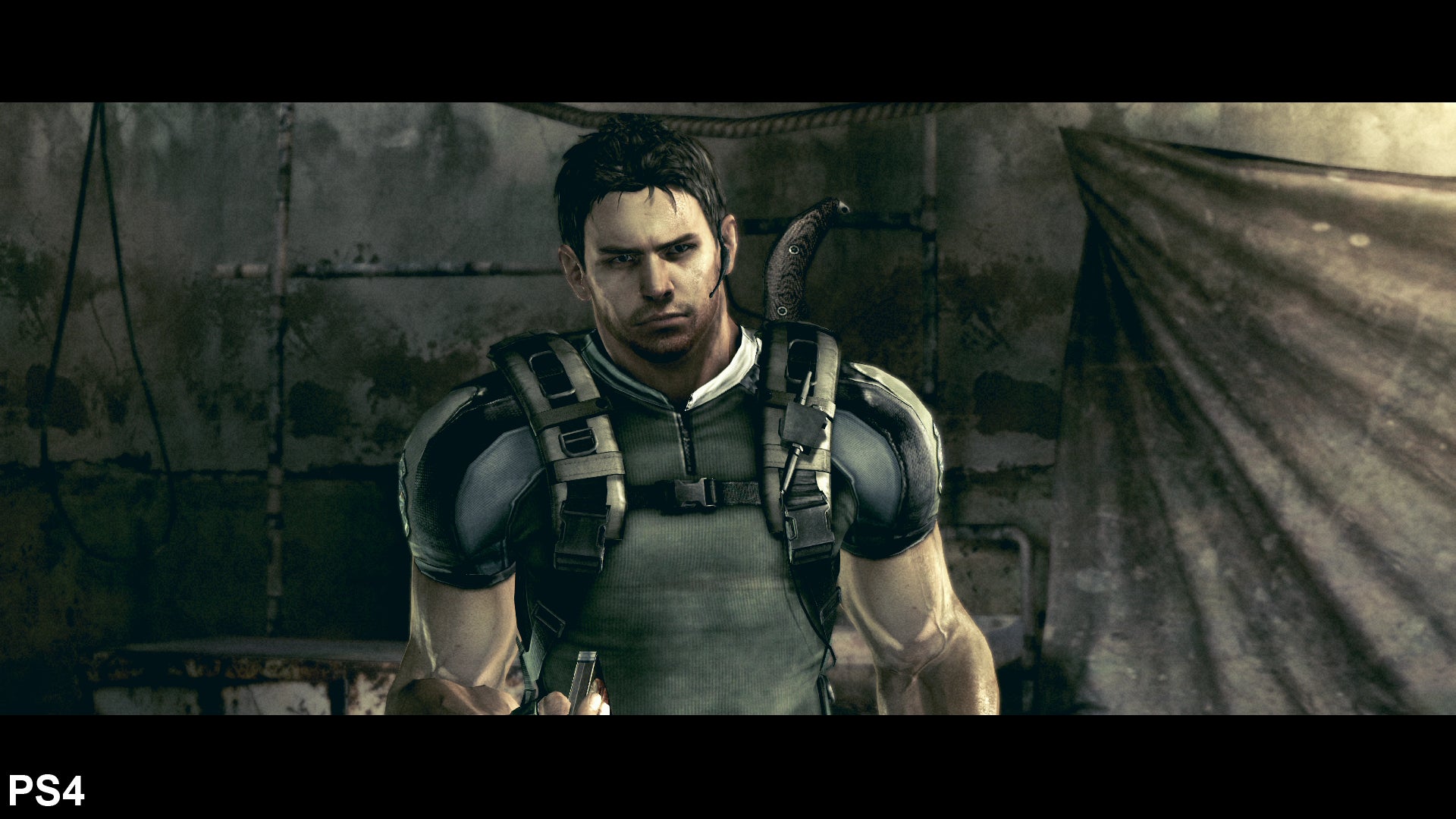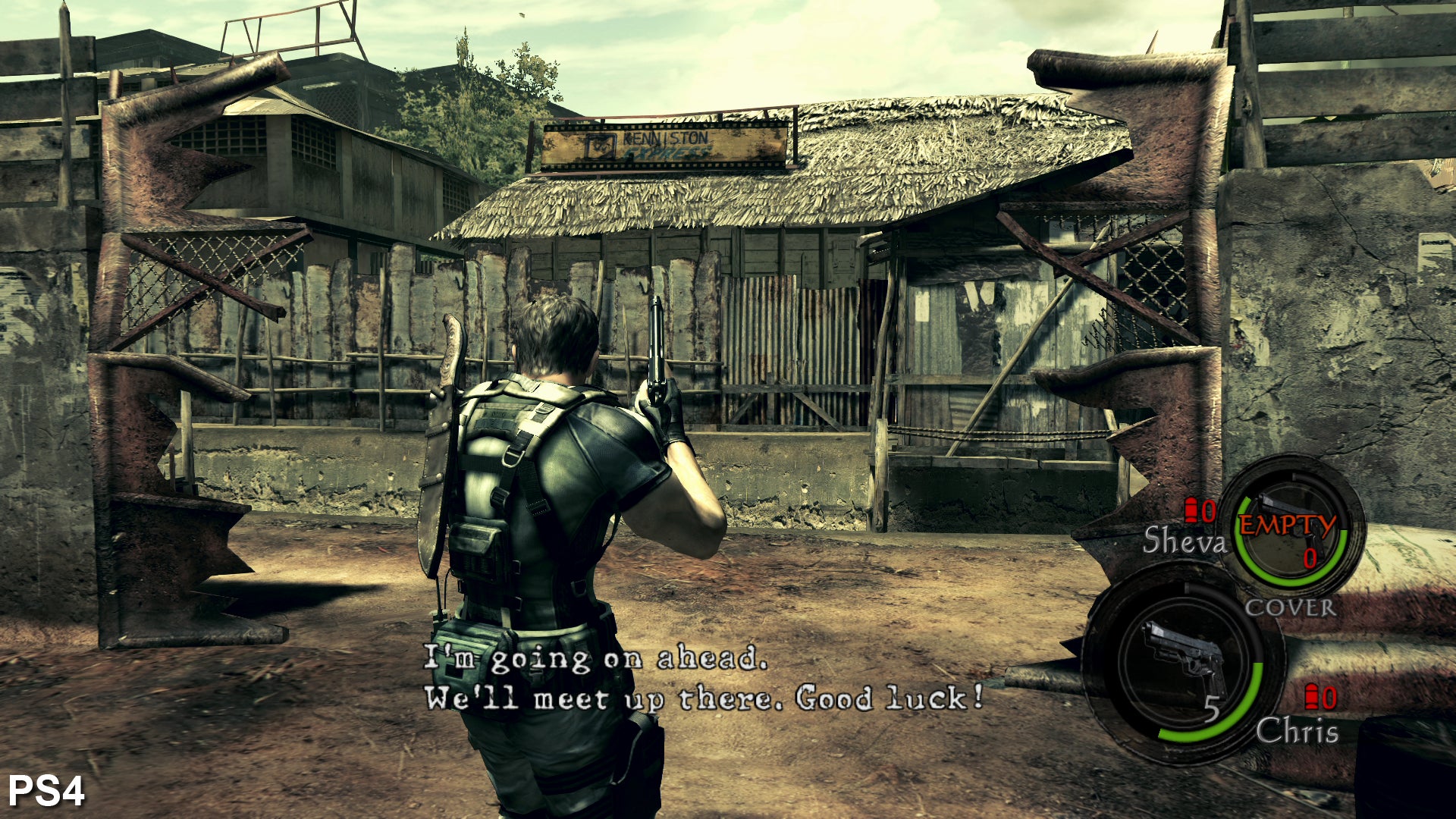 On the whole, the remaster delivers a clear visual upgrade over the last-gen versions, and even improves on the PC game in a few minor areas. The presentation feels a little more refined with regards to the effects work, while the original look of the game is authentically preserved. Compared to Resident Evil 6, it's clear that some extra work was carried out during the remastering process. However, the conversion is let down by variable frame-rates, which fall short of the intended 60fps target whenever anything interesting is happening on-screen. It's definitely a step back from the excellent Resident Evil 6 remaster, which presented a solid 60Hz on PS4 and just minor drops on Xbox One.
It doesn't take long for the issue to become apparent. An opening stroll through a quiet African village sees frame-rates almost lock at 50fps on PS4, while Xbox One regularly lurches into the mid-40s in this sequence. There's nothing exciting going on, and initially we were perplexed as to why performance is being impacted at all here. However, moving into combat, the reason behind the performance deficit soon becomes clear. The appearance of several enemies on-screen regularly sees both versions drop frames, with the hitching intensifying as the action becomes more intense.
The first mini-boss fight against The Executioner demonstrates this perfectly, where performance falls to between the 45-55fps mark when we are surrounded by multiple foes. Hitting 60fps here is only possible when facing away from enemies or moving into less detailed areas in this location. The knock-on effect is that controls swing from feeling crisp and responsive to feeling pretty heavy - and back again - in just a few seconds, and the result is that gameplay isn't as smooth or consistent as we'd like it to be. That said, quiet scenes with no NPCs or enemies deliver a solid 60fps on both systems.
Resident Evil 5 Remastered - the Digital Foundry verdict
It's a little disappointing to see the game struggle to hit 60fps on current-gen systems, especially as this is so easy to do using what is now ancient PC hardware; even an old GTX 460 could deliver 1080p60, albeit with low levels of MSAA. Both PS4 and Xbox One are significantly more powerful and yet still have issues maintaining consistent performance. It's worth mentioning that there is currently no patch available for the game, so it's possible that performance could be improved at a later date should an update drop. After all, we did see significant improvements to performance issues in Resident Evil Revelations 2, so fingers crossed that the developer instigates a similar optimisation effort here.
Of course the all-important question is whether the remaster provides a better all-round gameplay experience than the last-gen versions. And yes, for the most part it does. While performance is certainly variable, frame-rates are much higher than the old Xbox 360 and PS3 versions and the controls feel much lighter and responsive, even if overall consistency isn't quite there yet.
As things stand, despite the minor visual improvements, the original PC version remains the best way to play Resident Evil 5 - locking to 60fps is an absolute walk in the park on even relatively modest hardware. That said, for those who primarily play on consoles, the remaster is still the best way to sample the game, with the PS4 version delivering higher frame-rates of the two. Hopefully, Capcom will improve console performance with an update, but until then we're still looking at a decent enough showing - it just doesn't quite live up to expectations, especially in light of RE6 Remastered's more impressive showing.
Will you support the Digital Foundry team?
Digital Foundry specialises in technical analysis of gaming hardware and software, using state-of-the-art capture systems and bespoke software to show you how well games and hardware run, visualising precisely what they're capable of. In order to show you what 4K gaming actually looks like we needed to build our own platform to supply high quality 4K video for offline viewing. So we did.
Our videos are multi-gigabyte files and we've chosen a high quality provider to ensure fast downloads. However, that bandwidth isn't free and so we charge a small monthly subscription fee of £4.50. We think it's a small price to pay for unlimited access to top-tier quality encodes of our content. Thank you.
Support Digital Foundry