Fallout 4 patch 1.03 improves console graphics quality
Detail level increases - with little impact to performance.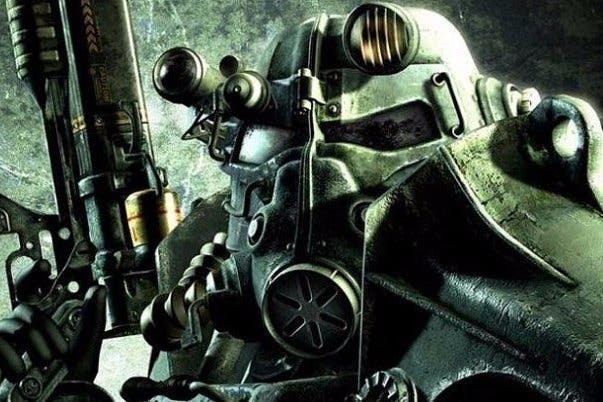 Omitted completely in Bethesda's latest release notes, patch 1.03 has boosted Fallout 4's visual settings on PS4 and Xbox One. The update weighs in at 500MB on each console, and makes surprising improvements to draw distance settings for geometry and foliage. It's a great addition to the game that pulls it closer to the look of PC's higher 'fade' settings, but is there a trade-off in play on console - and does this advantage come at any cost to their performance?
We're pleased to say it doesn't in general and both consoles hand in with near identical grades of performance before and after the latest update is applied. However, PS4 suffers somewhat in the transition in one area in particular: Diamond City. In this case, performance drops by 2-3fps on average on overlooking the centre, dragging frame-rate down in comparison to version 1.02. This is not an issue on Xbox One, which turns in identical readings while rising in a lift behind the city.
Fortunately, the Diamond City portion of Fallout 4 is the only area in our test suite that is affected negatively on PlayStation 4. Every other segment - from a Deathclaw battle in Concord to shootouts on top of the Corvega factory - run with precisely the same level of performance as before (including a lengthy bout of play at near 20fps for the latter). In other words, patch 1.03 does very little to improve performance as a whole on either console, and where it dropped on patch 1.02, we still have significant issues here.
Given frame-rates are broadly unchanged, this is a win-win situation on console overall. It's all gain on the visual front, especially in broad views of Lexington where we now see cars, bollards and extra terrain rendered in from the rooftops. And besides the PS4's one 'problem area' in Diamond City, this noticeable boost to detail appears to come at zero cost to frame-rates on either machine. On top of this, PS4's overall frame-rate in the one trouble spot still remains ahead of Xbox One - the margin is simply much closer now at 27fps versus 26fps respectively.
It's a pleasant surprise, and shows Bethesda extracting more from console resources, the result being a more consistent world with less pop-in. There is only one caveat to this: shadow draw distances on PS4 and Xbox One are unchanged from patch 1.02. This means that you see the same cascade while running quickly down roads, where shadow fade-in is still visible directly ahead on the road. Even so, considering this is one of the more taxing settings on PC, it makes sense that consoles keep all shadow properties as-is in favour of tweaks to geometry and foliage fade-in levels.
Patch 1.03 looks like a good upgrade overall then, and our only real grievance with is the failure to address the harsh hiccups to play on Xbox One when switching weapons (or traveling around heavily built up areas). Of all the issue's we're keen to see fixed, this still ranks highly on the list - though for now it can be alleviated by running the Xbox One version from an SSHD or SSD.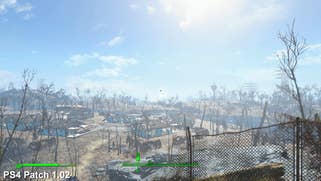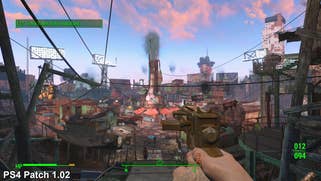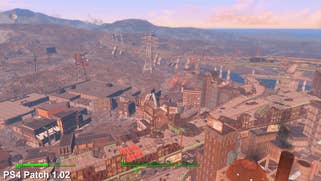 Added to this, the game breaking bug reported by Eurogamer's Wesley Yin-Poole last month remains an issue on this patch. This is tied to the End of The Line mission, where an unfortunate mixture of choices means he's still literally stuck at a brick wall and unable to proceed on update 1.03. It's something we had hoped would be fixed for the many others affected, and it's strange that it has been overlooked bearing in mind the widespread publicity here.
Taken as a whole, Bethesda's update is an incremental step forward on console, but some pretty major stones still left unturned - Xbox One's intrusive stuttering problems remain in full effect on patch 1.03, and it's still the case that running the game on fast external storage is the only way to comprehensively address this issue - which we have seen affect three different consoles, each with different levels of progress through the game. Nevertheless, the new update's catalogue of bug-fixes has hopefully smoothed over the experience, and it comes with neat visual improvements too.
The PC's new toys on patch 1.03 are even more mouthwatering, adding in options for HBAO+ shading and Nvidia's PhysX to add interactive debris across the world. It's something we'd love to see on console, but for now the gains in this latest update are a positive step forward for those enjoying the game on PS4 and Xbox One.