Digital Foundry vs Watch Dogs on Wii U
Is this the end of mature AAA multi-platform game development on Nintendo's console?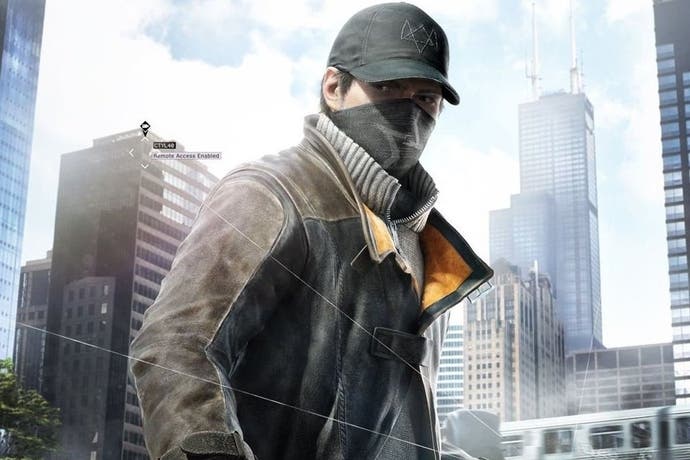 Some might suggest that it's the end of an era. While Xbox 360 and PlayStation 3 have continued to receive conversions (of varying quality) of the majority of the recent AAA hits, Nintendo's Wii U has clearly missed out this season, with Assassin's Creed, FIFA, Call of Duty, Destiny and many others conspicuous by their absence. Delayed for six months, Watch Dogs could well be the last major multi-platform release the console sees - Ubisoft itself declaring that it's the last mature title it's willing to bring to Wii U. Going into the game, initial buzz on the internet seemed positive, with talk of the game sitting between the last-gen and PS4/Xbox One versions - right where you'd hope it would be, given the capabilities of the more modern Nintendo hardware.
To cut to the chase, as a potential full-stop on AAA multi-platform development for the system, it's fair to say that Watch Dogs for Wii U isn't the next-gen/current-gen technological blend many were hoping for. It sits alongside many of the more disappointing Wii U ports, sharing feature parity with Xbox 360 and PS3 in terms of audiovisuals, gaining some GamePad features but losing out in terms of raw performance. Developed by Ubisoft's dedicated team in Bucharest using the Disrupt engine, Watch Dogs Wii U has issues that are hard to overlook, even next to the creaking PS3 version which compared unfavourably with the PS4 release.
Just like the PS3 version we previously tested, the base native resolution of Watch Dogs on Wii U is a restrictive 1152x648, with identical post-processing anti-aliasing to match. In terms of image clarity, the upscale process is unforgiving compared to the PS4's 1600x900 output. The worst of it ultimately boils down to muddied detailing on Watch Dogs' Chicago horizon - though indoors this is a far less noticeable point - and the temporal 'shimmer' artefacts on high contrasts. Without a doubt, the Wii U is in last-gen territory for image quality here.
As for the Wii U's basic visual setup and assets, Watch Dogs identifiably uses the existing last-gen versions as its starting point. As you can see from our comparison video below, differences are few when compared with Sony's older platform - while PS4 remains a clear generational leap ahead. Broadly speaking, those looking for a graphical midway point between these two Sony versions will be disappointed; Nintendo's hardware sticks close to PS3 quality in almost every case.
Alternative comparisons:
Having seen best case scenario Wii U ports such as Bayonetta and Need for Speed: Most Wanted, this is a little disappointing - especially given that Criterion's work included enhanced textures and reworked, improved lighting. In Watch Dogs' case, we're handed simplified, flat texture maps, with a basic lighting model that strips light sources from the world. In line with the PS3 version, interior areas suffer from looking too dim, while sunlit rooms lack the PS4's natural, shaded appearance.
World detail is significantly dialled down from PS4 too, with grass removed from gardens, bollards cut from cities, and NPC counts reduced across the board. Driving at top speeds, most details also draw in at a very obvious distance; oncoming traffic fizzles into sight as you blaze through busy streets. With the game's sub-720p presentation, this is perhaps less obvious than it might have been at higher resolutions, but it's still a noticeable setback.
The Wii U does bring with it a few minor differences from the PS3 version, though. Certain details see an upgrade, though these are typically minor. Definition to the door on Nicole's house, for example, is ramped up and embellished with reflective door knobs. The party balloons to its sides also utilise reflective mapping cut from the PS3 edition, pulling it closer to the PS4's look. From hours of testing this is the only spot where any difference is evident, but the improvement is clear.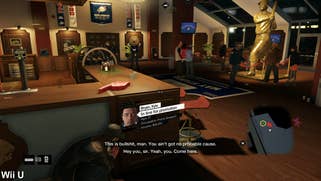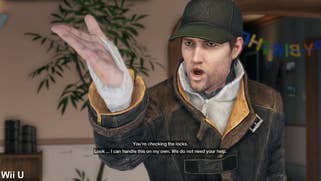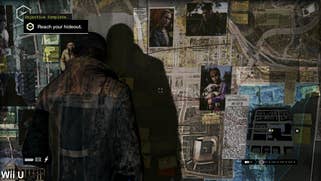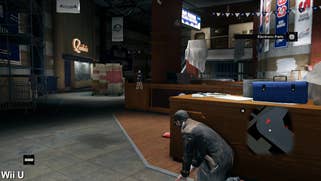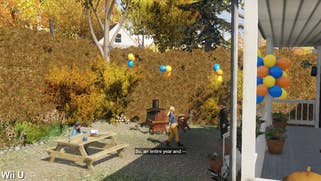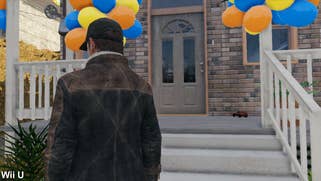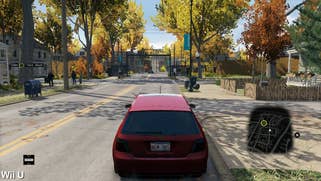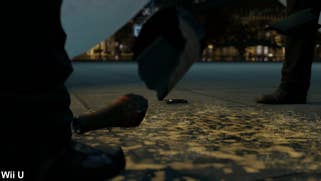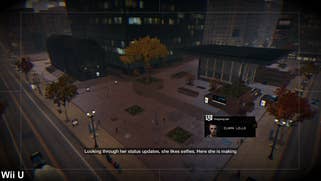 Added to that, the Wii U utilises a slightly different method of shadow rendering to PS3, while paling in comparison with PS4's smoother implementation. The dynamic shadows thrown from Aiden in front of his projector shows the PS3 producing higher resolution outlines to his silhouette. Edges are blockier on Wii U, but fortunately, it is redeemed by a heavier edge filtering process absent on Sony's older hardware. The end result is very close between the two, while pre-baked shadows - as used around the opening football stadium segment - are indistinguishable in quality.
Ambient occlusion also takes a different form on Wii U, often for the worse. A screen-space solution is used here, adding heavy pockets of shade to the corners of the game world. For Nintendo's platform, the stronger use of the effect means Aiden produces an excessively bold outline when crouched next to cover - and while PS3 hardly goes for a subtle presentation, it's still more refined overall.
The game's geometry differences stands out most between Wii U and PS4 though. Once again it's tied with PS3 for quality, with groves of trees using a higher polygonal count on Sony's newer hardware, leaving Nintendo's hardware with flatter trunks and less flourishing leafage. The Havok physic engine is in full effect for fences and lampposts in the world meanwhile. But in this case we get cut-down impact animations, with objects switching quickly to a crumpled state rather than showing a more complex simulation.
Fortunately, the game world is much easier to navigate, thanks to the Wii U GamePad's adjustable map. As a staple feature it gets no points for creativity, but the ability to select a GPS location with a tap of a finger makes navigating Chicago that much easier. An off-TV mode is also available as an on-screen toggle - where the screen's smaller real estate makes the game's visual setbacks easier to overlook.
But that's your lot. These are the only two Wii U features on show, and there's nothing else to match the ambition of Need for Speed: Most Wanted's god mode, for example. Nor is there any smart use of the GamePad to open up new gameplay ideas, as we see in Rayman Legends' stylus-controlled sections - not even to interact with Watch Dogs' hacking mini games. As it stands, we're left with a bare-bones effort.
In terms of performance, the Wii U has had two years to show us its strengths and weaknesses. Recent efforts such as Bayonetta paint its fortunes in an optimistic light, producing a frame-rate that often bests the Xbox 360. On top of that, every major port to the console so far has removed screen-tear where it was previously evident on PS3 or 360 - with the exception of Darksiders 2. Unfortunately, big open-world games such as Assassin's Creed 4: Black Flag have a tendency to see performance diminish significantly.
Watch Dogs falls well and truly into this second group. V-sync is permanently engaged to remove all the tearing we see on the PS3 edition, making it much easier on the eye overall. However, there's no skirting around the fact that the Wii U version's frame-rate is worse than a last-gen version that was already pushing the threshold for acceptability.
Put into perspective, the PS4 operates at 30fps throughout most of our tests, while the PS3 runs between 25-30fps during cut-scenes, but can drop lower during gameplay. However, Nintendo's platform struggles to even achieve this level, with matching car chases towards the city holding at between 20-25fps on Wii U- dipping to the high teens when smashing through physics-based objects.
Remarkably, a 20fps refresh is often the standard for inner-city driving, making it exceptionally sluggish to control. The Wii U also takes the record for the lowest frame-rate dip during our stress test finale, with a sustained sub-20fps frame-rate once we take a rocket launcher to a pile-up of police cars (whereas PS3's nadir is 20fps). This one test isn't indicative the general run of play, but it serves to highlight just how much the Wii U's processor is bottlenecked when faced with too many AI and physics-based simulations. Curiously, Nintendo's platform runs with no frame-rate lock, meaning it can rise above 30fps. The near-constant playback at 20fps makes this a rare sight, but you can catch it if you glance upwards at points.
Watch Dogs on Wii U: the Digital Foundry verdict
With a visual standard that matches the PS3's in almost every area, the Wii U offers by no means the best way to play Watch Dogs. We're spared the heavy tearing of Sony's last-gen console but the v-synced playback on Nintendo's console comes at a high cost. As is the trend for many of the ports to Nintendo's platform, performance is a genuine issue. To an extent, having an off-TV play option for Watch Dogs is plus, in much the same way it is for most Wii U editions of last-gen games. However, it's clear the touchscreen aspect of Nintendo's controller is under-utilised. It's been an extra six month wait for Wii U owners, but this hasn't manifested in any kind of tangible boost, leaving us feeling somewhat disappointed.
If this is the end of major, multi-platform, third-party support on Wii U, it's a disappointing conclusion to a story of mixed fortunes. What's clear is that the hardware design of the Wii U is original and distinct: titles like Rayman Legends and Need for Speed: Most Wanted demonstrated that targeting the system's strengths produces excellent results, but Wii U's integration into the modern multi-platform era clearly proved troublesome for developers, particularly in terms of accommodating its CPU design.
While Nintendo initially tried to set up Wii U as a third-party friendly console, Watch Dogs once again highlights that its strengths are perhaps best not served in producing "me too" experiences - especially in an era increasingly dominated by consoles offering a generational leap in power. It's safe to say that Wii U is defined by the strengths of its first-party exclusives, with Nintendo consistently delivering irresistible results - where the quality of the whole package defies the generational divide with its rivals.