Performance analysis: Titanfall on Xbox 360
Be advised on last-gen native resolution and frame-rates.
With the US launch of Titanfall on the Xbox 360, gaming's best-kept secret has finally been revealed. For one of the most heavily promoted games in history, the complete media black-out surrounding the Xbox 360 version of the game has been mystifying, provoking a raft of theories. Some suggest that the game can't be particularly good in order to have been completely omitted from any and all marketing. Others - noting the involvement of respected developer Bluepoint Games - suggest the opposite: that the game may be so good that it might deflect attention away from the Xbox One launch. Now, finally, we have answers.
Let's begin with rendering resolution. The Xbox One version ships at 1408x792 with 2x multi-sampling anti-aliasing - a sub-native presentation for a console aimed at the era of the 1080p display. There are few surprises with the Xbox 360 version, which adopts a strategy similar to the Call of Duty titles on older Microsoft hardware. There's a 1040x600 native resolution here, backed up by 2x MSAA. It's a set-up that allows Bluepoint to cram the framebuffer into the 360's 10MB of eDRAM, effectively allowing it to use the hardware anti-aliasing for free with no performance penalty.
We'll go into more depth on the various differences between the three available versions of Titanfall later this week, but initial impressions suggest that Bluepoint has done well in retaining the majority of the geometry detail of the Xbox One version. There's a necessary reduction in texture detail compared to the other versions, but nothing that overtly compromises the look of the game.
Curiously, there's no hard drive install option available on Titanfall 360, and the game appears to use both DVD and hard drive bandwidth in concert to drive a texture streaming solution (all art is held in RAM on Xbox One on PC, with no streaming at all). From our initial tests, textures do exhibit occasional pop-in, but by and large it's mostly unnoticeable during play.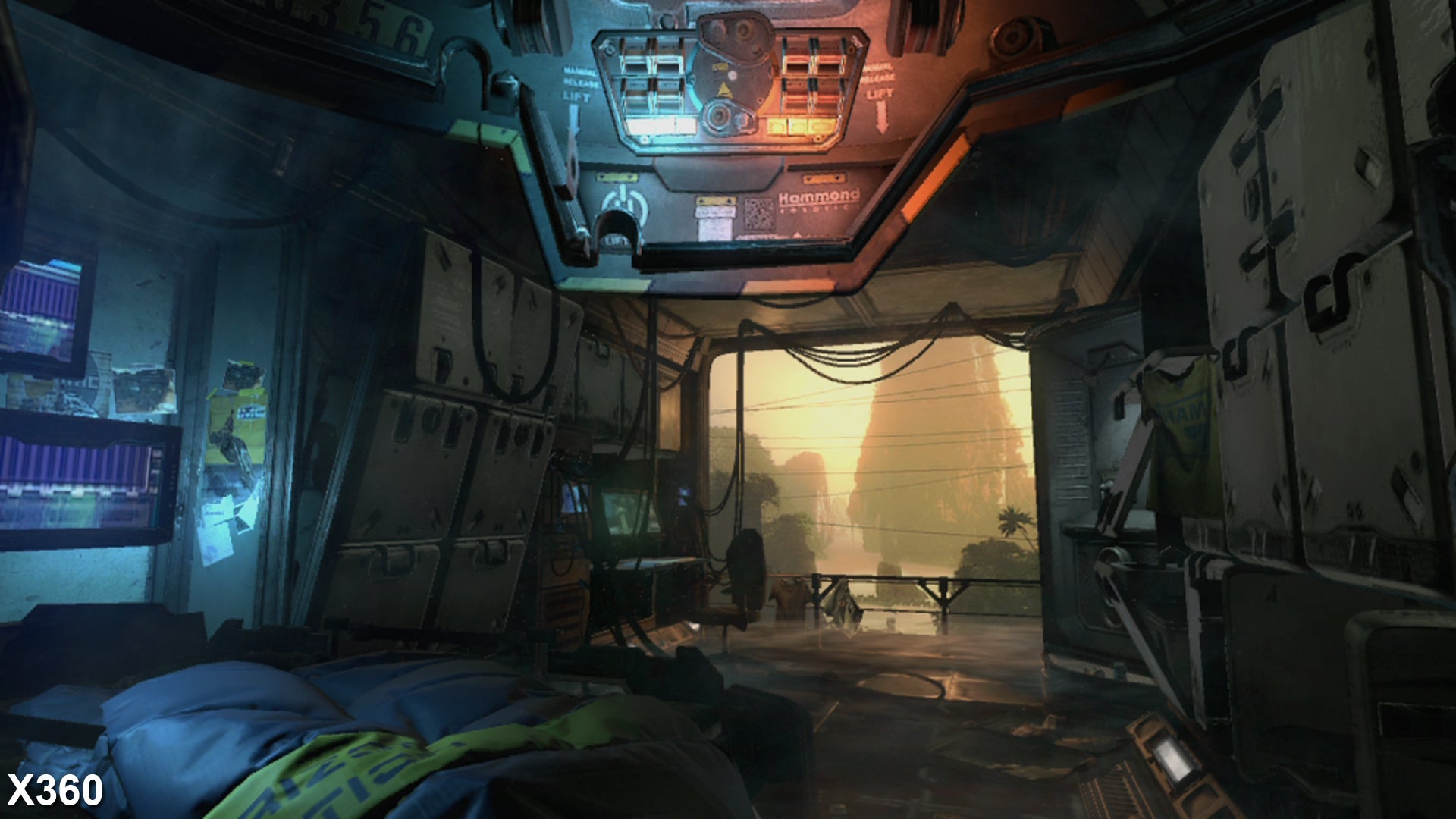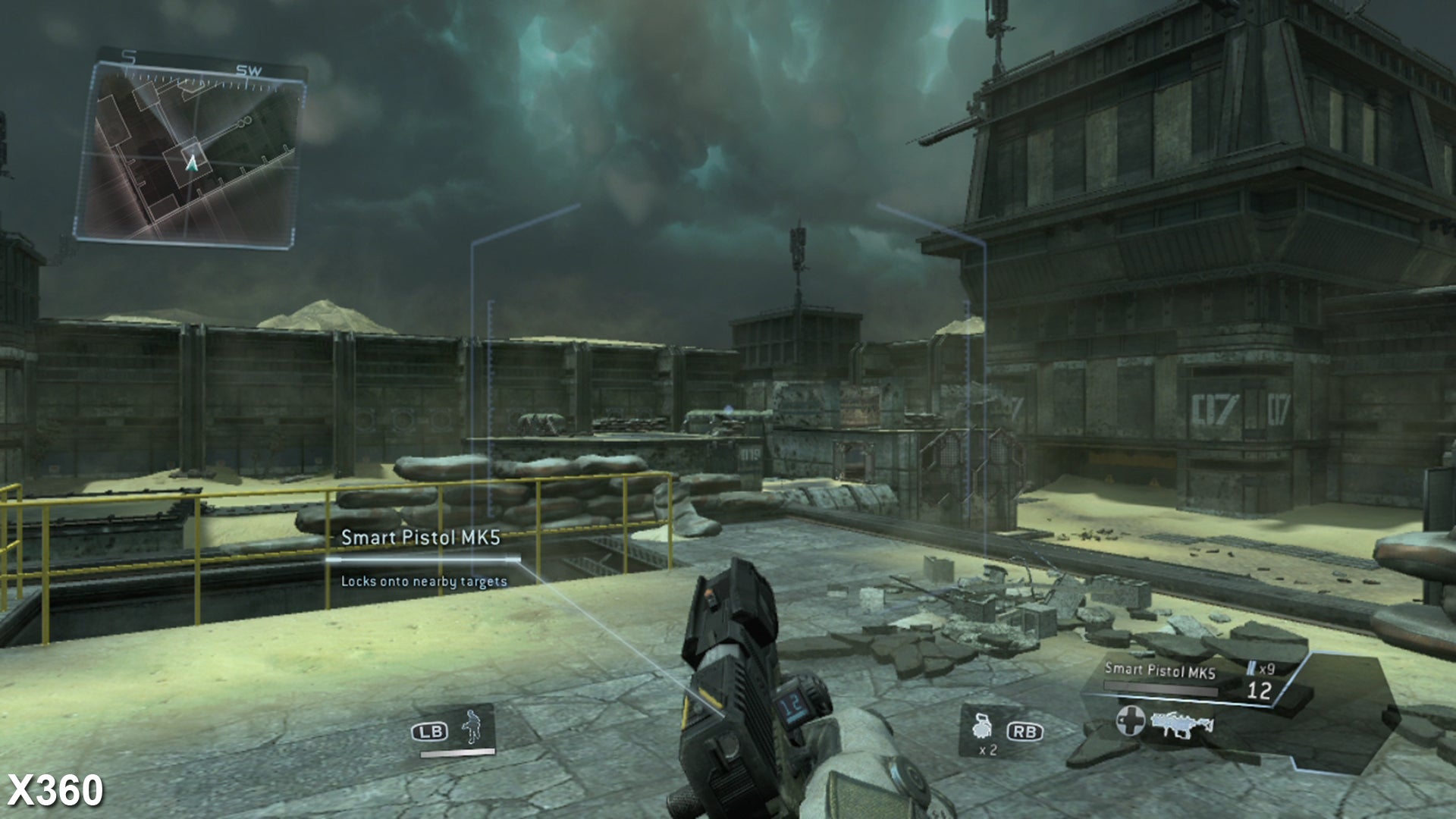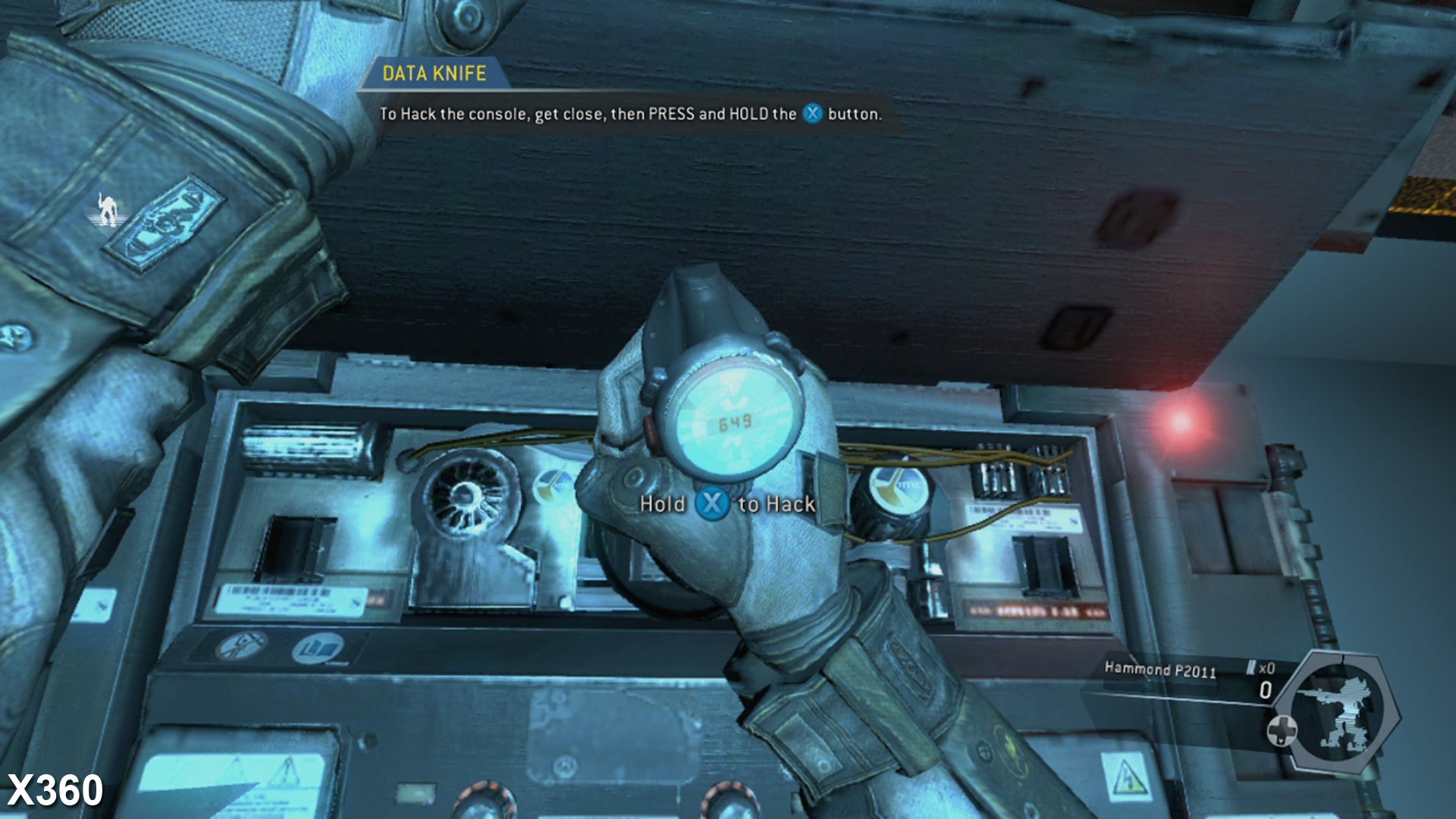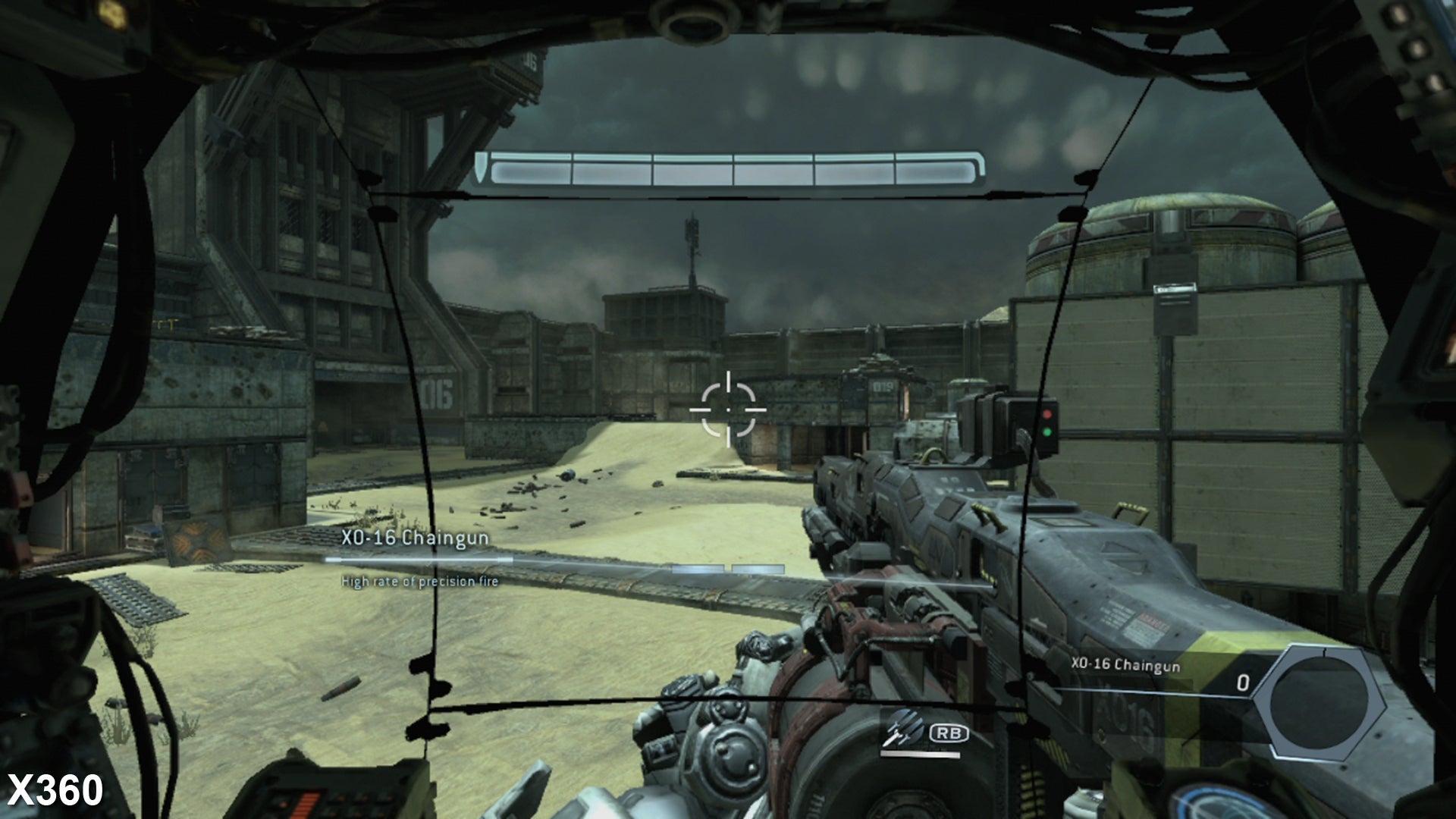 Performance is the next hot topic - and one where we see Bluepoint make necessary compromises. Last week's press release documenting an "above 30fps" experience doesn't really address the issue at hand. The studio has actually offered two very different performance profiles that should keep everyone happy - as long as you weren't expecting a locked 60fps.
By default, the game ships with an unlocked frame-rate - but capped at 60fps. In effect, the game is constantly tearing unless not much is going on, whereupon it locks at 60fps - this occurs for pretty much the entirety of the extended initial training, but sees considerable variation in-game. This is clearly the preferred default from the development team, and offers the fastest-possible controller response at the expense of consistency - both in terms of input lag and frame-rate.
If the screen-tear, inconsistent frame-rate and varying controller response is too much for you, Bluepoint has offered up an alternative - the ability to lock frame-rate at 30fps. This all but eliminates screen-tear and introduces more consistency to the controller feedback but does so to the detriment of overall frame-rate. Each mode has its advantages and disadvantages and it's good that gamers can choose what suits them.
"We were promised 'above 30fps' gameplay and we measured an average of 46.5fps across a series of clips. There's also a 30Hz mode for those who'd prefer to avoid the screen-tear."
We have much more to cover for the Face-Off but resolution, anti-aliasing support and performance seem to be the hot topics surrounding Titanfall on Xbox 360 and we wanted to get the information to you as quickly as possible. First impressions suggest a well-managed conversion that has made intelligent trade-offs in miniaturising the PC and Xbox One versions onto the vintage 2005 Microsoft hardware, while retaining all the key features as well as the core of the gameplay experience.
There are times when the game feels uncannily close to the Xbox One version (especially during the less taxing training session) and across the entirety of the clips measured above, we end up with a 46.5fps average - not bad at all. However, different levels exert varying degrees of stress upon the engine, and as you can see from the analysis, performance is variable, perhaps explaining the "above 30fps" marketing. That said, frame-rate does creep below on rare occasions (similar to Xbox One, we can see the odd freeze - a small clutch of duplicate frames) but there's nothing game-breaking.
In summary, after a day with the Xbox 360 game, the big takeaway here is that this is Titanfall, and it does appear to be feature-complete on the older console. With just one tenth of the available RAM and far less capable silicon, it's safe to say that Bluepoint Games has more than exceeded expectations.
Will you support the Digital Foundry team?
Digital Foundry specialises in technical analysis of gaming hardware and software, using state-of-the-art capture systems and bespoke software to show you how well games and hardware run, visualising precisely what they're capable of. In order to show you what 4K gaming actually looks like we needed to build our own platform to supply high quality 4K video for offline viewing. So we did.
Our videos are multi-gigabyte files and we've chosen a high quality provider to ensure fast downloads. However, that bandwidth isn't free and so we charge a small monthly subscription fee of £4.50. We think it's a small price to pay for unlimited access to top-tier quality encodes of our content. Thank you.
Support Digital Foundry