Destiny requires an internet connection to work
Out on PS3, Xbox 360 and next-gen consoles. PC: "stay tuned." No word on Wii U.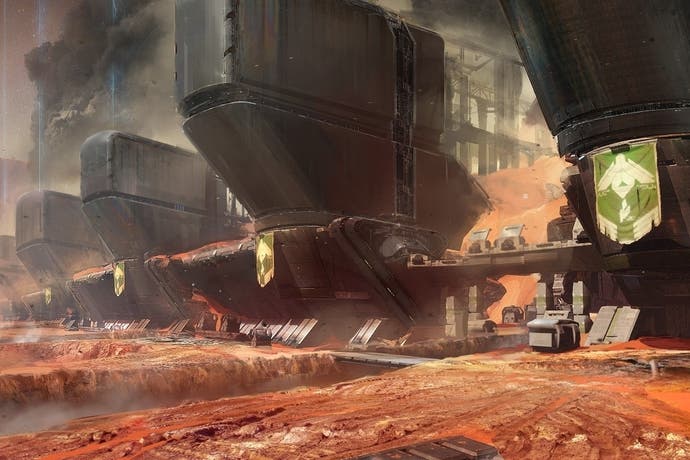 Destiny, the upcoming MMO-style sci-fi shooter from Bungie, requires an internet connection to work. There is no offline mode.
That's on all platforms, including the PlayStation 3 and Xbox 360.
Destiny, which publisher Activision calls the world's first shared-world shooter, is built around co-operative play and includes elements familiar to the massively multiplayer online genre, such as a persistent world, areas packed with players and quests designed to challenge sizeable groups.
At the game's reveal in Bungie's Bellevue, Washington office this week, attended by Eurogamer, Bungie COO Pete Parsons said: "It's a persistent, shared and connected world, so you will need to be connected [to the internet] to play Destiny."
The news comes hot on the heels of a report by Edge magazine that claimed the next Xbox, codenamed Durango and reportedly out later this year, will require an internet connection to function.
As expected, talk of Bungie's release on next-generation consoles was limited, despite Sony's next PlayStation announcement due in just a few days.
"We're absolutely going to be on this generation of consoles," Parsons said. "When we came to the big collaboration with Activision we said we're going to tell these adventures over a 10-year period, so we need to make sure we're prepared for the future, both in upcoming generations and multiple platforms and devices themselves."
Parsons said some kind of Destiny experience will be available on mobile devices, on which you'll do "meaningful things... maybe things you can only do on a device but are then paid off inside the Destiny universe."
Bungie's contract with Activision for the Destiny universe, which outlines the release of a number of games over the next 10 years, suggested the first game in the series would be a timed Xbox exclusive. But comments from Bungie and Activision executives at the reveal event suggest otherwise.
"You'll definitely be playing on Xbox and you'll definitely be playing on PlayStation," Parsons said.
Activision Publishing boss Eric Hirshberg added: "Until there are official announcements from the first parties obviously we can't comment on any platforms that might be forthcoming, but what we can say is we are building Destiny to be wherever gamers are." He later insisted Activision's approach is "platform agnostic".
On the possibility of a PC version, Parsons said: "We would absolutely love to be on the PC. If you talk to the people upstairs, we play it on all platforms. So, stay tuned." No mention was made of a Wii U version.
The contract, signed in 2010 and thus subject to unknown amendment, suggested the first Destiny game would release autumn 2013, but this may not be the case. In Activision's most recent financial report its guidance for the amount of money it expects to make in 2013 did not include revenue from Destiny, suggesting it will release in 2014.
During this week's press conference Eurogamer asked the panel directly whether Bungie and Activision could commit to Destiny's release on PlayStation 3 and Xbox 360 in 2013.
"As we said in our earnings call last week, we have no guidance in our year that has anything from this game in 2013," Hirshberg replied. "We're not ready to say anything more than that, but I wouldn't speculate beyond that."
What we do know is that Destiny will not require a subscription as some MMOs, including World of Warcraft, do.
Parsons confirmed the game "absolutely" will be sold on a disc, but "stay tuned" on whether you'll be able to download it.
Will it be free-to-play? "We're not talking about the business model today beyond the fact we're saying it's not a subscription service," Hirshberg said. "But I wouldn't make any assumptions."
Activision released the first Destiny ViDoc, above, that shows a brief glimpse of gameplay.