Metro Exodus players are leaving thousands of positive reviews - on Steam
Despite the Epic Games store exclusivity controversy.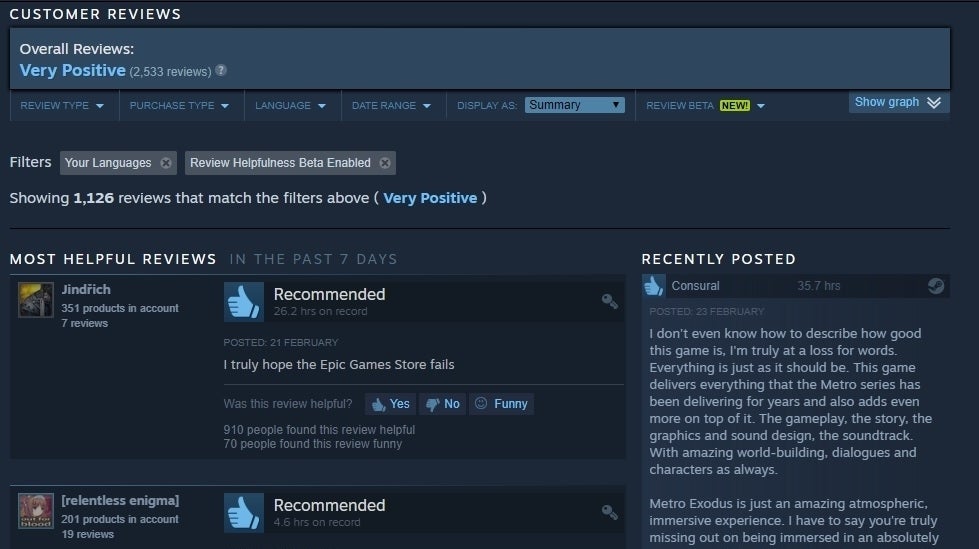 Something akin to the opposite of review-bombing is going on over at the Metro Exodus Steam store page.
The Metro Exodus Steam store page doesn't sell the game - it was removed after Epic and Koch Media / Deep Silver signed a timed exclusivity deal for the game to be sold on the Epic Games store for 12 months.
That decision sparked a backlash from some Steam users who were upset Metro Exodus had left Valve's platform. And some took to review-bombing previous Metro games on Steam in a bid to show their discontent.
But Steam still lists Metro Exodus, still includes promotional assets for the game, still lists information and developer updates, and still includes user reviews.
You'd think, then, Metro Exodus would suffer a similar review-bombing on Steam as other titles in the popular series have. But it hasn't. In fact, players are flooding the Metro Exodus Steam page with positive reviews - to the point where the game has a "very positive" user review score for a game that isn't sold on the platform.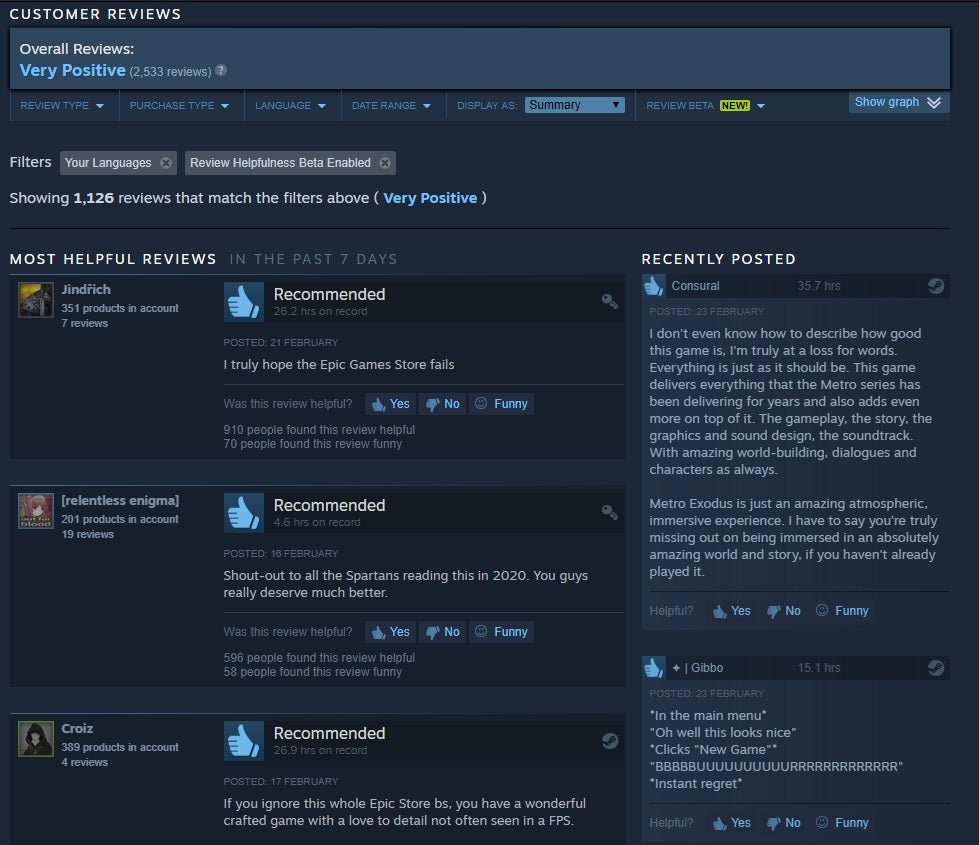 "Despite all controversy about its launching and I thought that the publisher's decision was unfair for those Steam customers who were planning to buy it on release, 4A team did a masterpiece," wrote user AMZ. "This game is art. They've made something uniquely beautiful from that abandoned post apocalyptic world."
"Exodus is a wonderful game that will greatly benefit from some patching," AKatarzynaK wrote. "Had its release not been cast in a bad light due to a slimy business move then I feel it would be highly beloved right now. But those who are forced to wait until its return to Steam next year might actually find that this worked in their favour, as this will provide time for some final kinks to be worked out so that they may enjoy a great game the way it was meant to be played."
"Genuinely, one of the best story driven games I have ever played," said Nuka Cola. "A shame that the publishers, not the devs, messed up the game's success by choosing to take the cash and push the game to the Epic Games Launcher. Would definitely say that this game is worth the purchase, if it ever comes back to Steam."
Metro Exodus is indeed a superb game - "far from just another map-clearing game, Metro's first above-ground outing is an atmospheric, characterful voyage across a ruined Russia," wrote our Edwin in Eurogamer's Metro Exodus review.
Metro Exodus players aren't just praising the game in their reviews on Steam - they're having a dig at the Epic Games store in the process. It's as if angry Steam users are review-bombing the Epic Games store via positive reviews for Metro Exodus, which feels a bit like crossing the streams.
Epic plans to add a user review system of a kind to the Epic Games store, but it will be opt-in by developers, Epic boss tim Sweeney told Eurogamer. "We're experimenting with other mechanisms to improve this further," he added.
Until then, players of Epic Games store exclusives are turning to Steam to offer their thoughts - and, somewhat surprisingly - that feedback isn't always negative.