Death Stranding's Famitsu cameos spark questions in Japan
40/40 vision.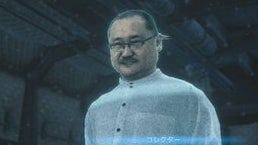 Death Stranding contains a collection of cameos from creator Hideo Kojima's celebrity friends. Poke around and you'll find comedian Conan O'Brien, director Edgar Wright, and Remedy boss Sam Lake.
You'll also find Hirokazu Hamamura and Necky the Fox - names, perhaps, you're less familiar with. But in Japan, Kotaku reports, their inclusion is stirring up debate.
Hamamura is the high profile former editor-in-chief of Japanese gaming magazine Famitsu and now president of its publisher Enterbrain. Necky the Fox is Famitsu magazine's mascot.
But while Conan O'Brien might feature Death Stranding on his TV show and Geoff Keighley might feature Kojima wherever possible, neither have written reviews of the game. Famitsu has, however, and its inclusion in Death Stranding - a game it awarded a rare 40/40 top score to - has prompted unease among some Japanese gamers.
Hamamura's cameo was not mentioned in Famitsu's review, Japanese commenters have noted. There's also a much-discussed in-joke from Hamamura's character, who plays a fictional son of himself, who tells Death Stranding main character Sam he will "get in the Hall of Fame" - Famitsu's name for high-scoring reviews.
Over 30 years, only 26 games have received top marks from Famitsu. These include Zelda: Ocarina of Time, Soulcalibur, New Super Mario Bros. Wii and Skyrim.
But Death Stranding is Kojima's fourth entry on that list, after receiving top marks for Metal Gear Solid 4, Peace Walker and Phantom Pain.
Hamamura has cameoed in two other games which also received perfect scores - Peace Walker, and Japan-only Wii game 428: Shibuya Scramble. There's more over at Kotaku.