Dead Cells' massive free Rise of the Giant DLC gets an airing in new video
UPDATE: DLC out on PC at the end of the month.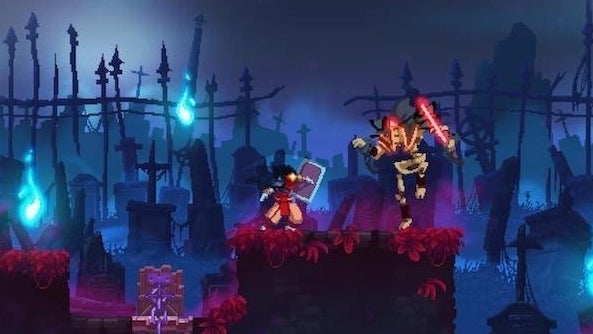 UPDATE 13/3/19: Developer Motion Twin has announced that Dead Cells' big free DLC update, known as Rise of the Giant, will be coming to PC on March 28th.
Rise of the Giant, which has been available to foolhardy beta branch testers on Steam for some time, introduces two new areas and bosses, ten new enemies, new skills and weapons, plus a new Skinning system, adding 50 outfits (including one that looks like Christmas tree for some reason) with which to adorn the game's flame-headed lead.
A more thorough round-up of Rise of the Giant's additions (plus some tasteful animated gifs) can be found on the DLC's newly launched Steam page.
Motion Twin has also confirmed that Rise of the Giant will be making its way to consoles in due course, although there's no anticipated arrival date at present. "We're trying to reduce the timeframe between the release on PC and consoles as much as we can," it wrote on Twitter, "but please bear in mind that we're a small team, working as fast as we can."
---
ORIGINAL STORY 25/2/19: Superb action-platformer Dead Cells is poised to get a massive slab of free DLC soon, nine months in the making, and developer Motion Twin has offered a glimpse of its innards in a newly released video.
Known as Rise of the Giant, the new DLC is already available to PC players, albeit in opt-in beta form. As such, the footage found in Motion Twin's new chat with Red Bull (be wary of spoilers from here on in) won't be new to everyone. However, the video offers those players unwilling or unable to join the beta, a glimpse at Dead Cells' new final area, known as the Cavern and unlocked after beating the game for the first time, and its towering, skeletal boss.
As Motion Twin's recent beta patch notes reveal, Dead Cells' Rise of the Giant DLC update really is a big 'un. Alongside the aforementioned new area and boss, there's a second new (secret) area and boss, neither of which are accessible until reaching Boss-Cells 5 - essentially the highest difficulty tier, requiring players to defeat the final boss five times.
There are also ten new enemies, some exclusive to the new locations and some appearing throughout the game on higher difficulty settings, plus a new Skinning system, introducing over 50 character outfits that can be obtained by collecting dropped blueprints. And if that's still not enough, there are three new skills (one of which is a flying pet), and ten new weapons - including the Giant Killer and Boï Axe.
Those are the headline features, but you'll find a whole lot more in the patch notes, although things are liable to change as beta players continue to scrutinise the update and offer feedback.
Although the core Dead Cells experience is now considered "complete", Motion Twin says it wanted to add an "extra layer of quality", and the upcoming DLC is all about offering a "proper conclusion to the story and to explain things a little big more".
There's no release date for the Rise of the Giant update just yet, but it'll be completely free to Dead Cells owners and will hopefully arrive on PC, PS4, Xbox One, and Switch soon.