Dead Cells gets new distillery biome in free Barrels of Fun update
Plus new enemies, chiptune soundtrack, more.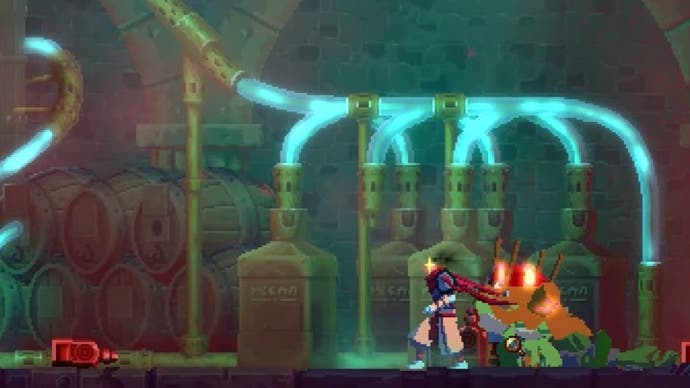 Just when you think developer Motion Twin must surely be slowing down work on its wonderful action-platform rogue-like Dead Cells, along comes another massive free post-launch update - the 20th, for those counting - to prove you wrong. And this time it's the Barrels of Fun update, adding a new biome, new enemies, and more.
Dead Cells' new biome arrives in the form of The Derelict Distillery, a barrel-and-bottle-strewn area that serves as an alternative path to High Peak Castle and is intended to "add more spice to the late-game", according to Motion Twin in its Steam post.
A new biome, of course, means new enemies, and the Barrels of Fun update introduces two new foes unique to the distillery. There's a mimic that hides among the area's many barrels, for starters, who, while "not the toughest mob out there", is armed with a "pretty devastating self-destruct which can catch you out if you're not careful."
Adventurers will also encounter a brute of a new opponent that tosses explosive barrels from afar, or just slams one down in close quarters if should they be in reaching distance.
Explosive barrels are a bit of a theme, in fact. Some are left lying around the place, meaning they can be both a help and a hindrance during combat, and also prove useful in bypassing breakable walls. There are also portable, tossable variants thanks to the new Barrel Launcher weapon, which works something like a bazooka, albeit with bouncing projectiles.
That's not quite it for the new tools, either; players can also make use of the Tesla Coil, a "medium-range, multi-targeting, shock inflicting turret" that's said to be handy for those moments when you want to deal damage to large groups of enemies, or for crowd control.
Lastly, Barrels of Fun expands on Dead Cells' excellent soundtrack in surprising ways, adding an optional, chiptune-style version of each track for those that want to lend a bit of retro flair to their runs. And if you're looking for a more detailed breakdown of the update's additions, improvements, and changes, you can check out the patch notes.
Dead Cells' Barrels of Fun update is out now on PC (there's 40% off to celebrate) and it'll be making its way to consoles later this "summer".