CS:GO Lounge drops skin gambling following Valve crackdown
Boom, headshot.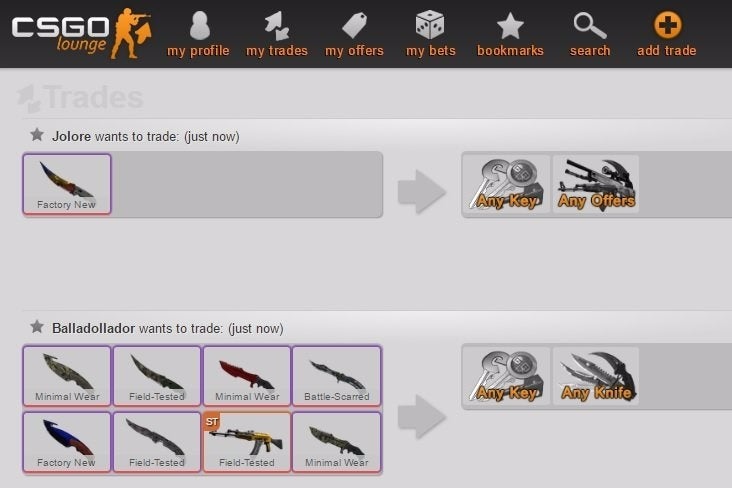 CS:GO Lounge, one of the world's biggest Counter-Strike skins gambling websites, has closed its virtual items betting functions.
The announcement comes following a crackdown from Counter-Strike developer Valve, who had issued a raft of skin gambling websites with cease and desist letters.
The company behind CS:GO Lounge and Dota 2 Lounge, which are regulated in Costa Rica, said depositing virtual skins and items in order to place a bet is not possible any more. It's working on a solution for items withdrawal.
CS:GO Lounge's exit is the clearest indication yet that Valve's bid to crack down on video game skin gambling websites is working, and it comes after Twitch banned gambling sites from its platform.
CS:GO Lounge had announced its intention to apply for gambling licenses in the countries it operates in a bid for legitimacy, but it appears that plan is now dead.
Like other CS:GO betting portals, CS:GO Lounge had operated by letting users gamble real-world money on a pot of virtual items from their Counter-Strike stash.
The items themselves are treated similar to gambling chips - some are worth more than others. And, obviously, the aim is to cash out and win big.

Valve issued its warning message to gambling sites after intense scrutiny surrounding CS:GO Lotto, a site found to be secretly owned and promoted by YouTube stars Tom "Syndicate" Cassell and Trevor "Tmartn" Martin.
Last week, the UK Gambling Commission took a renewed interest in eSports betting. It published a list of concerns including whether new legislation is needed to tighten up its legal status.
What now for CS:GO Lounge? It said it would continue as an "eSports entertainment and information platform".