Crossy Road developer unveils top-down space Western shooter TombStar
Coming to PC and consoles next year.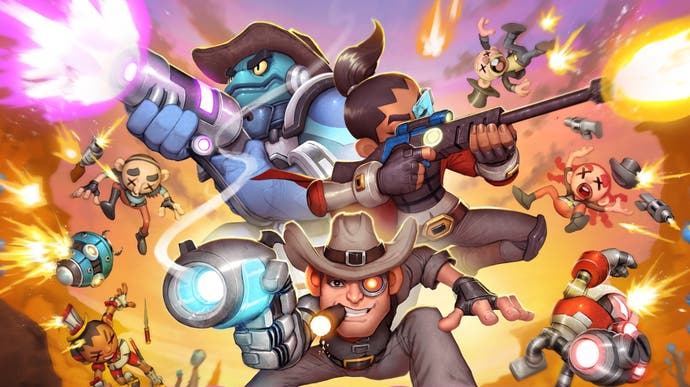 Marcus Grambau and Andy Sum, the developer behind massive mobile hit Crossy Road, have unveiled TombStar - a rootin', tootin' top-down "space Western" shooter, which will be making its way to PC and consoles next year.
Unfolding at the outer reaches of the Frontier Galaxy, TombStar pits players against an assortment of gun-toting miscreants - "from pistol-wielding cowpokes to robots with death lasers", according to the official announcement - across four visually distinct planets.
What follows is a blend of "tough, bullet hell gunplay and winding procedural exploration" (with roguelike elements) inspired by 80s cartoons, all of which can be tackled using one of three playable renegades, each with their own special powers.
Collectible loot, powerful upgrades, and dynamic weapons are also promised, bolstering players' offensive capabilities along the way.
That's not, admittedly, an awful lot to go on, but you can get a brisk taste of TombStar's colourfully frenetic shooting action in the announcement trailer above.
Publisher No More Robots says it'll be holding a closed beta on Steam later this year (interested parties can sign up here), ahead of TombStar's release on PC and unspecified consoles in 2021.