Counter-Strike: GO misses PlayStation Store for fourth week
Digital releases for Modern Warfare 3 and Battlefield 3 aim to scratch your multiplayer itch instead.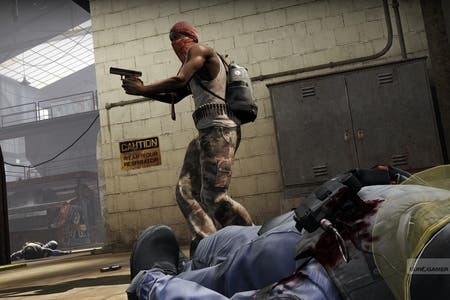 Counter-Strike: Global Offensive has failed to appear on the EU PlayStation Store once again, marking four weeks since it was supposed to launch. Xbox 360 and PC players have been able to play the game since August 21st.
"Sorry," posted the resilient Jawad Ashraf of the PlayStation Store Team as comments under the latest update announcement on the European PlayStation Blog inevitably turned to the continued absence of Valve's critically acclaimed shooter. He even added a sad face emoticon, thus neatly encapsulating what it feels like to be facing down a horde of angry virtual customers for the fourth week in a row. "It's the standard stock response from me again," he added. "I have no information to share."
In the absence of any formal statements from Sony or Valve clarifying the situation, it seems gamers will just have to wait another week and hope for the best.
So what else does this week's update have to offer?
Digital releases for shooter titans Modern Warfare 3 and Battlefield 3, for one thing, although the fact that they each carry a £57.99 (€69.99) price tag may cause some alarm. Battlefield is at least the Premium Edition, with access to all five DLC packs. Modern Warfare 3 appears to be the vanilla game, with no extras.
If you prefer your shooting with a side order of sleazy noir, then Max Payne 3 is also available for £31.99 (€39.99) or £39.99 (€59.99) if you want a Rockstar Pass to access the multiplayer modes. There's also NHL 13 (£57.99/€69.99) and indie adventure game Red Johnson Chronicles: All Against One (£6.49/€7.99)
Things are calmer on the PlayStation Vita, with chilled out enviromental management game Ecolibrium, which is free, and Sunflowers (£2.39/€2.99), a game in which you grow sunflowers.
PlayStation Plus members get Scott Pilgrim vs The World for nowt, which isn't bad, along with the chance to buy Dreamcast do-over Jet Set Radio one week before other PSN customers (and at the same time as XBLA customers) and also get money off. There's a 30% discount on Max Payne plus Rockstar Pass as well.
Over in the DLC corner, Ghost Recon: Future Soldier, Sleeping Dogs, Tales of Graces F, Transformers: Fall of Cybertron and Warriors Orochi 3 all get extra doodads to slurp down your datanozzles.
Sports fans, and those who just love seeing initials and numbers in close proximity, will savour demos for FIFA 13, F1 2012 and WRC 3. There's a taster of Resident Evil 6 as well, due on September 18th.
But no Counter-Strike: Global Offensive. Again.