Cooking Mama: Cookstar publisher in hot water for "unauthorised release"
UPDATE: Planet Entertainment responds.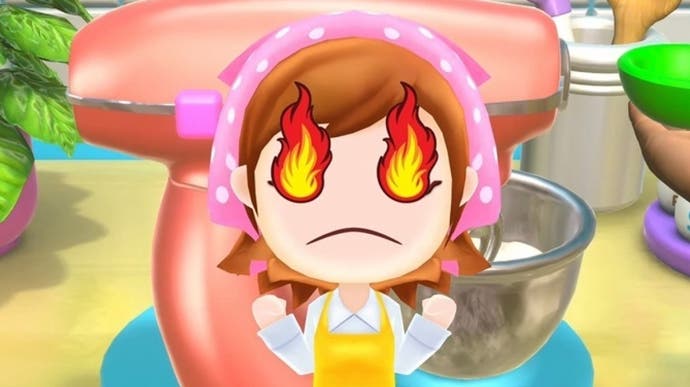 UPDATE 10pm: Planet Entertainment has responded to accusations that it breached its contract by publishing Cooking Mama: Cookstar, in a lengthy statement which, if nothing else, is worth relaying for its surprise use of the words "unicorn food".
"Planet Entertainment wants to explain the mystery surrounding the Nintendo Switch game to all Cooking Mama Cookstar fans," the publisher wrote in a statement posted to Twitter.
According to Planet, Cooking Mama rights holder Office Create - which has accused the publisher of breaching its licensing agreement - approved a "detailed game design" in 2019. Planet says it, along with Cookstar's developer 1st Playable, "followed the exact approved design", which resulted in the "exact" game ultimately released on Switch.
"Unfortunately," continued the publisher, "creative differences arose as Cooking Mama Cookstar was near completion that were outside the scope of our agreement and the game design approved by Office Create". Planet say that "by contract" it's fully within its rights to publish the game and "there is no active litigation or ruling that prevents [it] from" doing so.
The publisher concluded by noting that "Cooking Mama fans have been very enthusiastic about Cooking Mama Cookstar, including the many new features including Vegetarian and, Unicorn food, Potluck Party plus more". These exciting additions have so far helped the game achieve a Metacritic score of 45 out of 100, in case you were wondering.
"We appreciate the overwhelming positive response and support from Cooking Mama Cookstar fans," Planet Entertainment wrote, "Office Create has our total respect. We thank them for their wisdom and wish them well".
Let's see how this one pans out, eh?
---
ORIGINAL STORY 2pm: Cooking Mama: Cookstar has been embroiled in problems ever since its messy release on Switch, and now there's a new chapter in the saga, as the IP owner of Cooking Mama is considering legal action against publisher Planet Entertainment for breaching the licensing contract. The plot thickens.
IP owner Office Create Corp. has issued a statement saying it terminated Planet Entertainment's licence for Cooking Mama on 30th March due to "intentional material breach of the licence contract" - but that Planet Entertainment went ahead with the release anyway.
"Unfortunately, the quality of the game builds failed to meet the standards that our customers expect and deserve," the statement explains. "Office Create rejected a wide range of deficiencies affecting the overall feel, quality and content of the game. Yet, despite being contractually obligated to correct the identified deficiencies and resubmit the corrected game for Office Create's approval, Planet proceeded to release Cooking Mama: Cookstar without addressing all of the rejections and without Office Create's approval.
"Planet continues to advertise and sell the unauthorised version of Cooking Mama: Cookstar on its website in wilful violation of Office Create's rights."
To make matters worse, Office Create claims "Planet Entertainment and/or its European distributor" has been promoting an upcoming European release of Cookstar on PS4 - for which it similarly doesn't have a licence. "Office Create has not licensed Planet (or any other entity) to create any Cooking Mama games for PS4," the statement says. "To date, Planet has not confirmed the status of the unauthorised PS4 version."
As a result, Office Create is now considering legal action against Planet to protect its IP, although the company is yet to detail what form this will take. Eurogamer has contacted Planet Entertainment for comment. Koch Media, which is Cooking Mama: Cookstar's European distributor, told Eurogamer "this is a matter between Office Create and Planet Entertainment and as discussions between them are ongoing, it would be inappropriate for us to comment at this time".
Cooking Mama: Cookstar technically released for Switch at the end of March, and although some fans got their hands on copies, the game seemed to quickly disappear from both the Nintendo eShop and physical stores (via IGN). Rumours began to circulate claiming the game ran poorly because it was secretly turning Switches into cryptocurrency miners - something that Cookstar developer 1st Playable denied. In the same Twitter thread, 1st Playable shared frustration with the "distribution situation" and eShop problems, the latter of which probably won't be solved, given one developer anonymously told ScreenRant the eShop removal was caused by the licensing dispute between Office Create and Planet Entertainment.
The cryptocurrency rumours, meanwhile, likely stemmed from one of the game's original blog posts back in August 2019, which promised Cooking Mama: Cookstar would be the "first game to integrate blockchain technology on major consoles".
"The statement about crypto-currency was all buzz words," the anonymous developer told ScreenRant. "The head of Planet Entertainment knows very little about these things... he just put some fancy language to get potential investors who like that stuff."
It seems that idea was pretty half-baked.