Coming Attractions: Action & Adventure
Get juiced and get thinking.
Action
Action is an expansive term, and for the purposes of this list encompasses games that combine a number of elements to dazzle you with violence and tragedy, usually in an openworld setting - like Grand Theft Auto and Mafia II - along with games traditionally lumped into the equally hazy "action adventure" bracket, like Bionic Commando, Assassin's Creed 2, and other sub-genre fare. Two things unite them, though: they aren't specifically anything else, and they're packed with action.
Star Attraction
Grand Theft Auto: Chinatown Wars
On: DS / Developer: Rockstar Leeds, Rockstar North / Publisher: Rockstar Games / Release: 20th March
Microsoft tells us we should be most excited about GTA IV's downloadable The Lost and Damned, and we certainly haven't lost our appetite for cruising around Rockstar's glorious update of Liberty City nodding along to Goodbye Horses, but it's Chinatown Wars that we find ourselves increasingly excited about - especially after a recent visit to Rockstar's West London headquarters to play through a number of missions.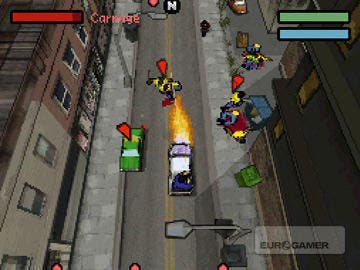 We can't be too specific about the things we saw for the moment or Rockstar's lawyers will honk their horns, sleep with us, take our money and then run us over, but enough of the good things are already in the public domain: the action, which takes place on the top screen, is viewed from an elevated, almost top-down vantage point, but the dinky polygon characters and cars are typically charismatic, and comparisons to the oldest of the GTAs would be wide of the mark. This is closer to Grand Theft Auto IV in playset and production values, and pleasingly inventive, particularly during its numerous cutaways to the touch-screen for brief, amusing use of the stylus.
It's not exactly tame, either, although as one rep put it, "When it comes to the censors there's a difference between baiting and bear-baiting." Which, we wonder, is the drug-dealing strategy sub-game? Whichever, it's a moreish sideline that makes good use of the game world - Liberty City from GTA IV, with Alderney cut away to make space on the cart - and the new PDA system that replaces its predecessor's mobile phone. Overall the game looks vast and assured, and very much a part of the modern GTA canon. Don't be surprised if it's one of the first third-party games to perform as consistently as Nintendo's own money-printing DS output.
Supporting Cast (in alphabetical order)
Bayonetta
On: PS3, Xbox 360 / Developer: PlatinumGames / Publisher: SEGA / Release: 2009
Former Devil May Cry director Hideki Kamiya regularly says he hasn't bothered playing other action games, so we have no idea where he got the inspiration for an acrobatic, ultraviolent witch with guns and magic coming out of her feet and hands to shoot monsters in the face. We're not arguing with it though.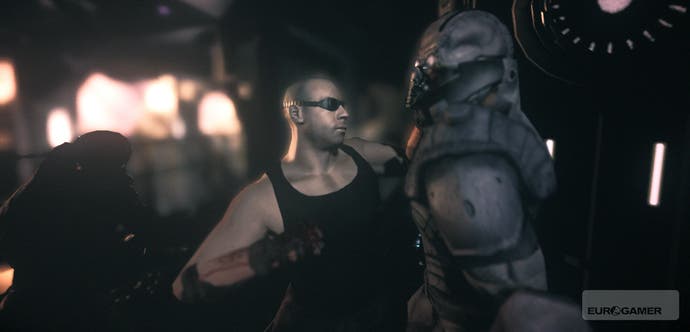 The Chronicles of Riddick: Assault on Dark Athena
On: PC, PS3, Xbox 360 / Developer: Starbreeze / Publisher: Atari / Release: March
We visited Starbreeze during the making of the original Chronicles of Riddick, and had pizza with banana and artichoke toppings. The idea of this calmly savage and empowering stealth cool-'em-up dazzling again in its new guise is much less bizarre.
inFamous
On: PS3 / Developer: Sucker Punch / Publisher: Sony / Release: Spring
The Sly Raccoon games were like Jak and Daxter and Ratchet and Clank's forgotten siblings, but they were no less colourful and imaginative. inFamous takes a much darker turn, but its electro-superhero-in-a-moral-vacuum openworld guise is a promising match to a developer of Sucker Punch's skill.
Resident Evil 5
On: PS3, Xbox 360 / Developer: Capcom / Publisher: Capcom / Release: 13th March
It's coming, racist or not, in just two months' time. Zombies on fast-forward may be as cliché nowadays as slow zombies were before 28 Days Later, but few approached Resident Evil 4 with enormous expectations either, and look how that turned out.