Codemasters announces Codemasters Racing label
Operation Flashpoint KIA as publisher focuses exclusively on racing games.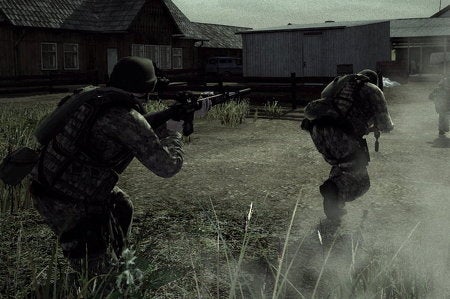 UPDATE: Codemasters has been in touch to clarify its Codemasters Racing announcement.
Codemasters remains the name of the company. Codemasters Racing is a new label, which launches alongside DiRT Showdown, and will be the home of Codies' racing brands: DiRT, F1 and GRID.
ORIGINAL STORY: Codemasters is no more: meet Codemasters Racing.
The publisher has announced it will rebrand itself from May - and is now only developing racing games. Codemasters Racing is now hard at work on games in the popular F1, GRID and DiRT series.
What does this mean for the Operation Flashpoint and Bodycount series'? Codemasters told Eurogamer today it has no intention to continue with them.
"Racing is the absolute razor focus for all titles currently in development and those slated for future development across the studios in Warwickshire and Birmingham," a spokesperson said.
The focus is an exclusive one, there are no other genre properties in development at this time; racing is everything.
"The focus is an exclusive one, there are no other genre properties in development at this time; racing is everything. We are also increasing headcount across the operation, which currently employs around 700. We are expanding the teams by a further 100+ development positions, which are opening over the course of the year across the sites."
The move means Operation Flashpoint Red River, which launched on PC and consoles in April 2011, marks the end of the hardcore military shooter series - at least for now.
It also means Codies has no intention of making a sequel to ill-fated FPS Bodycount.
Codemasters Racing will launch with the arrival of DiRT Showdown. To accompany the re-naming of the independent British developer, Codemasters has also announced a free community portal that will bring all of its racing titles together beneath one social umbrella.
Titled Race Net, the browser-based service will provide gamers with a single driver profile that will unify accomplishments achieved across all Codemasters Racing games. As well as presenting raw game data as visual infographics, Race Net will also allow gamers to set up challenges against their community rivals, as well as work together to unlock in-game cosmetic rewards.
In a presentation at last week's Namco Bandai Global Gamer Day held in Las Vegas, Codemasters highlighted one such community event. Titled Drain The Tanker, it will task the entire community of a particular game with the challenge of burning through a fixed amount of fuel within a 24 hour time limit. If the community is successful, a reward will be unlocked for everyone who took part in the event.
Gamers will get their first look at a beta version of Race Net when the demo of upcoming title Dirt: Showdown is released on 1st May. Sign-up information has yet to be revealed, but should you try out the service when the beta begins, you'll receive a livery and $20,000 of in-game cash to spend in Dirt: Showdown.