Classic 80s strategy RPG The Lords of Midnight is free on GOG right now
As is its sequel Doomdark's Revenge.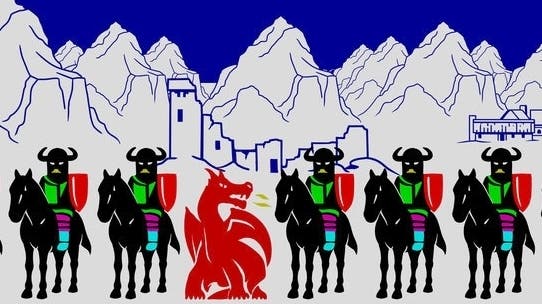 Classic 80s fantasy role-playing game The Lords of Midnight and its sequel Doomdark's Revenge are currently free on GOG.
Developed by Mike Singleton and originally released for the ZX Spectrum back in 1984, The Lords of Midnight - which melds epic fantasy adventure with war-game-like strategy - is widely regarded as a true gaming classic, both wildly ambitious and masterfully designed.
It's set in the sprawling fantasy kingdom of, yes, Midnight (which features a staggering 4,000 locations to explore), and initially gives players control of four characters - Luxor the Moonprince, Rorthron the Wise, Corleth the Fey, and Morkin - tasking them with bringing an end to the warmongering Witchking, Doomdark.
It's a goal that can be achieved in a number of ways; either by focussing on the story and destroying Doomdark's source of power, the Ice Crown, or by taking a more strategic route, roaming the land and recruiting lords and armies until your forces are strong enough to overthrow your foe's. There's even a third option, requiring the completion of both goals.
Following the critically acclaimed release of the Spectrum original, Lords of Midnight made its way to Commodore 64 and PC. Then, in 2012, it received the remake treatment as part of a collaboration between Singleton and developer Chris Wild, subtly modernising the experience with marginally flashier visuals and music for iOS devices.
That version later made it to PC (and other mobile devices), and is currently available for free on GOG, alongside Wild's remake of equally well-regarded 1985 sequel Doomdark's Revenge. It's not entirely clear how long the offer will last, so you might want to grab them now.
Eurogamer revisited the masterful Lords of Midnight in 2018, should you be keen to learn more, and Dan Whitehead celebrated Mike Singleton's wonderful legacy back in 2012.