Behind the scenes of the Fallout 4 lore mod which boasts the voice of Mass Effect's male Shepard
FEVer dream.
Look, I know there's been some big news about Mass Effect recently, but you're going to have to wait a while for that remaster and new game anyway - so why not try out this Fallout 4 mod with voice acting by Commander Shepard in the meantime? Oh, and it's also pretty great if you're into your Fallout lore.
Made by a group of modders including members of YouTube channel ShoddyCast, Fallout: Brotherhood is an "interactive movie mod" for PC and Xbox telling the origin story of Fallout's famous Brotherhood of Steel faction. Released at the end of October, the mod stars voice actor Mark Meer (male Shepard in Mass Effect) as Roger Maxson, military man and first high elder of the Brotherhood of Steel. The story is set in pre-war America and explores the origins of the Brotherhood in the Mariposa Rebellion, and reveals the horrific results of the Forced Evolutionary Virus (FEV) tests that prompted Maxson to rebel. There's even an introductory trailer to set the scene, which explains how the narrator acquired all his information.
Of course, with a description like that I couldn't just leave it there - so I downloaded the mod to have a poke around, and got in touch with some of the modding team behind the project.
Things kick off as they often do in Fallout: with a mysterious radio signal. Listening to the Storyteller's Signal leads you to the Memory Den in Goodneighbor, where you'll find the Storyteller ready to beta test a fancy new experience composed entirely of simulated memories. "It's a little buggy," he says, "like this one glitch where Sergeant Platner keeps getting pronounced Sergeant Planter." It's some nice narrative grounding for the occasional bit of jank in the mod.
The Storyteller explains he's made the experience as a way to keep telling stories long after he's gone, and his voice guides you through the story's many twists and turns. Literally - you walk between rooms on a neural pathway to view each scene. Being able to move around mid-scene feels almost like watching a live reenactment... until someone gets their head exploded and the jiblets freeze mid-air, perhaps. Something I initially missed is that you can interact with the orange glowing objects to learn further background details from the Storyteller, a nice little detail which very much reminded me of a museum audio guide. Some of the story beats may be predictable, but the mod excels at bringing Fallout's written lore to life.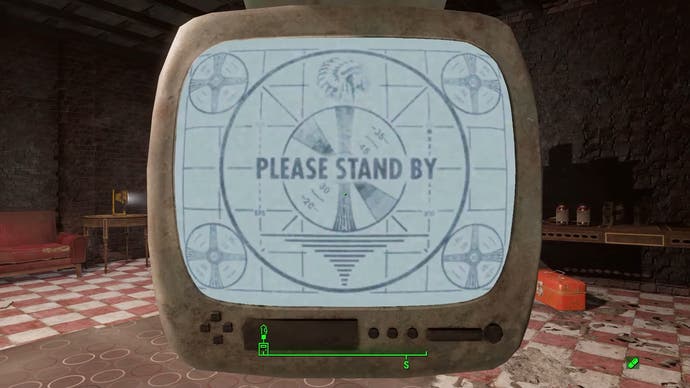 One of the main draws of this mod is the voice acting, naturally, and it's pretty solid (the Storyteller's inflection can be a bit odd at times - but I kind of like the weirdness of it). Mark Meer does a nice job as the stern military commander Roger Maxson, who finds himself doing questionable things for the good of the many, and must grapple with the leadership position he finds himself in. If you want to hear the voices more clearly, I would recommend going into the game settings to turn down the music, as the background ambience can get a little loud at times.
While the mod is a pretty smooth experience once installed, you may need to exercise some patience: it can be a little slow to recognise when you're ready to move on, and on one occasion I did fall off a pathway and was plonked back down in a strange spot, meaning I had to go back to a previous save. At the start you're also given a warning to avoid walking in front of the NPCs (which can confuse them a bit), but thankfully the mod saves your progress pretty frequently in case something goes wrong.
"The main challenges were mostly making the player's traversal through Maxson's memories bug free - which paid off as I've received only a handful of bug reports regarding that sequence of the mod," main programmer Richard "Unoctium" told me. ShoddyCast member Josh, who oversaw the project, said coordinating the teams had also been a challenge - along with trying to produce something of substance without a studio-size budget.
"Well over a dozen people were involved with Fallout: Brotherhood, so that is over a dozen schedules to coordinate", Josh added. "People come and go, but the wheels need to keep turning. This might be why most mod projects that get released are solo projects."
Josh also explained a bit about how the mod came to be, starting out as a movie project for The Storyteller YouTube series before evolving into a fully-fledged mod. "After four seasons and over 70 episodes, some people on our team wanted a change of pace," Josh said. "After a couple of false starts, we finally settled on a movie that would tell the story of Roger Maxson. The film eventually morphed into a mod project, and three years later, here we are."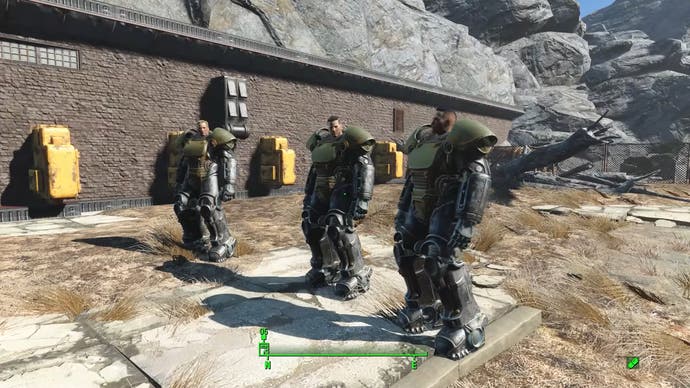 Now for the million-cap question: how did Mark Meer get involved? ShoddyCast originally got in touch with Meer several years ago for a cameo role, Josh explained, and during that collaboration the team learned Meer watched ShoddyCast videos and had played around with some of their other Fallout mods. "Since then, it was always in the back of our minds that we wanted to collaborate again," Josh said. "When it came time to hold auditions for the role of Roger Maxson, we knew Commander Shepard was the space marine for the job! Luckily, he agreed."
And as for what Meer's performance brought to the mod...
"I mean, have you heard Mark Meer? His voice just oozes authority and bravado. As far as characters in the Fallout universe are concerned, Roger Maxson was a bold guy. He was a military grunt who rebelled against the U.S. government with nothing but a few suits of power armor and a handful of men. Mark Meer and his fellow actors gave us a stellar performance."
Apparently Meer was emailed as soon as the mod trailer was released - but the ShoddyCast team has no idea if he's had a chance to play it yet. Seeing as we're all bunkered down due to Covid-19 anyway, I'm sure he'll get round to playing it soon.
The mod's reception, according to Richard, has been mostly positive, even surpassing his expectations - something he partially attributes to his decision to frame the mod as an "interactive movie" in the style of shareware discs from his early gaming days. Josh similarly added that feedback had been great, although the team still has "a long road of bug fixes" ahead of them. "We want to give a special shout out to the Road to Liberty community, [and] also the ShoddyCast Patreon donors for making this project possible," Josh added.
The mod not only coincides with the announcement of more Mass Effect titles, but with some more official Brotherhood of Steel content, as Bethesda recently announced the faction will march into Fallout 76 this December. You may recall there was some controversy over Brotherhood of Steel lore prior to Fallout 76's release, in which players found a note claiming the faction had been in Appalachia before the year 2102. Some felt this was a retcon of established Fallout lore which said the Brotherhood did not leave their Californian bunker until 2150, and Bethesda later resolved the dilemma by explaining the Brotherhood used a satellite to extend their reach.
If you want to brush up on early Brotherhood of Steel lore yourself, it takes slightly under an hour to complete Fallout: Brotherhood, and you can find it on both PC (via Nexus Mods or Bethesda) and Xbox.