Chaos Reborn launches on Steam Early Access next week
Gameplay video shows off new graphics.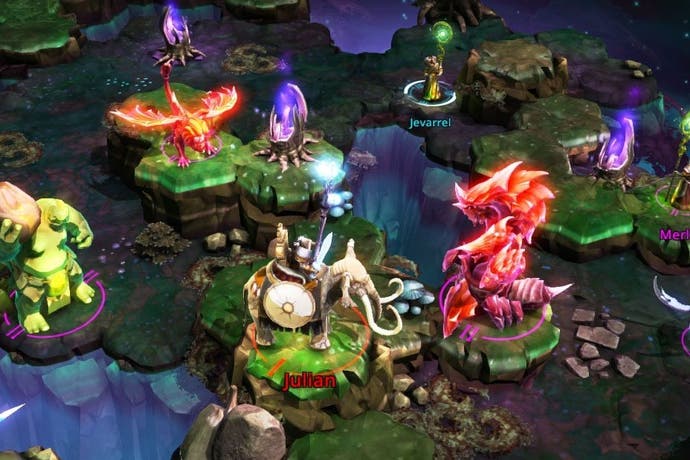 Chaos Reborn, the new game from X-COM creator Julian Gollop, launches on Steam as an Early Access title for PC, Mac, and Linux on Tuesday, 9th December priced £14.99 / $19.99.
Chaos Reborn is the follow-up to Gollop's cult classic 1985 ZX Spectrum strategy title Chaos: The Battle of Wizards, which pre-dates the influential and much-loved UFO: Enemy Unknown.
It's a turn-based strategy role-playing game in which players control a wizard who casts spells to summon creatures, among other things, in a last wizard standing multiplayer battle arena.
"It looks totally different now," Gollop said of the game compared to how it looked during its successful Kickstarter campaign. The trailer, below, shows off the new visuals.
The Early Access version offers multiplayer online battles with two to four wizards in a variety of arenas. There's also a two versus two co-op battle mode. Games can be either live or asynchronous. Live games have a turn timer of one to three minutes. Asynchronous games give each player a chess clock timer, which is measured in days.
"Chaos Reborn was successfully funded on Kickstarter in April 2014 and we have released 21 updates since then," Gollop added, explaining the move to Steam Early Access.
"We want to develop a relationship with a larger player community by offering the game on Early Access. We value input and feedback during the course of development as we roll out planned new features. We intend to integrate a number of social roles, such as guilds organised by 'demigods' and 'gods', and our player community will be essential for testing and developing these features."
Gollop expects the game to be in Early Access for around seven months, with an estimated final release of summer 2015.
We interviewed Gollop back in April to find out what he had been up to in the run up to the Chaos Reborn Kickstarter.