Call of Duty: Modern Warfare sent players a terrifying reset message last night
Scar-y.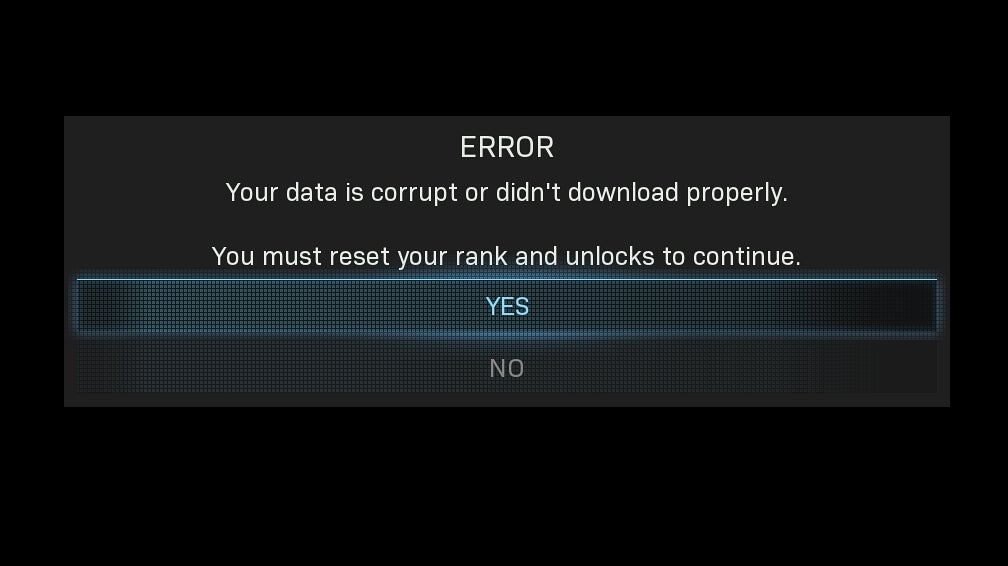 Can you believe it - Call of Duty: Modern Warfare's been out for nearly three months now. Imagine if a message were to appear telling you to reset all your multiplayer progress since then in order to play a match.
But that's exactly what some players were shown last night, as the latest patch introduced more than Infinity Ward bargained for.
The error message, which popped up for some people after the update, told users their data was "corrupt or didn't download properly" and they'd have to reset their rank and unlocks to fix it. In other words, losing all the loadout options, killstreaks, field upgrades and perks they'd achieved through hard grinding since launch. Nightmare fuel.
Even more concerning, in the immediate aftermath of the discovery, Infinity Ward instructed players to hard close the game without selecting either option. Not particularly reassuring if you saw this tweet after having picked one.
We're currently investigating an issue where players are getting an error prompt informing them their data is corrupt or did not download properly. Please do not select either option, but please hard close your application. Thank you for your patience while we work on this issue.

— Infinity Ward (@InfinityWard) January 22, 2020
Thankfully, Infinity Ward has now removed the message, and it seems the situation was not as dire as first appeared. Players who naively (or accidentally) clicked "yes" had only their stats in the combat record, leaderboards, custom classes, and operators reset, but everything else - including unlocks, XP, ranks and weapon progression - were all fine.
Those wanting to recover their lost stats, meanwhile, will probably only lose records from playing in the hours after the accidental reset - as Infinity Ward says the issue can be fixed.
"You are still able to play the game as usual and your progression will still track, but please be aware that once we do have a fix, we may have to roll back your stats to the state they were in prior to today's update", says the official update post.
"We're actively working on a fix for this, but do not have one to deploy tonight.
"We'll provide another update when we have more information for those whose stats were reset and again, thank you all for your patience."
Needless to say, the whole episode didn't go down particularly well with the COD community, many of whom questioned how the error message got through QA. Others joked this was the return of the prestige feature from previous games - which allowed players to reset their unlocks to keep accumulating XP once they'd reached the maximum level.
At least the update added some nice new additions like a crossbow and five more loadout slots... even if it came at the cost of a mass panic.