Activision severs links with Call of Duty Ghost voice actor following misogynistic comments
"In 2021, misogyny has no place."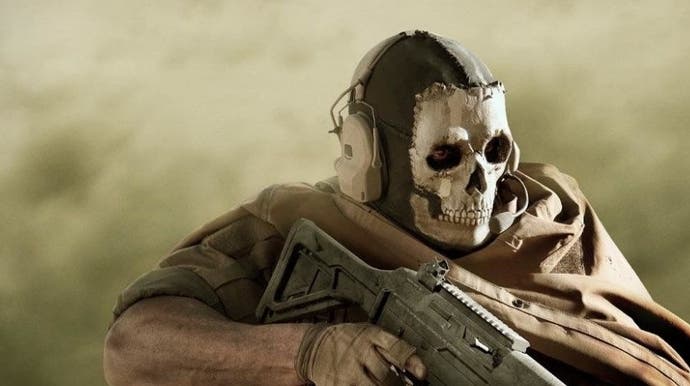 Editor's note, 1/11/21: A representative for Jeff Leach has claimed that the voice actor and Activision mutually agreed to sever ties in March 2021 due to unrelated matters and not Leach's alleged sexist comments, as reported at the time. Eurogamer has contacted Activision for further detail. The original article follows.
---
Activision has cut ties with Call of Duty: Modern Warfare's Ghost voice actor Jeff Leach following the dissemination of a video that compiles his misogynist comments.
The montage - which was shared online by streamers hitting back at Leach's derogatory statements - is described as containing "serious personalised intrusive sexism" and shows Leach using sexually explicit and aggressive language as well as personal insults.
"In 2021, misogyny has no place," states a caption on the video. "Yet female gamers regularly experience sexist abuse" and goes on to suggest that as Leach remains, at the time of writing, a Facebook Gaming partner, "doesn't that mean by affiliation Facebook is okay with what's being said?"
The first of three tweets is embedded below. In light of the language used, viewer discretion is advised.
According to CharlieIntel (via Resetera), Activision has now severed its links with Leach. In a statement, the company said: "Sexism has no place in our industry, our games or in society. Activision is no longer working with Jeff Leach.
"We strongly condemn these remarks. We are committed to delivering a fun and safe experience for all players."
Leach himself has responded to the video by calling it "targeted character assassination" and when challenged about his behaviour, said he "mocked a hateful, toxic troll who came into my community chat to attack me and my community" and he has "done the same to men who think that internet trolling and toxic behaviour are clever. I'm a stand up comic. You made this a gender-related issue and took it out of context".
"This should go without saying but anyone who sends threatening messages is not representative of me or my community and I do not condone this is (sic) any way," he added on Twitter.