Call of Duty: Modern Warfare cross-play will be input-based like Fortnite
And COD Points are arriving post-launch.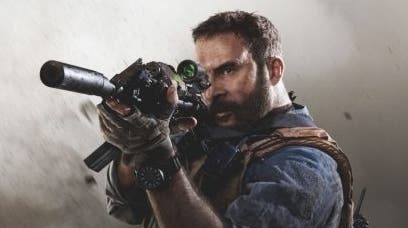 When the confusingly-named Call of Duty: Modern Warfare was unveiled a few days ago, one of the more exciting features announced (along with the revamped engine) was full console cross-play. As something only made possible by Sony's cross-play policy change in September 2018, it's the first time we'll see true console cross-play in a Call of Duty title - but this left many wondering exactly how it would work.
Thanks to a Forbes article and a tweet from an Infinity Ward dev, we now have an idea.
As described in the Forbes piece, cross-play between Xbox, PC and PS4 will be "input-based" to prevent PC players from merking absolutely everyone else. This means the game will detect whether you're using a keyboard and mouse or controller, and pool you with players using the same input device. Sounds fair and square.
The only time controller users will have to face PC keyboard and mouse players is when they're partied with a PC player, which will land them in more PC games. If you're struggling to visualise this, think of Fortnite's input-based cross-play system, which works in a similar manner.
This was later confirmed by Infinity Ward producer Candice Capen on Twitter. If you want a more in-depth look at Call of Duty: Modern Warfare's cross-play and DLC, you can check out our guide over here.
Something that remains a little unclear is exactly how PlayStation-exclusive timed content will work with cross-play. As revealed by Activision at the end of the PlayStation 4 launch trailer, Call of Duty: Modern Warfare will allow PS4 players to access DLC content seven days early - but we're yet to hear exactly how this will affect Call of Duty: Modern Warfare's matchmaking. Assuming the DLC includes maps in which PS4 players will temporarily be in their own pool, it kinda runs counter to the consumer-friendly narrative of full cross-play.
In other news, it's been a few days since Call of Duty: Modern Warfare was unveiled to the world, so that means it's already time for pre-orders. Activision has so far announced three different digital editions: Standard, Operator and Operator Enhanced - which come with the usual assortment of goodies depending on how much you spend.
Worth noting is the small print which provides some information on COD Points (CP) - the purchasable in-game currency seen in previous COD titles. Not only are these returning, but it sounds like they'll be implemented sometime post-release, whenever they're "made available in game". COD points were similarly activated several weeks after launch for Treyarch's Black Ops 4, and it's safe to say that didn't go down well. Maybe Activision will get the Price right this time.