Blizzard ditches Diablo 3 Team Deathmatch as it battles with PvP
Dueling to be added soon.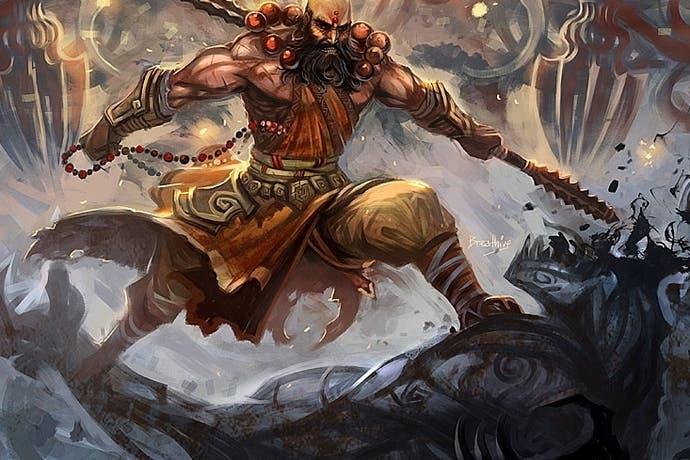 Blizzard has ditched Team Deathmatch as it battles with the yet-to-be released Diablo 3 player versus player portion.
"In continuing to develop this mode, playtest it, and put it in front of other developers within the company, we've found that it falls short of our expectations for a high-quality Blizzard experience," wrote Diablo 3 design chief Jay Wilson on Battle.net.
Explaining the decision, Wilson pointed to a lack of depth. "Simply fighting each other with no other objectives or choices to make gets old relatively quickly," he said.
"We've brought a lot of people in to try out Team Deathmatch and, while some found it entertaining, most of our testers didn't feel like it was something they'd want to do beyond a few hours. Without more varied objectives, or very lucrative rewards, few saw our current iteration as something they'd want spend a lot of time in."
Other issues involved class balance. "Certainly, we've gotten a lot of benefits from the development of Team Deathmatch, especially in the areas of controls and combat model tuning," Wilson continued, "but at this point we don't believe it's the experience we feel it needs to be in order to ship, so we will be shelving it for now and exploring other options."
While the news is sure to disappoint Diablo 3 fans, Wilson confirmed that dueling will be added to the action role-player "soon" as part of the patch 1.0.7.
The development team has now gone back to the drawing board on a replacement for Team Deathmatch and is designing "something that feels more appropriate for Diablo 3". Whatever this is, it will be a free add-on.
Wilson added: "Team Deathmatch provided us with the foundation that we needed and served us well. Hell, it may even still be added in some form in the future. For now, though, we're going to first be looking at new modes that play up to the strengths of the character classes, focus on objectives beyond just defeating other players, and possibly even integrate PvE elements and rewards."