Battlefield 3 passes Modern Warfare 2 on Xbox Live activity chart
But can't topple Black Ops.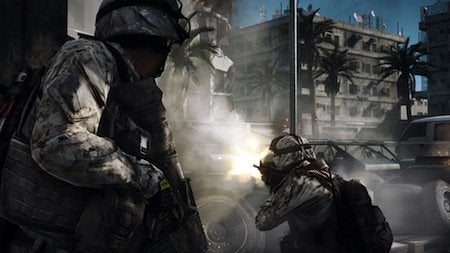 Battlefield 3 moved past Modern Warfare 2 to become the second most played game on Xbox Live last week.
DICE's shooter improved on its third place debut the week prior, but couldn't take down Call of Duty: Black Ops, which clings on at number one. With Modern Warfare 3 now out in the wild it seems unlikely Battlefield will be able to disrupt Call of Duty's perennial domination of the Xbox Live activity chart.
Here's the full top 20, as seen on Major Nelson's blog:
Call of Duty: Black Ops
Battlefield 3
Modern Warfare 2
Gears of War 3
FIFA 12
Halo: Reach
Madden NFL 12
Batman: Arkham City
Forza Motorsport 4
GTA IV
Call of Duty 4
NBA 2K12
FIFA Soccer 11
Halo 3
NHL12
NCAA Football 12
Call of Duty: World at War
Red Dead Redemption
Assassin's Creed Brotherhood
Dead Island
Bleak indie platformer Limbo returned to the top of the Xbox Live Arcade chart, followed by Dungeon Defenders and Pinball FX2.
Last week's new release, fun-free arcade throwback BurgerTime World Tour, debuted at 12.
Limbo
Dungeon Defenders
Pinball FX2
The Dishwasher: Vampire Smile
Real Steel
Zombie Apocalypse: Never Die Alone
Daytona USA
Fruit Ninja Kinect
NBA Jam: On Fire Edition
Bejeweled 3
Castle Crashers
BurgerTime World Tour
Toy Soldiers: Cold War
Guardian Heroes
Trials HD
Dead Rising 2: Case Zero
Dead Rising 2: Case West
Magic: The Gathering - Duels of the Planeswalkers 2012
From Dust
Orcs Must Die!