Battlefield 3 fixes and improvements detailed
Lag, server problems, squad issues dealt with.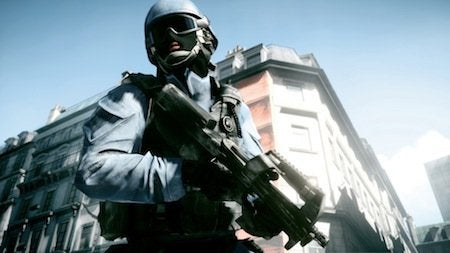 Battlefield 3 developer DICE has detailed various fixes and improvements that its made to its FPS sequel since launch.
A post on the game's official blog from general manager Karl Magnus Troedsson runs through the main areas of concern, including tweaks to Quick Match functionality, server availability, lag issues and general game stability.
Here are the salient points:
Quick Match functionality - Thanks to a server patch that went live yesterday, the developer has seen "a big increase in quick match functionality on consoles." DICE reckons you should be able to join a quick match "the majority of times" without hiccups.
Joining squads - Some users have complained of difficulties joining and staying in squads on console. DICE has "identified the cause of this problem and will hopefully have a fix ready to roll out very soon."
Hardcore server availability - The developer has solved an issue that made hardcore servers disappear after being live for a set period of time.
Lag and rubber banding - A bug causing console users to experience lag and rubber banding, particularly in Conquest mode on Tehran Highway and Caspian Border, has been stamped on.
Default region setting in server browser - Some players, mainly in the US, have had their default region setting in the server browser set to Europe, resulting in lag and rubber banding. A fix is pending in the "very near future."
Game stability - A server patch that went live today made numerous improvements to overall game stability, hopefully meaning fewer game crashes.
Origin installation and authentication issues - An Origin update scheduled for later this month should address most of users' problems with EA's platform.