Battlefield 1 reveals new in-development 5v5 Incursion mode
Tanks!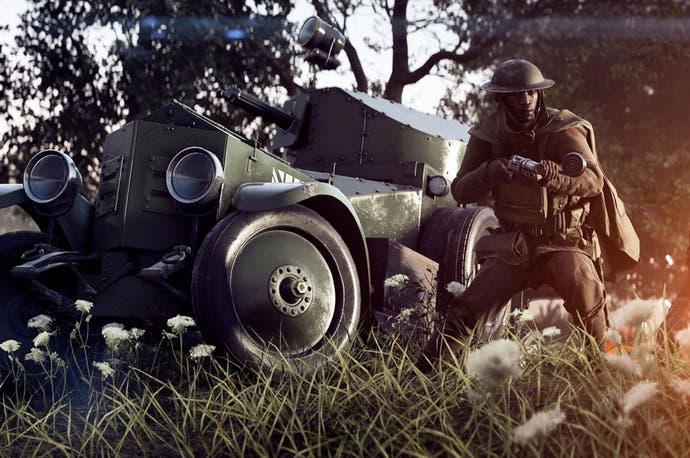 A five-versus-five mode is finally coming to Battlefield 1. Incursion, as it's known, goes into closed alpha next month and you can register for it on the Battlefield 1 website now. The alpha is for Origin on PC only.
Incursion will be fast and intense, on smaller maps but still with a mix of vehicles to play with - a light tank and armoured car were seen in a debut gameplay video.
Scoring has been changed for Incursion because points will presumably be tighter but there's no specific detail beyond that. You'll be able to choose your kit before Incursion matches begin, which EA DICE hopes will add a level of strategy as players compliment each other.
Kits are a subset of regular classes offering specialised roles. In the closed alpha there will be the Trench Surgeon, able to heal and revive; Control Leader, who has smoke grenades and can be spawned on while out of combat; AT Assault, specialised in taking out enemy vehicles; Battle Mechanic, who operates vehicles; Mortar Support, which is self-explanatory; Raid Leader, who can place spawn beacons; Shock Assault, a rounded fighter; and Proximity Recon, which can use intel to dispose of enemies somehow.
The closed alpha will offer one map: a scaled-down version of BF1 map Giant's Shadow.
In addition, DICE unveiled the Battlefield 1 Revolution edition - out now - which is a kind of Game of the Year edition bundling all expansions in one box. We've only had one of those so far - They Shall Not Pass - which means three are still left to come: In the Name of the Tsar, in September, which takes place in frozen Russia; Turning Tides, in December, which has amphibious warfare; and Apocalypse, in early 2018, which apparently recreates one of the most infamous battles of World War 1.