Battlefield 1 open beta launches this month
UPDATE: Now available to download on PS4, Xbox One, PC.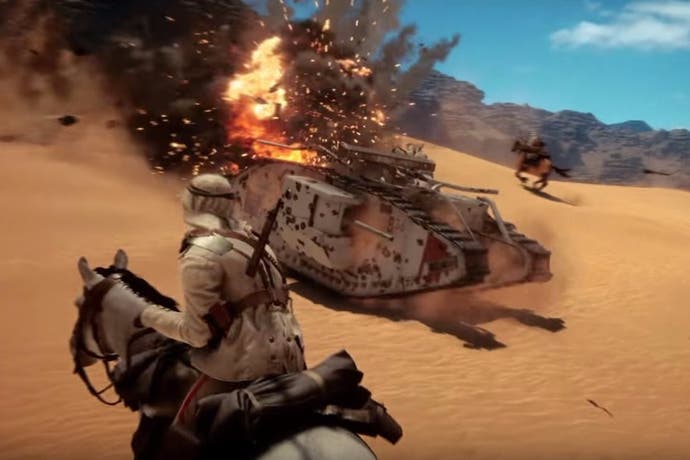 UPDATE 31/08/2016: 10:43am: The Battlefield 1 Open Beta is now available to download for all users on PS4, Xbox One and PC.
It follows one day of early access for those who signed up via EA's Battlefield Insider programme.
You can grab the beta from the PlayStation Store, Xbox Live, or direct from the Origin client. Download sizes range between 6.2GB and 7.10GB, depending on the platform.
While progress won't carry over to the full game, if you reach rank 15 and play across four different days, you will gain access to an exclusive Battlefield 1 Beta Dog Tag when the game releases in October.
Be sure to read our everything we know piece about Battlefield 1 for more on the beta, as well as general gameplay details coming in the full game.
UPDATE 29/08/2016 9.11pm: The Battlefield 1 open beta will not require a PlayStation Plus account to play multiplayer, the official Battlefield Twitter account has confirmed.
However, you will need an Xbox Live Gold account should you want to play the open beta multiplayer on Xbox One.
ORIGINAL STORY 15/08/2016 6.12pm: Battlefield 1 will get an open beta beginning 31st August for PS4, Xbox One and PC via Origin.
EA noted that Battlefield Insider members get early access to this beta and one can join them in receiving this perk should they sign up by 21st August.
The Battlefield 1 open beta encompasses the Sinai Desert map and includes two modes: Conquest and Rush.
Conquest is the large-scale mode with 64 players duking it out in control of key objectives, while Rush is more reined in at 24 players. This mode has a defending team protecting Telegraph Posts from the invading army.
EA also released the following new Battlefield 1 trailer ahead of Gamescom tomorrow. It looks like the best bits of the original Indiana Jones trilogy rolled into one.
Battlefield 1 will launch on 21st October for PS4, Xbox One, and PC, and you can read everything we know about Battlefield 1 with our dedicated guide.