Assassin's Creed 4: Black Flag in-game footage revealed
Four collector's editions detailed.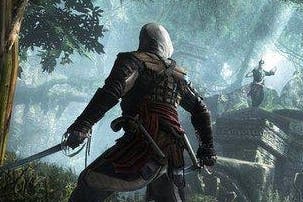 Ubisoft has shown in-game footage of Assassin's Creed 4: Black Flag for the first time, giving a glimpse of naval battles, underwater exploration and new locations.
There's Havana, full of decaying European buildings and dotted with palm trees. And there's Kingston with grassy streets and timber-framed houses.
It's our first look at an Assassin's Creed for next-generation consoles, too, though its unclear if the footage has yet been fully optimised for the new hardware.
New copies of the game will come with "VIP entry" to The Watch, a programme of bonus content and rewards. It sounds like you'll get entry into some kind of Assassin's Creed social network where you can "upload content and compare skills and achievements".
There's no mention of an Online Pass or Season Pass for this year's game.
Ubisoft has also detailed the usual array of special editions. This year there are four to choose from, each with their own blend of exclusive in-game missions and skins, as well as other merchandise tat.
There's the Special Edition (exclusive to GAME in the UK and Xtravision in Ireland), the Skull Edition, the Buccaneer Edition (exclusive to GAME in the UK and GameStop in Ireland) and the huge Black Chest Edition, exclusive to Ubisoft's own Uplay store.
Photos of the four editions and their contents lie below. And it's worth remembering that, every year, Ubisoft releases all of the pre-order/exclusive edition DLC eventually anyway.
An additional figure is available separately. You can pre-order Edward Kenway: The Assassin Pirate today - it has the AC4 star exploring a Mayan Ruin, and comes with yet more in-game content.