Assassin's Creed 3 Limited Edition detailed
Hidden Blade accessory sold separately.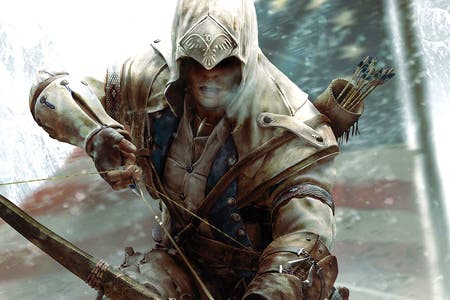 An Assassin's Creed 3 Limited Edition has been announced by Ubisoft for Xbox 360 and PS3.
The pre-order only Limited Edition retails for $119.99 and includes the following:
A 9.44 inch figurine featuring Connor "poised to strike with tomahawk and hidden blade."
Embroidered 28x48 inch colonial flag.
3x3.25 inch metal belt buckle.
The package will be available at GameStop, Amazon.com, Best Buy, Target and Wal-Mart.
Though this version is exclusive to North and Latin America, Europe has plenty of other special editions, including some that come with the the Vita game Assassin's Creed 3: Liberation and/or a season pass depending on the bundle.
There's also a Digital Deluxe Edition available for pre-order on PC. It includes a notebook featuring "George Washington's true story," three extra single-player missions, two in-game costumes, and an original soundtrack collection. This version costs $64.99, and is slated for a 23rd November release in EU.
In other Assassin's Creed booty news, GameStop will sell a replica of Ezio's hidden blade for $39.99 upon the game's console release on 30th October in North America - and the following day in Europe.
Though only plastic, it looks plenty realistic and comes with "spring-loaded action." This doesn't come with any edition of the game, but is rather sold separately. Finally, you can reenact the grizzliest scene from Drive with a plastic blade. Check out this crazy contraption below.