Assassin's Creed 3 Gold Edition pre-order price £109.99
Contains Liberation on Vita plus series' first DLC Season Pass.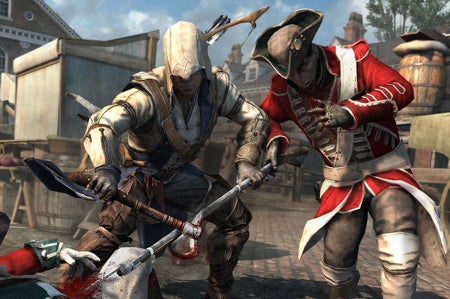 A new digital version of Assassin's Creed 3 is available to pre-order from the EU PlayStation Store, priced £109.99.
Dubbed the "Gold Edition", the download includes Assassin's Creed 3, PlayStation Vita sister title Assassin's Creed 3: Liberation and, a first for the series, a Season Pass.
Another version of the Gold Edition features everything but Liberation, presumably for gamers without a Vita. That costs £84.99.
Then there's a third version, with Liberation but without the Assassin's Creed 3 Season Pass, for those who may not want all the DLC. Again, that's £84.99.
All versions include A Dangerous Secret, the extra mission available with the GAME-exclusive Special Edition.
To complicate matters further there's also the even more lavish Freedom Edition and Join or Die Edition, which come with various physical bits and bobs.
The introduction of a Season Pass is new to the Assassin's Creed series:
"Extend your Assassin's Creed experience with a Season Pass that gives you full access to all additional DLC upon release, including an exclusive discount on all upcoming digital content, additional single-player missions and additional multiplayer packages," a product description reads.
The series has offered DLC since Assassin's Creed 2, although last year's Revelations was the first to offer paid-for multiplayer add-ons.
Ubisoft has yet to officially announce the bundles. Eurogamer has asked the publisher for more details, we'll update when we hear back.