As Cristiano Ronaldo heads off to play in Saudi Arabia, his FIFA 23 rating takes a nosedive
Don't Siu EA.
After an inglorious end to his career at Manchester United and, perhaps, his national team Portugal, Cristiano Ronaldo has left elite level football for Saudi Arabian club Al Nassr and a contract reportedly worth up to €200m (£177m) a year. And with the move comes an inevitable - some would say long overdue - FIFA rating downgrade.
37-year-old Ronaldo, who for years had been one of the two best cards in the FIFA games alongside World Cup winner Lionel Messi, had already dropped three positions for the FIFA 23 top 10 with a 90-rated card. Now, after Ronaldo's poor performance at the World Cup and his move to the Saudi Pro League, EA has knocked Ronaldo down a further peg to his lowest rating since 2007, when the forward broke through at Manchester United.
Ronaldo's overall rating is now 88, two lower than the 90 he started FIFA 23 with back in September. Crucially, his specific stats are also lower. His dribbling, for example, is down to 81 from 84, his stamina down to 70 from 74.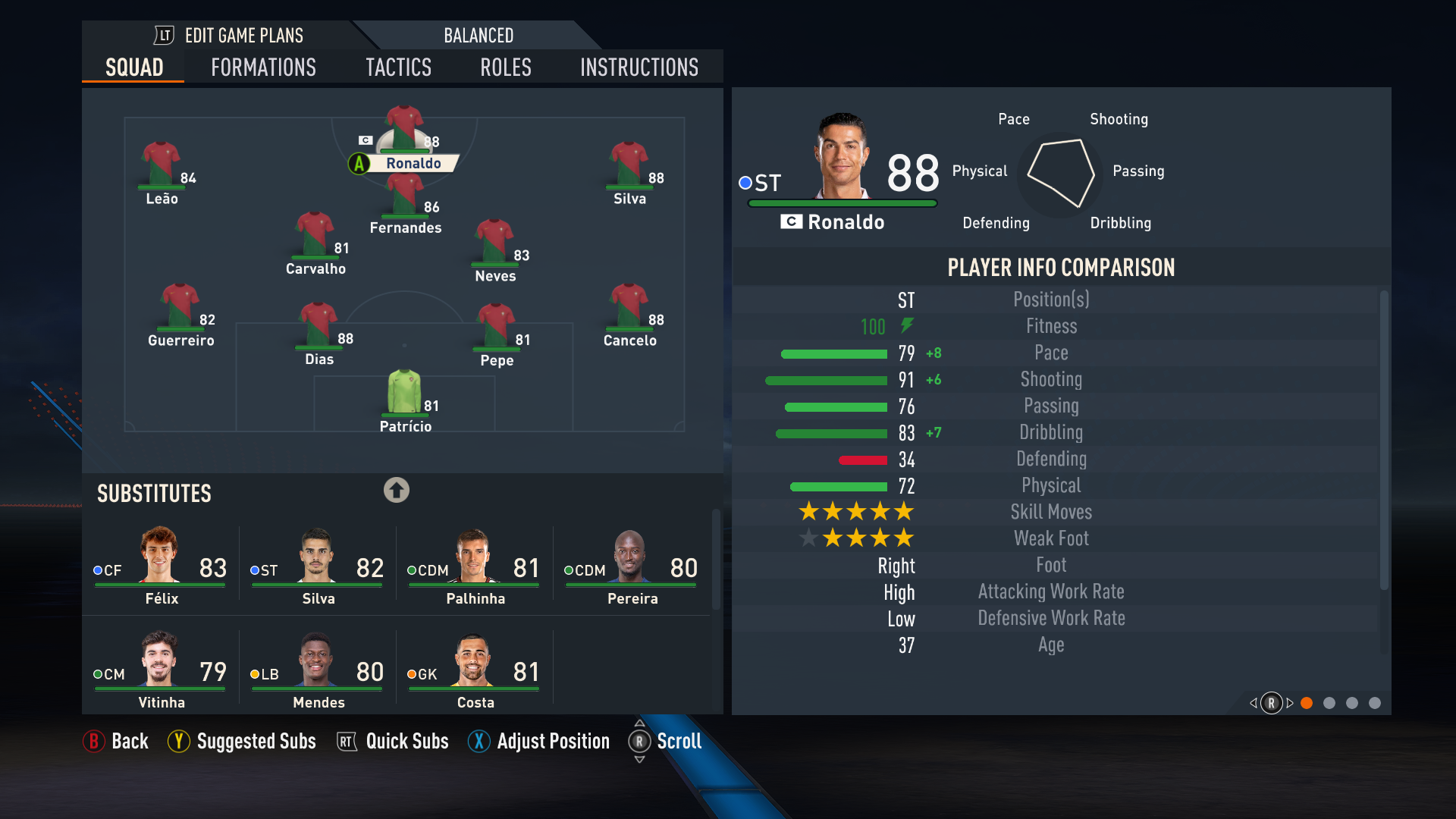 For comparison's sake, Messi's overall rating remains 91. No surprise there, after the Argentinian icon's World Cup exploits.
Ronaldo's superhuman on-pitch powers have diminished with age. Of course they have. In truth, it's remarkable that the former Real Madrid and Juventus star played at such a high level and continued to score so many goals into his mid-thirties. After his bitter exit from Manchester United, it's easy to forget Ronaldo was the club's top scorer last season with an impressive 24 goals in all competitions.
But the time has come for the FIFA version of Ronaldo to finally reflect the reality of the real Ronaldo. And some will say an 88 overall rating is generous. Either way, Ronaldo's new card marks the end of an era: this downgrade is the first time since FIFA 11 that Ronaldo has had a sub-90 rating.
For now, Ronaldo's 88 card is limited to kick-off mode (where he plays for Portugal but not yet Al Nassr) and career mode, where he is a free agent. The downgrade won't truly sink in until his Ultimate Team card is similarly hit. Thoughts now turn to this year's EA Sports FC and what will no doubt be an even sharper downgrade for the legendary goalscorer.
Beyond that? A prime Ronaldo icon card is surely in Ultimate Team's future.