Army of Two The Devil's Cartel announced
Coming in March from the Dead Space developer.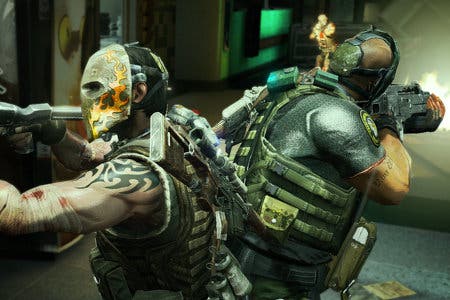 The third game in the Army of Two franchise has been revealed as Army of Two The Devil's Cartel by publisher EA.
Slated for release in March on Xbox 360 and PS3, The Devil's Cartel is helmed by Dead Space and Dante's Inferno developer Visceral Games. It will feature both online and split-screen co-op as the duo of PMC operatives Alpha and Bravo try to resolve a drug war in Mexico, ostensibly by slaughtering everyone involved.
The Devil's Cartel promises "a deeper and more advanced upgrade and customisation system," according to EA.
Visceral Games executive producer, Julian Beak noted, "With meaningful, seamless co-op gameplay at its core and explosive new tag-team features, gamers will have to work together tactically and strategically as they push through a city dominated by one of Mexico's deadliest drug cartels."
General Manager Steve Papoutsis added, "Our goal with Army of Two The Devil's Cartel is to apply our key design principles - immersive, challenging gameplay, intense narrative and focus on quality - to help improve a franchise we feel has always had a lot of potential."
The first couple Army of Two games both received 7/10s from our Oli Welsh and Dan Whitehead, respectively.
"Bearing the strong Vs. mode in mind, it would be wrong not to warmly recommend this as a smart twist on a stupid shooter, but perhaps it should have taken itself a little more seriously after all," said Welsh in his Army of Two review.
Whitehead said the sequel, Army of Two: The 40th Day, had "A-list production still held back by B-list ambition," and that there was "ultimately not enough of substance to lure players away from the multitude of other co-op gaming experiences for more than a few days".