Arkane looking into Dishonored 2 PC performance complaints
UPDATE: A second patch is now in beta, offering further optimisation options.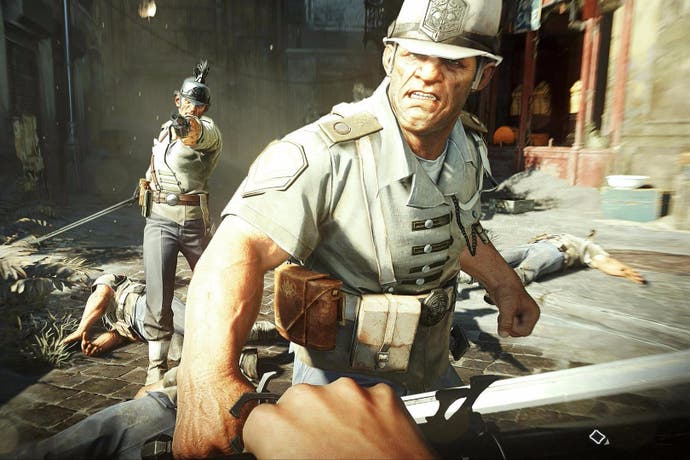 UPDATE 01/12/2016 7.03pm: There's a new PC patch out for Dishonored 2. It's currently still in beta, but you can check out the full patch notes on Steam.
UPDATE 22/11/2016 12.55am: Dishonored 2's first major PC patch has dropped and it promises to fix dozens of performance issues and bugs.
Notably, it contains "general performance and optimisation improvements" and features "reduced framerate stuttering".
You can check out the full patch notes on Steam. Fingers crossed it will alleviate whatever issues many of you are experiencing with Arkane's sequel.
UPDATE 10/11/2016 10.05pm: Bethesda is aware of Dishonored 2's technical foibles on PC and has offered the following tips to help alleviate these issues.
"Check to ensure that your machine meets the game's minimum requirements and that you are not running any other programs in the background," Bethesda said. "If your PC meets the Recommended Specs we encourage you to play with High settings for a more consistent 60fps experience. Only PCs that far exceed those Recommended Specs should opt for Ultra settings.
It then provided the following FAQ addressing the matter:
General recommendations
Avoid using Alt-Tab when playing. Relaunch the game if you see performance dropping after using Alt-Tab.
Avoid having background applications running in addition to the game.
Video Settings
If you have performance issues, try lowering the resolution.
Use 1440p resolution only if you have a very high-end GPU ( GTX 1070/1080 or equivalent)
Keep the V-Sync activated, especially if you have large framerate fluctuations.
If you have framerate under 30 fps, adjust the "Adaptive Resolution" between minimum (50 per cent) and default value (75 per cent).
Advanced Settings
Use the "Auto" presets: this should adjust your visual settings without impacting your framerate.
If you still have performance issues with "Auto" presets:
Try deactivating the "TXAA Anti-Aliasing"
Try lowering the texture details
Windows Ready
Dishonored 2 was tested against the latest updates for Windows 7/8/10. Please check your system to ensure you have the latest Windows updates for your OS version.
Please visit our support page for more information on how to update Windows.
DirectX
Dishonored 2 was tested against the latest update for DirectX - please check your system to ensure you have the latest version of Direct X. Please visit the following support page for the latest version of DirectX.
Update Your Graphics Card Drivers
To ensure you are getting the best performance out of your graphics card, you can download and install latest drivers (based on manufacturer) here:
ORIGINAL STORY 10/11/2016 2.21pm: Dishonored 2 has got off to a rocky start on Steam, with hundreds of players reporting problems with PC performance.
It appears Arkane's stealth game is struggling on mid-range PCs, with frame-rates dropping to surprisingly low levels in open areas.
Somewhat surprisingly, Dishonored 2 has a "mixed" user reviews rating on Steam. At the time of publication, 63 per cent of the 803 user reviews were positive.
Most of those that are negative focus on performance issues caused by suspected poor optimisation. It's a shame because early indications are that Dishonored 2 is superb. Christian Donlan, who's played the first few hours of Dishonored 2, loves it.
Harvey Smith, co-creative director at Arkane, acknowledged the issue on Twitter and said the studio was looking into it.
Are you playing Dishonored 2 on PC? How are you getting on with it?