Animal Crossing player achieves "bellionaire" status, raises money for pet charity
Corporate furlanthropy.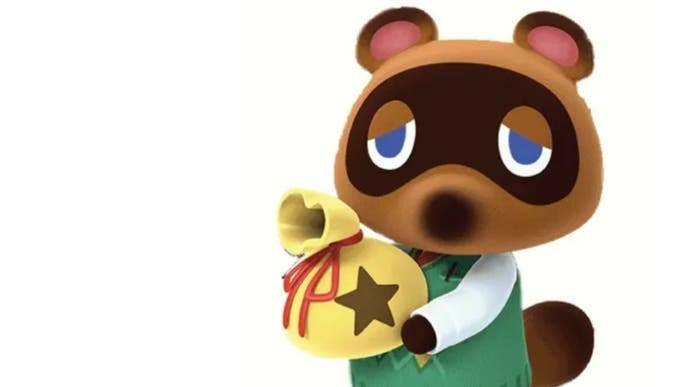 Well here's a turnip for the books: the Animal Crossing player who said he'd hit one billion bells through hard graft alone has achieved his goal, and to celebrate, he's raised hundreds of dollars for an animal charity.
Last week, BrianMp16 announced he would be the first to legitimately earn one billion bells in the GameCube version of Animal Crossing. He claims this makes him the first to have legitimately earned every item in the game, as the post office model only unlocks when a player clocks up one billion in savings. Unless you just cheat and enter a Nook Code, I guess.
While others may well have earned the item through grinding, BrianMp16 seems to be the first to have recorded the entire effort, proving he didn't use glitches or codes by livestreaming the process. The effort took him a little over 180 hours, thanks to shifting large amounts of turnips at once, and his ability to predict the Stalk Market "using the items available to buy in Nook's on a given day". If only that could be used in the real world at the moment.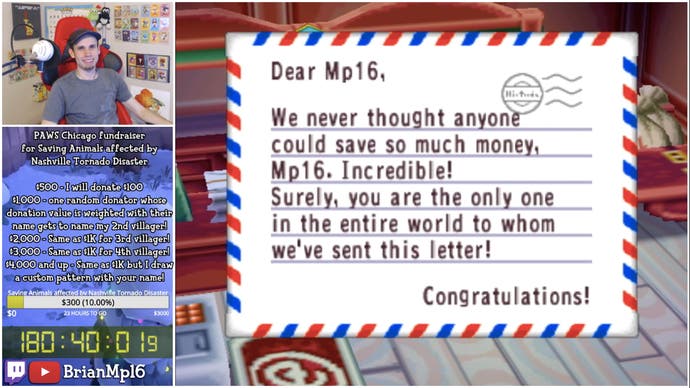 Upon achieving the ridiculous goal, BrianMp16 celebrated with some K.K. Slider music, confetti and fireworks - and soon afterwards, he received the coveted Post Model and accompanying letter, "which I must say could not be any more perfectly written," he later added in a Reddit post.
But BrianMp16 wasn't quite done there, and decided to capitalise on the momentum by raising money for a pet charity. Last week East Nashville was hit by tornadoes, resulting in an estimated 24 deaths and significant destruction across central Tennessee (via CNN). "Amid the disaster, an article caught my attention bringing light to another group affected by the disaster - animals," BrianMp16 explained. "Families left temporarily homeless had no choice but to give up their pets from the disaster, as well as all the animals in a Nashville animal shelter that was damaged by the tornadoes have become homeless themselves."
BrianMp16 did some research and found PAWS Chicago: a no-kill animal shelter helping with efforts to rescue and rehome animals displaced by the Nashville tornadoes. He then set up three charity streams over the weekend, raising $803 (£611) by the end of yesterday's stream. Although it's a little off his initial $3000 (£2282) aim, it's still not bad for a fairly small streamer - and I suppose you should never look a gift horse in the mouth.