Amazon UK customers furious as Xbox One X pre-orders fail to arrive
"Happy to take the money though."
Xbox One X is now available in the UK - but many Amazon customers are still to receive theirs.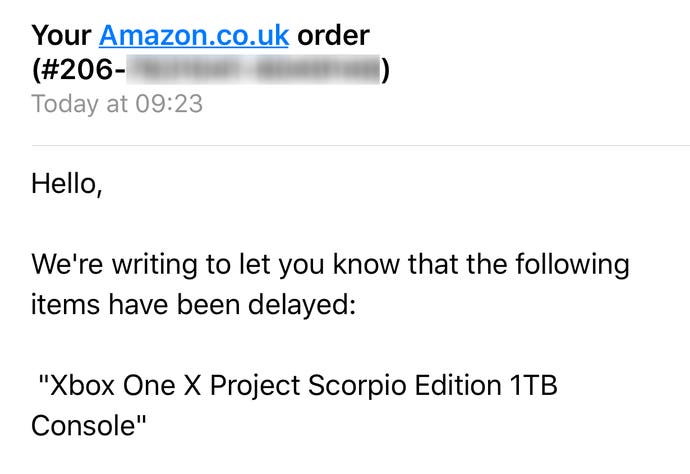 Last night's midnight launch was fine if you wanted to wait outside in the cold, but many Amazon UK customers had pre-ordered to avoid this - and to guarantee a limited edition Project Scorpio version of the £450 console.
Many of those affected thought they had locked down their consoles months ago when pre-orders originally went live - only to find out today their console has not yet been despatched.
Amazon UK has blamed "stock issues", customers hit by delays have told me. Many of those affected only found out there was a problem with their order upon waking this morning, and after contacting Amazon themselves to find out why their purchases were still in limbo.
"I have checked," an Amazon rep told one customer, "and can confirm that due to some stock issues, the item was unable to source from the dispatching centre."
I've heard from customers who have taken the day off work to receive their new console, and who ordered the limited Scorpio Edition only to be told there was no more stock in the chain.
Other customers have been told their Xbox One X is on the way - but now won't arrive until tomorrow instead.
There are many, many more examples on Twitter, where customers have taken to share their frustrations.
Not everyone has been unsuccessful, however - I've heard from people who only pre-ordered a couple of days ago whose orders are still on track, whereas others with orders dating back months have been hit by delays.
Eurogamer contacted Amazon UK this morning but is yet to hear a response.
If you are waiting on your Xbox One X to arrive, you can already transfer data from Xbox One to Xbox One X if you have an external hard drive ready.