Aliens: Colonial Marines Collector's Edition unveiled
UPDATE: Exclusive to Amazon in the UK.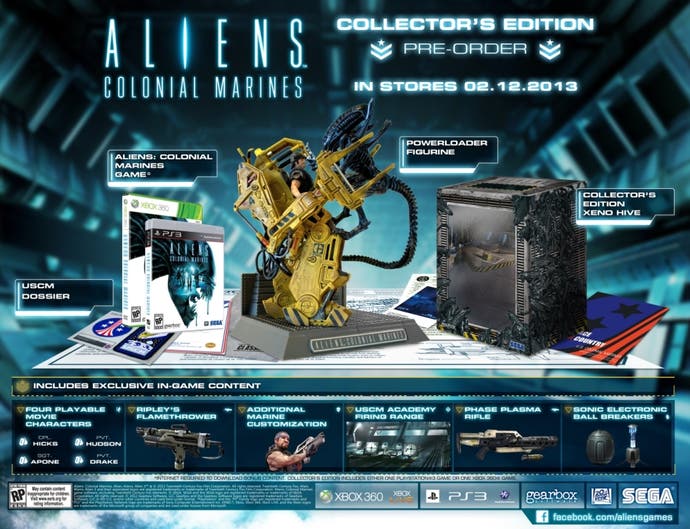 UPDATE: The Aliens: Colonial Marines Collector's Edition is exclusive to Amazon in the UK, Sega has confirmed.
It costs £70 on console and £60 on PC.
You can also get the Limited Edition on these shores, in exchange for a pre-order. The contents are outlined in the image below.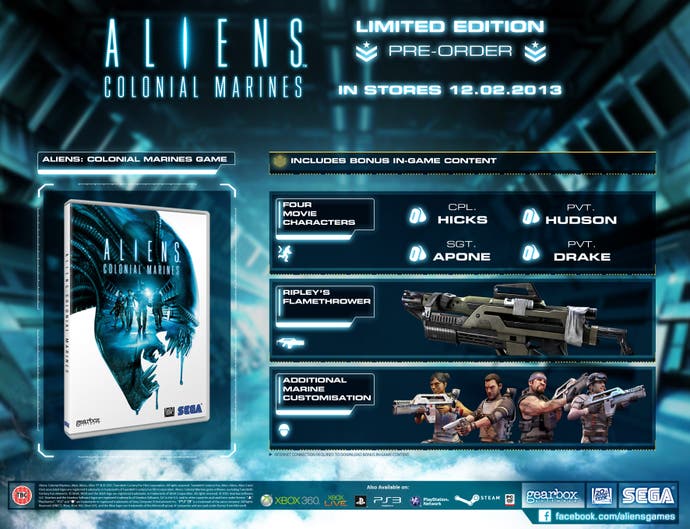 ORIGINAL STORY: Sega has announced the contents of the upcoming Aliens: Colonial Marines Collector's Edition.
Priced at $99.99 in North America (approx £65), the CE contains the following:
A high quality resin powerloader figurine.
Four playable movie characters including Private Hudson, Corporal Hicks, Private Drake and Sergeant Apone.
Additional Marine character customisation options.
Ripley's flamethrower.
Exclusive multiplayer weapons including the Phase Plasma Rifle and Sonic Electronic Ball Breakers.
Exclusive USCM Academy firing range level.
USCM Dossier including mission brief, USS Sephora schematic, Recruitment card, LV-426 recon photo, USCM iron-on badges and a USCM graduation certificate.
Will come in a Limited Edition xeno hive box.
Additionally, US shop GameStop offers the additional characters, character customisation options and Ripley's flamethrower as a pre-order bonus for the standard retail price of $59.99 (£39).
Following its recent delay, Gearbox Software's first-person shooter based on the popular franchise will debut worldwide on 12th February 2013 on PC, PlayStation 3 and Xbox 360. A Wii U version is in the works as well, though its release date has not yet been determined.